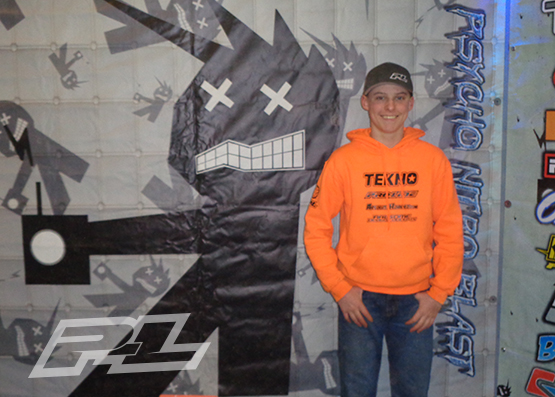 Lots of fun & action to be had with 3 days at the track!
Did pretty decent considering the amount of talent on hand at this Legendary Event! (our first time visiting)
Signed up in the Open Class which is a intermediate class (not yet Pro but more advanced than the Sportsman class)
Results:
Nitro 1:8 Buggy, Qualified 7th & finished 6th in the C-Main… (38th out of 102 competitors)
Electric 1:8 Buggy, Qualified 6th & finished 4th in the C-Main… (36th out of 90 competitors)
Slowly but Steadily crawling our way to the top!
Pro-Line Tires, Fugitive-Lites in M4 compound worked well in early qualifiers but we choose to go with Hole Shots in M3 compound for the remaining qualifiers as the dust in the racing groove was getting heavier.
Our Tekno NB48.4 & EB48.4 were rock solid reliable throughout the weekend finishing every lap of all heat races and mains (practice too)
Both cars felt great in the Mains,  instilling enough confidence to start jumping the 60foot triple jump!  Must of cleared that baby at-least 10 or 12 times!
landing smooth every time,  just goes to show you these Tekno's have a clear advantage in the jumping department (no doubt).
The Nitro Buggy would sail it out with room to spare where the Electric Buggy would barely clear it, probably should-of went up from a 16tooth pinion to a 17t pinion
For the Mains we choose Hole Shots in X3 compound for the 15min Nitro Main & M3 compound for the 10min electric main
The X3's felt a lil' better than the M3's to us (more positive)
Next years goal at PNB – Top 5 in the open-A-Main!
Hats off to:
Dave Leikam
Lance MacDonald & Jimmy Babcock
Hardest working dudes of the weekend!
Thanks to all who made the event possible
#TeknoRC
#ProLineRacing 
#AbsoluteHobbyz
#AhlsomeDesignConcepts
– Billy Bowden