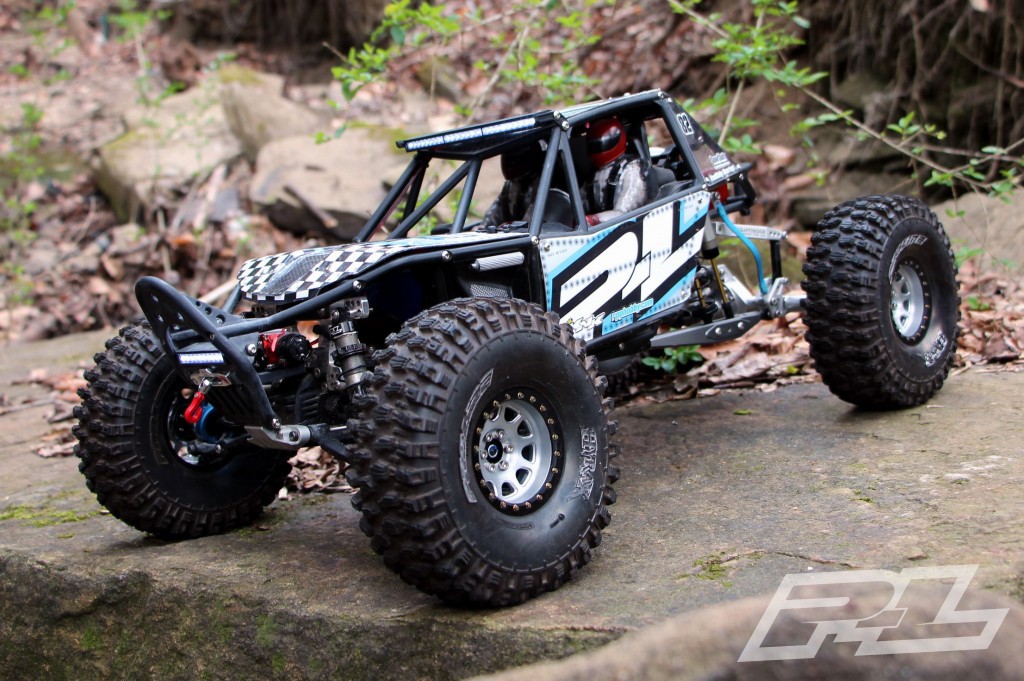 Building a custom project like this is always a good adventure to expand your capabilities as a builder and RC enthusiast. If you have never stepped outside the edge of the RTR or factory kit box, you need to do it at least one time, It's a great experience that can help you grow you knowledge of RC beyond the "Provided instruction manual". Pro-Line is here to assist you with many of those performance parts in making the concept of your custom build a reality.
The following article is a brief summary of the build. For a full list of manufacturers and the parts / part numbers of the items used in this build, please see the parts list section ant the end of this article.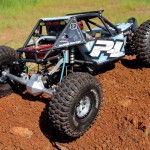 The Pro-Line Death Metal Garage Axial Racing RR10 Bomber IFS Conversion Project really wasn't a time consuming project but rather many hours of research and advise from many good friends in the industry to get it right. I wanted to build something that was unique and had great handling characteristics. It needed to crawl, go fast and most important, hold together.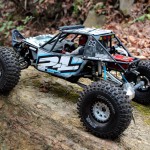 Thanks to Jerry AKA "Uncle Fester" at Death Metal Garage for an awesome starter kit. Check them out on Facebook as he is always striving to improve the kit and make it a better experience. Death Metal Garage supplies the chassis plate and other key items to get the basics of the build going. You will still need the front drive train and suspension from a Axial Yeti to complete the conversion.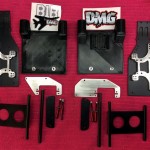 SSD RC supplied the wide rear axle and other drive line components as well as the 2.2 aluminum wheels. Their New P-L 2.2 wheels are specifically designed to fit our 2.2 tires. These are super easy to mount up and have great retention of the tire beads. The wide rear axle started out as black but was then stripped using Easy Off Heavy Duty oven cleaner and polished with Mothers Mag and Aluminum Polish using a Dremel wit ha buffing wheel. Be sure to not leave the oven cleaner on no more than 20 minutes max and be sure to use rubber gloves and protective eye wear when performing this process.
The front suspension would not be what it is without the added strength of Strong Arm RC Stage 3 Zeus Arms. These are beefed up RPM Lower Yeti Suspension arms with stainless sleeved lower pivot points that come plug and play with HD hardware. They produce great products for extreme duty use. These arms really take a beating so check them out.
Following up the rest of the front is help from Vanquish Products with all the right stuff to make sure the front axle and steering are rock solid.
Putting Power to the Ground is Holmes Hobbies Waterproof Trailmaster BLE Pro Speed Controller and a Puller Pro BL 540 4500kv Motor (No that's not a typo). This combo makes the truck very manageable at lower crawler speeds but it gets with the program when you hammer down
The Transmission is a SCX10 based unit with a blend of a Holmes Hobbies out drive and Super Shafty Parts. Super Shafty makes great drive line parts that allow all of these cool RC's to run so flawlessly for hours on end.
Team KNK Stainless Hardware was used through out the build. Look to Team KNK Hardware for all your RC hardware needs. has always been their and willing to help with my crazy requests. They never let me down and always have what I need.
The Custom Pro-Line RR10 Bomber Body Wrap was done by Neil at Freqeskinz.com. Check them out at Freqeskinz.com, they have many cool graphics designs to choose from for a variety of vehicles / bodies.
If your wondering about the stinger front bumper, yes that is a custom 1 off bumper made for this project. We currently do not have any plans on mass producing it but we will see if we can possibly make it available through ShapeWays in the future if we get enough demands.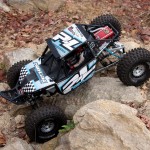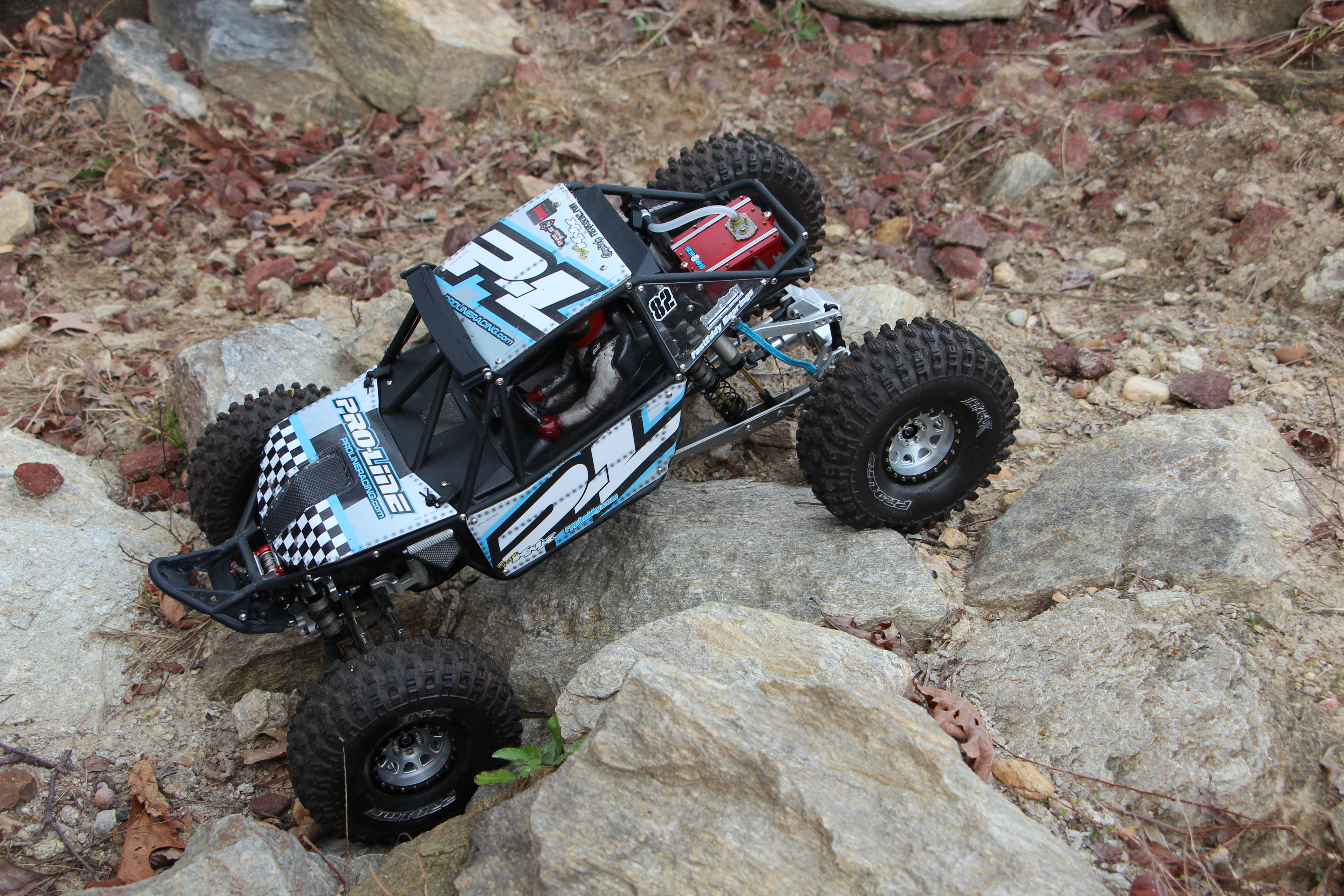 Lastly I have to acknowledge our company Pro-Line. What good is all this power if you can't put it to the ground, and make it stick? 2.2 Hyrax Tires, Dual stage crawler foams, Powerstroke Shocks and our Super bright LED light bars are just a few of the items used on this build. This is where the great engineering of our products and our team come in. Everyone always works tirelessly to put the very best out there with no exception to quality. These items give the very best performance though so many aspects of this vehicles construction.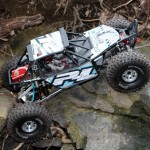 That's a wrap for this build. We hope you enjoyed this article on the build. Please feel free to drop us a line with any questions or comments as we would love to hear from you!
Be sure to check us out on Facebook, Instagram, YouTube and many other Media outlets! Give us a like and follow any of these to get the latest news on new products, builds and events.
Parts List
Axial Racing
AX30395 38T/13T Heavy Duty Bevel Gear Set
AX30811 EXO Machined Aluminum Front Toe Block F1
AX31104 Yeti Chassis Components
AX31135 92mm Universal Set
AX31182 Front Differential Locker
AX31186 M4 Rod end set
AX31249 Yeti Turnbuckle Set
AX80091 EXO / Yeti Bulkhead
Boom Racing
BR942001BK Shock Tower
Freqeskinz Custom Wraps
Pro-Line Design Axial Bomber Skinz
Holmes Hobbies
BLE Waterproof Trailmaster BLE Pro Speed Controller
BL Puller Pro BL 540 4500kv Motor
230100005 SHV500 Servo (Direct Power – No BEC Required)
300110005 Torquemaster Extended Outdrive for Axial Transmissions
Pro-Line Racing
6063-01 Power Stroke Shocks (Used for Front)
6176-00 2.2" Dual Stage Closed Cell Inner / Soft Outer Rock Crawling Foam inserts
6275-00 PowerStroke XT Shocks (5" Length – Rear)
6276-00 2" Super-Bright LED Light Bar Kit
6276-03 5" Super-Bright LED Light Bar Kit (Curved)
6308-22 Pro-Spec Short Course Rear Spring Assortment (Used on Front Shocks)
10132-14 Hyrax 2.2" Tires
SSD
SSD00048 Rear Trailing Arms for Yeti / RR10
SSD00049 Wide Diamond Centered Rear axle (Finish stripped and polished)
SSD00073 Scale Steel Drive Shaft
SSD00154 2.2" D Hole P-L Wheels (Silver)
Strong Arm RC
Stage 3 Zeus Arms
Supershafty
Ultimate AX-10 Motor Plate
Team KNK Hardware
M3 Button Head Pro Pak 700 Pieces
M3 (60) Piece Aluminum Spacer Variety Pack
Axial Bomber Stainless Hardware kit
Vanquish Products
VPS06553 Axial Yeti / EXO Steering Knuckles – Blue
VPS07230 Yeti Double Sheer Steering Rack Kit
VPS07232 Yeti Steering Rack – Clear Anodized
VPS07585 Yeti Front Caster Blocks – Blue
VPS07811 Yeti Bell Crank Kit – Clear Anodized
VPS08301 Currie AntiRock Sway Bar Kit
VPS07891 Yeti Front Skid Plate
VPS01183 SCX10 Aluminum Transmission Housing