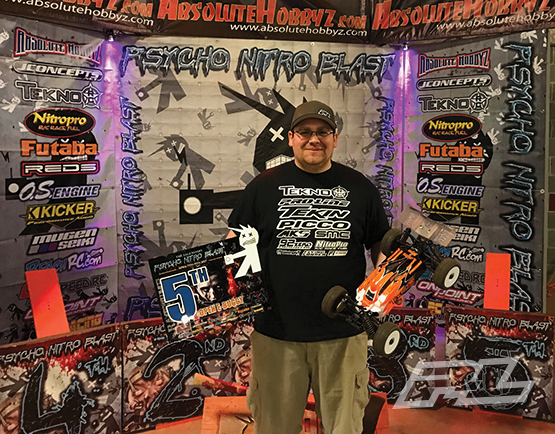 Well I put my second Psycho Nitro Blast in the books. It was another great time down in Tennessee for this event filled with some frustration, but they got quickly buried by all the good times this weekend.
I choose to run Open Electric Buggy and Open Nitro Buggy this weekend to have more downtime and focus on getting more rest this year then last year. We arrived Thursday evening and I could not wait to see the track. I personally really liked the layout and thought it was much better then last year. Nothing was to over the top but challenging enough to make for some good racing. Practice day went well with both of my cars and was felling confident heading into qualifying.
Pro-Line products used:
M4 Buggy Hole Shots
M3 Buggy Hole Shots
M3 Buggy Blockade
V2 Velocity Wheels
1:8 Trifecta Lexan Clear Wing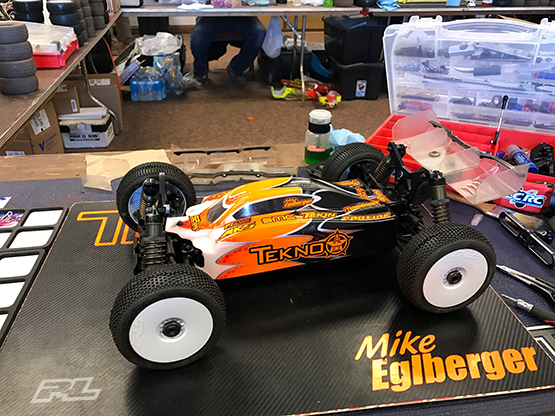 Nitro buggy would be my class that I struggled to get clean runs in this year. My car felt great and was doing everything I wanted it to do I just had some really bad luck with traffic in all 3 qualifiers playing bumper cars. I would settle into 7th in the D-Main or 55th of the 105 entries for Sunday's mains. I really can't say anything bad about Ebuggy. In the first two qualifiers I had a few small driver errors getting a 11th and 16th overall. My 3rd qual was where everything came together nicely and was able to get a 4th for the round bumping me up a few spots to start 10th on the grid over the 75 entries for Sunday's A-Main.
To start off my Sunday was my nitro buggy main. Unfortunately I was unable to take a bump or improve my staring position. After being landed on and spun out on 4 separate occasions on the first 2 laps I quickly dropped back in the field. I did manage to come back into the 8th position where I would finish. After spending most of my day checking and rechecking my ebuggy for any potential issues it was time to run my main. The first 3 laps were super sketchy with a freight train of cars behind me and in front of me. After things started to get settled I found myself in 8th right behind 3-7th all fighting for position. After some clean laps I would eventually take over the 5th position and racing for 4th. I unfortunately got caught at the line for the extra lap and to continue fighting for 4th but finished in the 5th position and the last podium spot.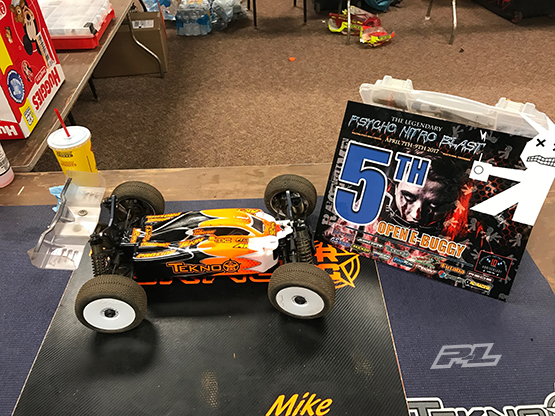 I would really like to thank my sponsors for all of the help and support and to my friends keeping racing as fun and enjoyable as it is. Also the entire Tekno Team for the help this weekend. Well I'm off to get ready for SIK in South Carolina see ya there!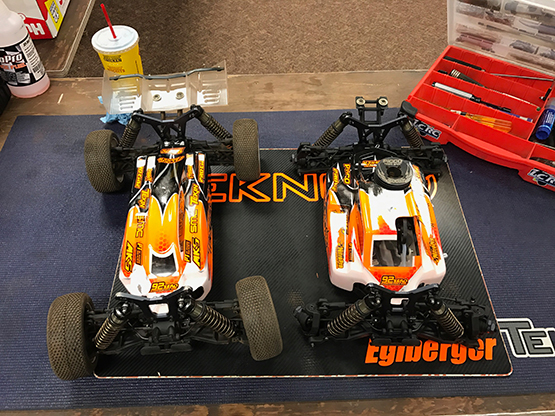 – Mike Eglberger