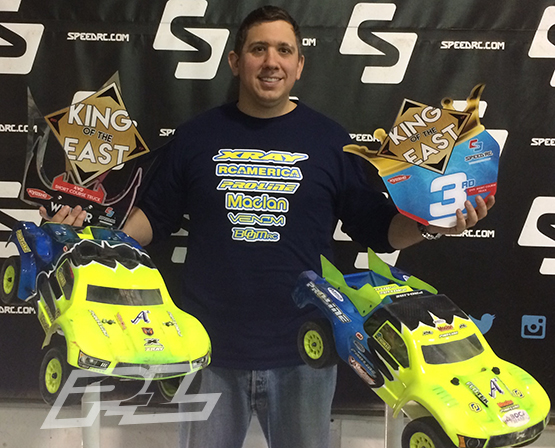 Continuing to bounce around the state as I attended Speed RC's Inaugural King of the East race. It was my second 3-day race in a row and my third trophy race in as many weekends. So I was a little tired entering this one but I didn't want to miss an opportunity to attend a big race that was only 3 hours away.
I Ran the Pro-Line PRO-2 SC Truck with a Flo-Tek Fusion Body and Electron Tires. My Buggy had Pro-Line Positrons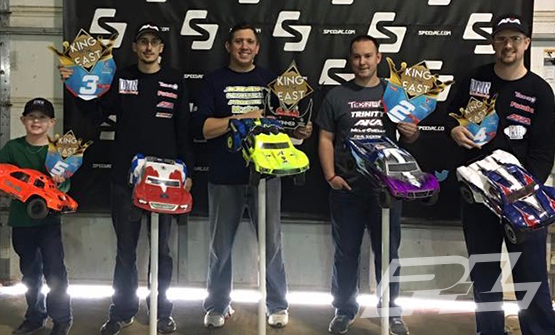 I am very pleased with the results, as I was able to take home the King of the East Crown in the 4WD SCT division and followed it up with a 3rd place finish in 2WD SCT.  I also had another respectable outing with my XRAY XB4. After four rounds of qualifying in the largest division at the King of the East race, I was able to punch my XB4 straight into the triple A-Mains.
I took Friday off from work so I could log a full day of practice and get a feel for the new layout. Practicing continues to be my favorite aspect of RC racing and I enjoyed getting to run all my vehicles and hopefully improve as a driver. Even though I didn't run my 2WD Buggy at this race, I spent a considerable amount of time trying to improve my driving skills in the most popular class at almost every track. I have mentioned in other race reports, that I don't have a local indoor track which makes it impossible to get up to speed quickly but I am slowly becoming more comfortable with 2WD Buggy.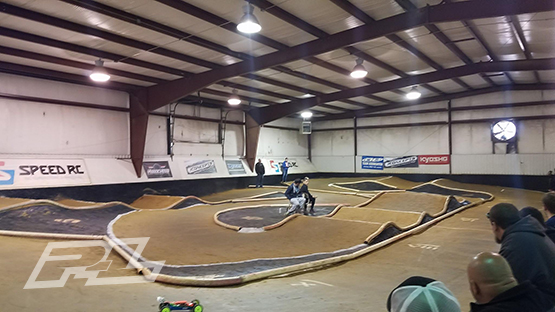 My indoor tire inventory continued to haunt me as I severely underestimated this stretch. I was able to squeeze out four qualifiers and three A-Mains on the same set of Electrons/Positrons that I ran the previous weekend at the Palmetto Classic. It is a true testament to Pro-Line tires since 4wd buggies are extremely taxing on tires anyways so to get that much use out of a single set was pretty impressive I thought. I will be doing a better job in the future of managing my tire inventory but again I can't say enough about Pro-Line tires and the fact I was able to utilize the same set of tires for two 3-day races.
We ran three rounds of qualifying Saturday, and all my heats were positive as I was able to secure valuable points. I came close to locking up the TQ in 4WD SCT on Saturday but was denied the chance as Tekno driver and friend, Travis Jones took the win in round 3.
Sunday started off intense as I edged my friend by a mere second for the win in round 4 of qualifying and barely securing the overall TQ. In the main, I quickly tossed away the TQ on the first lap by rolling my truck on the third turn which dropped me back to last place. I was able to work my way back up to second fairly quickly but another Tekno driver had got away clean and had stretched out a significant lead. We both made a few bobbles but avoided any major wrecks that would alter our positions. I slowly chipped away over the next four minutes. I was able to sneak by him with about two minutes left but the highlight of the race was our drag race down the straight away with about a minute left to race. I lost the inside line during the drag race down the straight which put me wide into the immediate turn that leads into a double.  I dropped to second briefly before getting the inside line back on the ensuing double as he jumped a little wide and I was able to dive back inside without any contact. It was an extremely fun race and I was fortunate enough to come away with the win but it could have easily gone either way as the top 3 drivers were putting down almost identical times.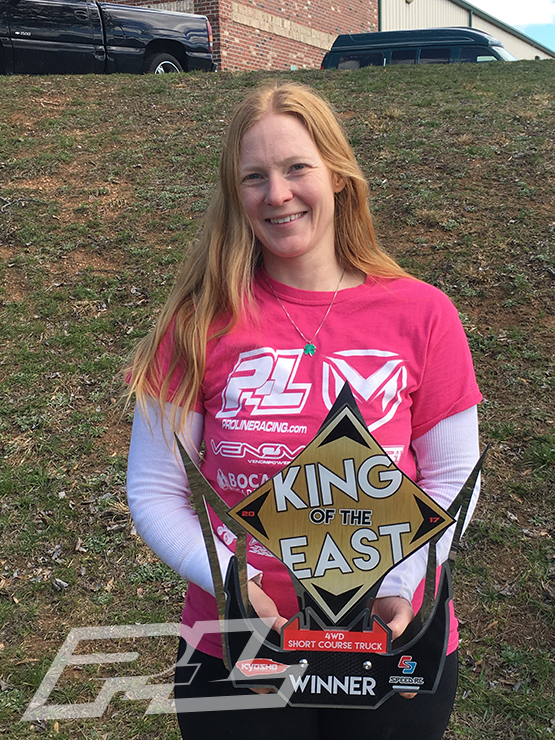 In 2WD SCT, I didn't have the pace as some of the other drivers but I relied on consistency and was lucky that some of the other racers had a few bobbles. The indoor track at Speed is very tight but I can't argue with the results the rear-motored Pro-Line PRO-2 chassis as it continues to produce. This marked the third weekend in a row; that the PRO-2 has guided me to the podium all at different tracks.
My goal in 4WD Buggy was to get my XRAY XB4 into the A-Main and have a strong showing for my chassis sponsor. I was able to achieve that and got to enjoy the triple A-Mains in this featured class. I was a little complacent when I got to the A-Main and also tried to push my pace a little bit which hurt my time. It was a great learning experience and a good confidence boost heading into future races.
It will be a busy week and quick turnaround. The next three weekends, I am scheduled to race outdoors (pending any weather issues), so I will be looking to get my XRAY XB8e dialed in and race ready for Psycho Nitro Blast next month.
I would once again like to thank my wife, Miranda for her support. She finds childcare, dog sitting etc. that allows us to keep a full RC schedule so I would like to make sure I say thank you publicly. I know she reads all my race reports online so Thank You!!
Also a big thank you to XRAY / RC America, Maclan, Pro-Line, Venom, Xpert, Boca Bearings, BOOMrc, Sticky Kicks, and Bullit RC Hobby Shop in Raleigh, NC for all your support!
4wd SCT A-Main – https://youtu.be/JM_h4oQ5azw
2wd SCT A-Main – https://youtu.be/fTdwtrOWHfk
Sponsored Products Used –
XRAY XB4 '17, Pro-Line PRO-2
Maclan MMax Pro ESC, MR4 4150kv and MRR 8.5t/6.5t motors, Xpert SI-4431 Servos
Pro-Line Electrons and Positrons (MC)
Venom 4500 mAh 100c 2s and Venom 7200 100c 2s
Boca Bearings Green Seals and GO Series
Pro-Line Flo-Tek  Fusion
BOOMrc Shirt
Sticky Kicks 'Pink'
– Kevin Thomas