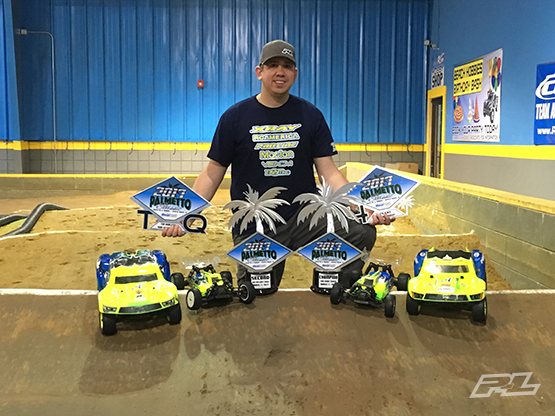 The 2017 Palmetto Classic drew over 200 racers from several states so the competition was very high. Once again Brent Densford and the Beach RC crew put on an amazing event and designed a fun track that had great flow.
I spent Friday practicing and originally planned to run three buggy classes; however, I unfortunately miscalculated my tire inventory and had to scale back to only two buggy classes. I settled on four classes in total, I ran 13.5 and Mod 4WD Buggy along with 2WD and 4WD Short Course.
Ran Pro-Line PRO-2 SC Truck with Pro-Line Electron SC in MC Compound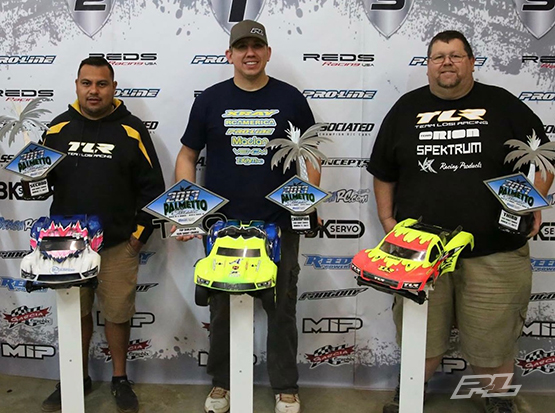 Saturday was a very busy day of qualifying though my wife helped me tremendously as she managed several of the tasks in the pits to keep my vehicles equipped with charged batteries and fresh tires. It led to one of my best days of qualifying ever as all four vehicles qualified straight into the A-Mains.
I TQ'ed 4WD SCT after taking rounds one and three, it was extremely close racing between the 2nd place driver and myself. He denied my first shot at TQ by edging me in round 2 by a mere second.  The close racing continued into the A-Main though a couple early miscues by the field allowed me to break out for a nice lead. The 2nd place driver reeled me back in by the 8 minute mark and we had some tense laps before I was able to capitalize on a bobble and stretch the lead back out to 5 seconds. From there I was able to bring home the win by keeping my truck on all four tires and claim one of the coolest trophies, a championship Palm Tree to go along with the TQ plaque.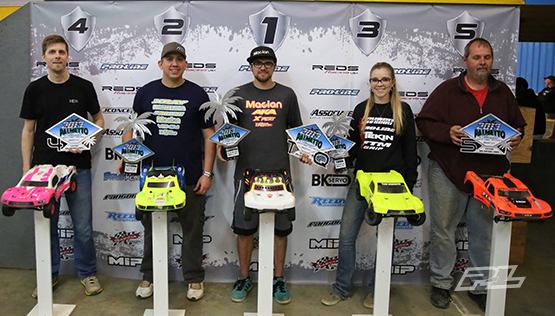 In 2wd SCT, the Pro-Line PRO-2 continues to produce results both in and out doors. The truck qualified 5th, after three rounds of tight close racing. In the Main, I was able to avoid any significant mistakes and take advantage of the long 10-minute race that claimed a couple very fast trucks. I continued to slide up the leader board and finished 2nd overall.
It was my first time ever running 13.5 4wd Buggy; I threw a new Maclan MRR 13.5t motor in my back up XRAY XB4 '15. I wasn't sure what to expect out of the class, my buggy was 200 grams overweight but I had plenty of power and the buggy felt strong. After three clean rounds of qualifying, I found myself sitting in 3rd overall. My start in the A-Main was very bad as I had a handful of wrecks; the quick turn around from short course was compounded by my effort to save my battery for the long A-Main. I quickly dropped from 3rd to last place but after the first minute and a half, I was able to find the feel again and worked my way back up the field and finished on the podium with a 4th place finish in my first 13.5 4wd Buggy race. I hope the class takes off at other indoor tracks in the area as it is a very enjoyable class.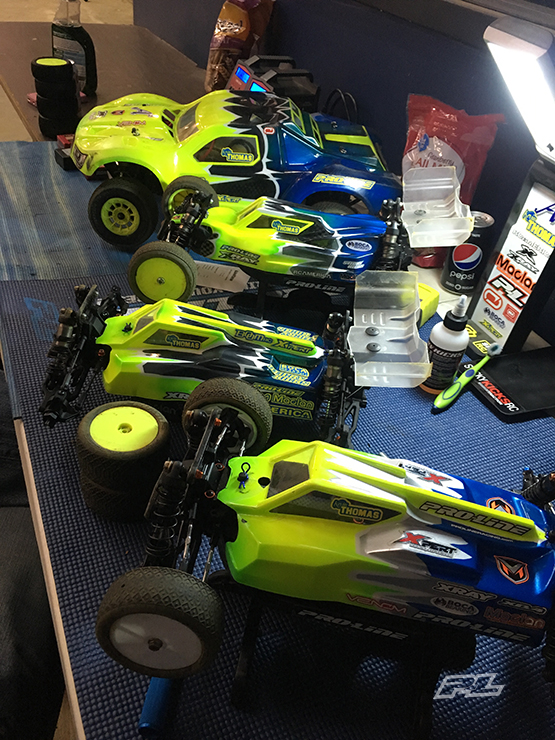 After running three 10-minute mains in less than 50 minutes and being at the track for over 15 hours, I think fatigue finally caught up to me in the Mod 4wd Buggy A-Main. I qualified 6th overall with my XRAY XB4 '17, which honestly surprised me because the class was loaded with very talented drivers. I started the main very strong and after 7 minutes into the race I found myself in a top 5 spot. I was kind of shocked but welcomed the positioning as I continued to push for a spot on the podium. I had a lapse in concentration, which resulted in two horrendous, error-riddled laps after almost going the entire race without wrecking that dropped me back to 7th. I tried to regain my composure and was able to put down some respectable laps again before once again loosing my focus and tapping the wall after a high-speed section and jump. This ended my night, which was an unfortunate way to close out 2017 Palmetto Classic.
Overall though it was a great weekend at the track and I had a lot of fun. I will have a quick turn around, as I will be heading to Speed RC for their King of the East race this weekend.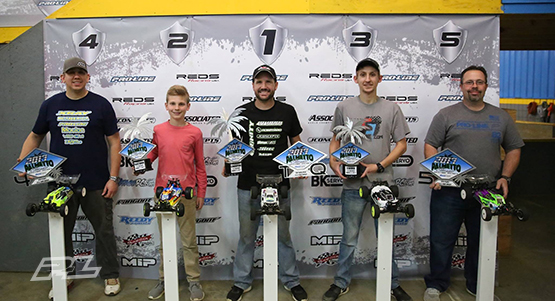 I would like to first thank my wife, Miranda for always supporting my RC racing. It was her birthday weekend and she wanted us to go to the Palmetto Classic. She also encouraged me to run 4 classes and backed up her encouragement with helping me throughout the weekend to make sure things went smoothly. Finally, she videotaped all the mains so I would have some footage to watch, learn from and share on YouTube. I would like to say thank you to Miranda! for all you do and ensuring I am able to attend as many races as possible.
I would also like to thank XRAY / RC America, Maclan, Pro-Line, Venom, Xpert, Boca Bearings, BOOMrc, Sticky Kicks, and Bullit RC Hobby Shop in Raleigh, NC for all your support!
2wd SCT A-Main – https://youtu.be/0c3VIDxHiZk
4wd SCT A-Main – https://youtu.be/5b86D9YDITY
4wd Mod Buggy – https://youtu.be/z9lfSvEMQfc
4wd 13.5 Buggy – https://youtu.be/oU_-UcQeF6A
Sponsored Products Used –
XRAY XB4 '17, XRAY XB4 '15 and Pro-Line PRO-2
Maclan MR4 4150kv and MRR 13.5t/8.5t/6.5t motors, Xpert SI-4431 Servo
Pro-Line Electrons and Positrons (MC)
Venom 4500 mAh 100c 2s and Venom 7200 100c 2s
Boca Bearings Green Seals
Pro-Line Flo-Tek and Fusion
BOOMrc Shirt
Sticky Kicks 'Pink'