AZU4RC Season Opener  "Presented by Pro-Line Racing"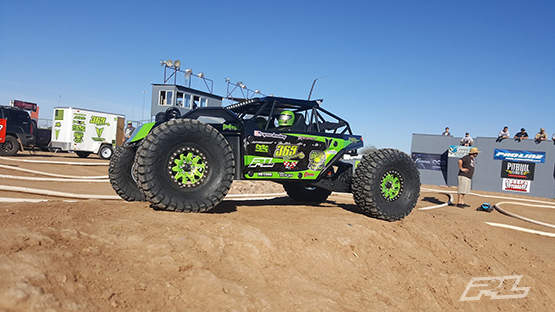 1.9T 2nd Place, 2.2 Comp Broke DNF, 2.2 Indy Pro 1st place
As always my trucks handled awesome with Pro-Line Racing BFG KR2 tires, Dual Stage Foams, and Pro-Spec Shocks.
1.9 F250-broke in the middle of the first heat. I had help from my friends Adam Baker & Rudy Sanchez to help me swap in a new axle housing and parts so i could make heat 2. Heat 2 went well and qualified for A-Main. Ended up taking 2nd place.
2.2 Comp- My bomber broke after 2 laps in the first heat and was not fixable to continue the night out. Totally bummed. This rig was super reliable all last season on the old layout. The new layout has caused some breakage on this particular rig the last 4 races. Ended up DNF.
2.2 Indy Pro- I was nervous as it was my first time driving the Rock Rey on a track. My first heat I took second place. Second heat managed to take first. The main was a challenge. I started out second on the line. The flag drops and in the first corner I lost control and rolled off track putting me dead last. Nerves got to me. I had a lot of ground to make up. I got my head back in it and fought my way back through the pack and got out on a 12 second lead till the finish and took 1st.
As always my trucks handled awesome with Pro-Line Racing BFG KR2 Tires, dual stage foams, and Pro Spec Shocks. I had all the reliable Horse Power I could ever need utilizing Tekin Pro4hd power plants paired with RX4,Rx8, and RSX ESCs.
I had a Great night of racing and want to thank all my sponsors. It was great seeing new faces and my buddies.
Thanks to:
Pro-Line Racing for your superior tires,foams and suspension a U4 racer could ask for.
Tekin Racing, for the brutal power and smooth reliability from your esc's and motors.
CKRC HOBBIES for A-Z product support and A+ service.
Mattox Designs for making my rigs stand out.
Also a big shout out to- VANQUISH Products for the best U4 RC parts on the market, Y Town Crawlers for your great product innovations, Gens Ace Batteries, Team KNK Hardware amd FastEddy Bearings.