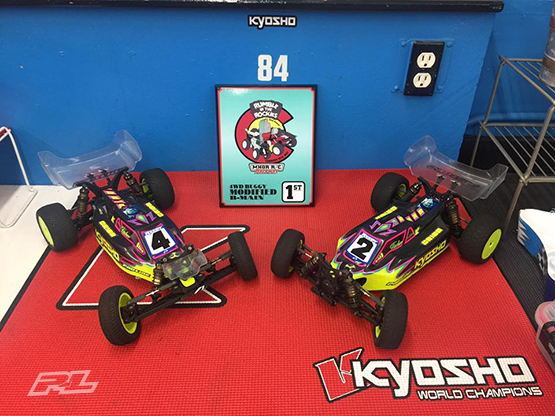 This past weekend was the annual 2017 Rumble in the Rockies at MHOR Raceway in Aurora Colorado.  This was the second time I've ran this race and right off the bat I could tell my perseverance and practice paid off.  We had a great turn out of local racers and even some top names in the hobby.  Kody Numedahl came back out of retirement with his B6d and new B64 running Mod, Nick Wautlet from associated was in attendance along with our home track AE drivers Zeke Ballinger and Dustin Evans running his new AE cars.  TLR also had great representation from out of state Team Manager Kevin Gahan and Team Driver Tanner Denney.  Needless to say competition was at an all time high and I had my work cut out for me.
Travis ran Pro-Line Electrons and Positrons on his Buggy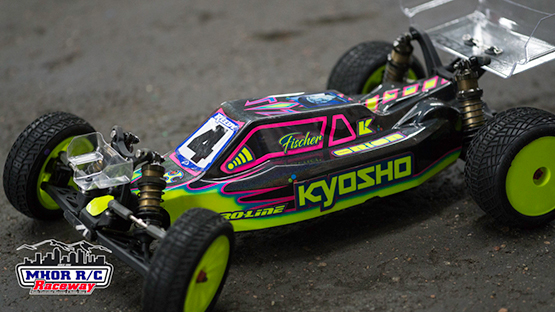 I decided to run both my Kyosho RB6.6 and ZX6.6 with Orion 13.5's which would allow me to run both 13.5 and Mod, and give me some extra track/tune time during the weekend.  My cars were equipped with Orion Vortex R10.1 Pro's, Orion carbon pro 5000mah batteries, and Proline electron and positron rubber.
My best class was 13.5 4wd, a class I'm very competitive in and took TQ in the first round which would hold all weekend until the last qualifier placing me 2nd overall.  My 13.5 4wd in Mod was slightly off pace especially with the talent attending, I still managed to qualify 2nd in the B.  My 2wd was very edgy but after some tweaks was on pace with A-main runs.  Unfortunately I broke a ball stud last round of qualifying placing me in 13.5 2wd B-main.  I had better runs in 2wd Mod landing me in the B-main as well.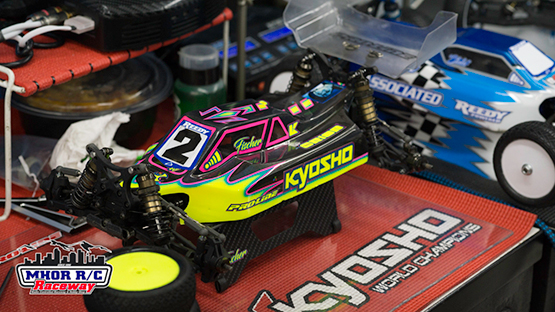 The mains gave me a little trouble and I wasn't able to put a good run together until late in the day. I ended up 5th in 13.5 4wd A-main (30 entries), 1st in Mod 4wd B-main (16 entries), 6th in 13.5 2wd B-main (56 entries), 8th in Mod 2wd B-main (22 entries)!  I took home some hardware, and I'm still amazed how far I've come in just 1.5 years. Back to the grind this week, practice makes perfect. My sponsors have helped me rapidly improve, their support has been huge, and I'm so grateful for the opportunity!  Kyosho America, Pro-Line Racing, Team Orion, Slipstream RC, and MHOR Raceway! Thanks to our guests Kevin Gahan and Tanner Denney from TLR, also Kody Numedahl and Nick Wautlet from Team Associated, it was a blast driving with you guys and watching you throw down!
– Travis Fischer