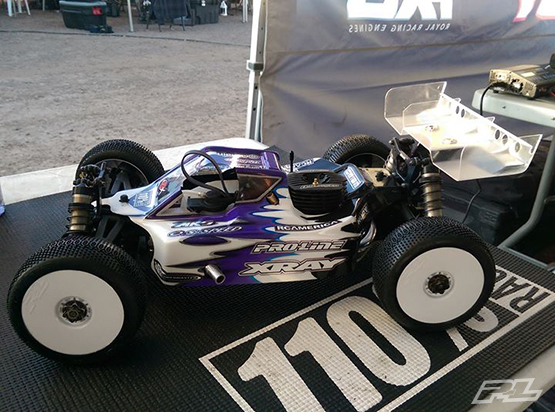 2017 Dirt Nitro Challenge was just that, a challenge.  The layout was the best that it has been in years, I felt that the track was more what I remember the DNC being in the past.  Coming to this race with entirely new platforms of cars, I knew would be difficult but testing before the race gave me the confidence that I would be able to compete and do well.
Ty used Pro-Line ElectroShot Tires, Velocity V2 Wheels and Trifecta Wing
Qualifying in all 3 classes went well, TQing E-Buggy and Nitro Buggy and qualifying 3rd in Nitro Truck I felt that I had the pace to possibly take a win in the first Nitro event of the year with my new Xray cars.
On Saturday the e buggy main was up first, in the warm up earlier in the day my car felt really good, but in the main my car didn't feel the same as the warm up.  I'm not sure if it was the track surface, the grip or the temperature, but I really struggled to hang on to the car in the main.  I just couldn't seem to get the timing right on jumps and landings and I had to settle for 4th place overall, unfortunately this was not the worst of the mains to come.
In truck I started 3rd on the grid behind Lutz and Maifield, probably 2 of the best 1:8 truck drivers on the planet and I knew it would be a tough battle.  The beginning of the truck main my truck was a little bit loose which I had anticipated and I knew that as the track began to dry my tires would get better and they were awesome after about 5 minutes.  I was able to get by Maifield and battled with Lutz, he would pull a way a bit and then I would close the gap, eventually he made a mistake and I was able to take the lead.  The new Xray prototype truck felt amazing, I felt it did everything I wanted it to do without having to push it super hard. I was just trying to pace myself to stay ahead of Maifield and Lutz when all of a sudden I had a run away, something that has never happened to me in my career.  I was completely lost as to what had happened, when my dad got the truck he noticed that what we had thought would be the perfect solution for eliminating failures had failed.   We put a plug back in the radio tray and filled up the truck and with nothing to lose I drove as hard as I could to put the truck, engine and tires to the ultimate test.  To my surprise the truck handled even better the harder I drove it.  After losing more than 2 laps due to the run away, I was able to catch up and pass a few competitor's and finish 7th only 7-seconds behind the battle for 5th.
On Sunday we took preparations to make sure that we wouldn't have a plug failure again and thought the car was perfect, in the warm up I felt that the car would be a contender for the win.  I was starting on pole for the main and I don't know why but the start of this main was the most fast paced and hectic that I have ever been involved in, I don't think there has ever been so many lead changes in the first 5 minutes of a race.  It seemed that everyone was struggling with the track.  It was frustrating for me it seemed that every time someone would crash in front of me I would get collected with them,  and even though my car felt really good I just couldn't get back to the front.  Then for the 2nd time that weekend something happened, it seems that my new for the weekend battery pack failed and I lost power and I was out of the race early.
To say that this weekend was frustrating would be an understatement but for me this years DNC track was pretty awesome and I wish I would have been able to do better.  I want to congratulate Ryan Maifield for his dominant performance in the mains taking the win in all 3.
I want to thank my sponsors for giving me the opportunity to race with amazing products, thanks to my family for all their help and support and I want to thank my Lord and Saviour Jesus Christ for giving me the ability and opportunity to do something I love for a living, I definitely do not take it for granted.  Can't wait for Silver State.