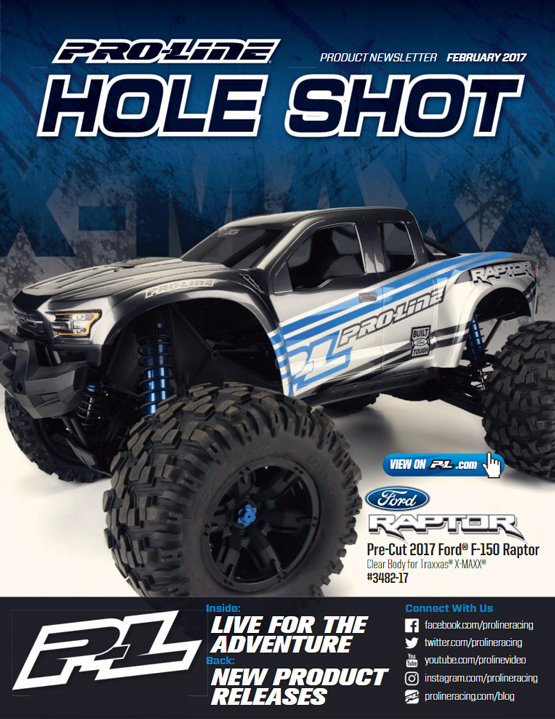 Visit the Hole Shot Newsletter Page for February 2017
On The Cover:
The Wait is Over, Introducing the Pre-Cut 2017 Ford® F-150 Raptor Body for X-MAXX®
Inside:
Live for the Adventure.
Featuring everything you need for your next scale adventure. Featuring the Jeep® Wrangler Unlimited Rubicon Body with 1.9″ BFGoodrich KO2 All-Terrain Tires, PowerStroke Scaler Shocks, Scale Modular Fuel Packs and of course the Latest Pro-Forge Series 1.9″ Aluminum Bead-Loc Wheels.
Also available from Pro-Line are the Super Bright LED Light Bar Kits, Ridge-Line Bumper Set, Ultra Reservoir Shocks, Scale Rectangular Off-Road Roof Rack, many Scale Accessory Packs, and of course MANY Scale Performance tires to choose from.
Back Cover:
New Releases include The Pro-Forge Series wheels in Bronze and Clear Anodized Aluminum, Brass Brake Rotor Weights, 6 Lug Hex Adapters, Scale Factory Team Banners, 1:5 Blockades and Lockdowns in X2 Compound, ElectroShot Tires for 1:8 Truck, the Raptor X-Maxx Body as well as the New 1:12 BMR 12.1 Body and Pre-Cut TC Wing Endplates from PROTOform.