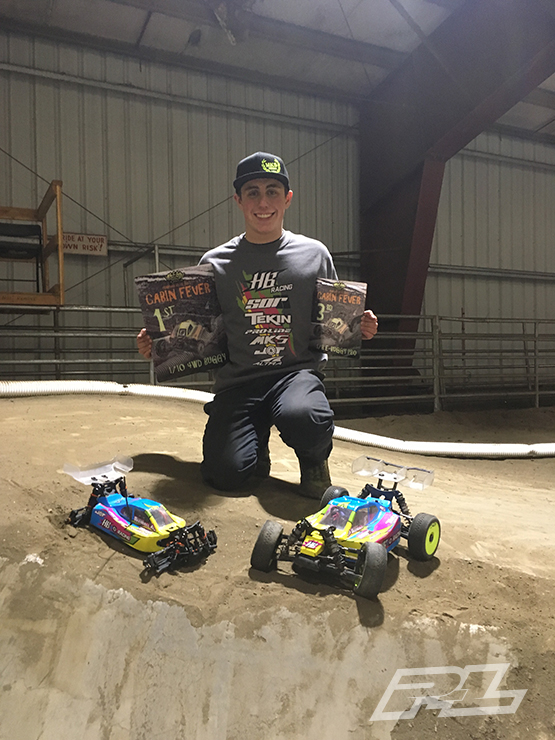 At the end of every outdoor season, at the final 1:8 race of the year at the finale round of the Northwest Championship Tour in Pasco, Washington, we all feverishly prepare our cars for one final push on the dirt for the season. For most of the region, this will be the last time any driver touches a radio for the remainder of the calendar year. The race ends, we receive our series awards, take pictures, thank our sponsors for their support, and we go home and we wait. Some of us continue to travel around the Pacific Northwest or farther to race our 1:10 vehicles, but the attitude isn't the same- we are all waiting for 1:8 season to start, as the carpet merely holds us over. For five months some of us rip around doing 12-14 second laps on a tight high grip track, while others simply stare at their vehicles. Eventually, the middle of February comes around, and we prepare our 1:8 vehicles again. Dirt racing has returned, and its name is Cabin Fever.
Travis ran Pro-Line M4 Hole Shots, Velocity V2 Wheels, and Trifecta Wing
The Cabin Fever Indoor RC SX race is an annual effort put on by the Radio Control Car Club of Lewiston, held at the Lewiston Roundup Grounds in Lewiston, Idaho. The track is a one-off build before the race and is taken down as soon as awards conclude on Sunday. With the latest installment of this race topping out at 296 entries, the most they have ever had, it has become a staple of Northwest Racing. It is our Anaheim I, so to speak, and it is our official kick off of our 1/8th scale season. Finally, the wait is over.
I first attended the most prestigious race in the Northwest in 2016, just a year ago. I was fresh off my debut season with HB Racing and I was looking to make a hard charge to the top in 2016. Qualifying day of my first Cabin Fever came around and it was not what I was hoping it would be. I struggled to find a tire selection that I like but I eventually settled on sets that I liked for main day. 1/8 Expert Electric Buggy I would start 9th on the grid and finished up in the 4th spot, losing a tiebreaker for podium with my converted D815. In 4wd Buggy I would take TQ and win A1 and A2 to take the overall. It was a stellar start to 2016 and would lead into what has been my best year of racing yet. Fast forward one year, and I am here to do it again.
My expectations coming into Cabin Fever 2017 were as always extremely high. This isn't particularly new, as I always expect to win each class that I bring with me to an event, but there was added pressure this year as I was looking to improve on my 4th in E Buggy and repeat my victory in the 4wd Buggy class. I am a firm believer that it is much harder to win a race your second time than your first time because the mental aspect is so different, so I was tuned in and focused, knowing there would be some adversity in the way.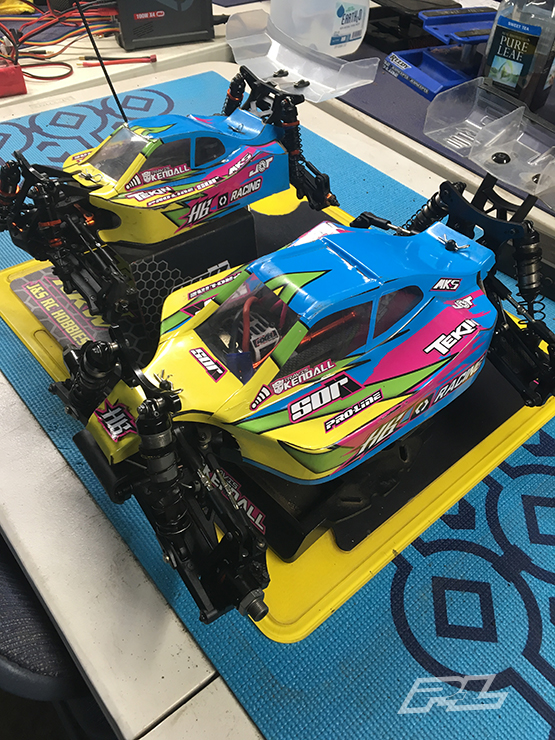 Practice day had gone fairly well. The track felt like it was taking a lot longer to break in and produce some grip than I remember it taking last year. Come to find out, the track builders had mixed in some kind of additive to try and keep the track from breaking apart so they wouldn't have to be up until 3 AM each night patching holes, which I understand completely. However, the additive failed to uphold the track, and on top of that, the track got extremely slick and inconsistent and would remain that way for pretty much the whole weekend. To make things even worse, the track got very abrasive, so my tire selection was not nearly what 'prepared' would have looked like. A huge thank you to my fellow racers for coming through when I needed them for an extra set of tires. RC is family.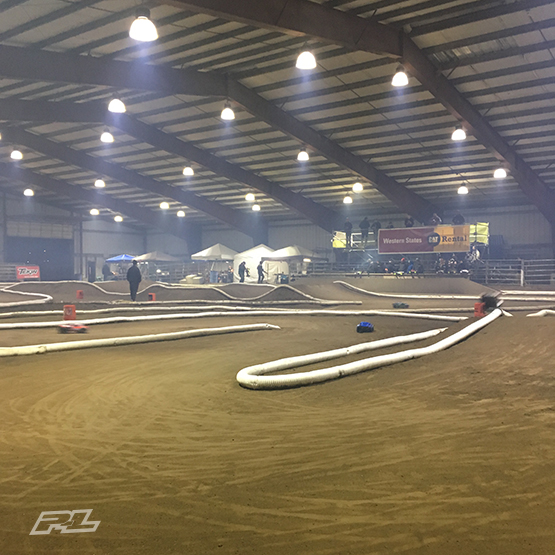 Qualifying day would start off rocky. My D413 and my new E817 had pretty much no grip and so it was more of just a hold on for dear life type of scenario each run. I took 3rd in Q1 of each class, which was good by most standards but I wasn't very happy with them as I had felt I left a lot on the track.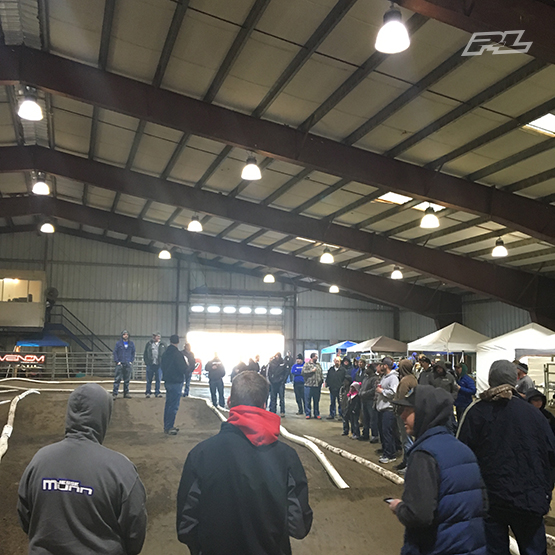 Q2 didn't fair a whole lot better as I would make a mechanical mistake on my D413 and would end up not making the start, and I would take another 3rd in Q2 of Expert E Buggy. This would just about lock in my E Buggy qualifying for the day in the 3rd spot on the grid behind Tekno/AKA's Keith Hadley and Associated/Pro-Line's Mike Dana. This wasn't what I was looking for but a 3rd was much nicer than starting 9th like the previous year, so that made it a little easier to swallow.
Q3 would pan out to be my best round of the day for both classes. Track was still very slick but I managed another 3rd in 4wd Buggy and a 2nd in Expert Electric Buggy which would secure my spots in the 3rd spot on the grid for both classes. I had felt good about my spot going into Main day so I prepped my cars, made a few setup changes trying to anticipate what the track will be like for the A mains and packed up for the night.
Main Day had finally come. I felt confident and excited, and of course extremely nervous for the first leg of A mains. I had settled on Pro-Line Holeshots in M4 for my vehicles. I spent the morning finishing my prep on my cars and watching the lower mains and cheering on my buddies.
Finally, A1s had come around and I felt ready to go. I lined my D413 up in 3rd behind Xray/RC America's Joe Scales and Kyosho America's Robert Sorjonen. I got off to a great start, and was racing for the lead throughout the first lap and then a racing incident with another car sent me almost all the way back to the back, so I had a lot of work to do early. I pushed as hard as I could but made some mistakes pushing too hard so I would finish 4th in A1, with Maclan's Kason Russell taking the A1 victory. I was very frustrated, but I had two more mains to go.
A1 of Expert Electric 1/8 Buggy got off to a great start as it was a three-way battle for the first few laps between Keith Hadley, Mike Dana, and myself, but when I tried to make a move I cut a corner too tight and stuffed my car into the pipe. I couldn't hold it together very well for the rest of the race and would finish 4th in A1.
A2 too would get off to a better start. I got out front early in 4wd Buggy after first made a few bobbles and I would end up walking away for the win. E Buggy was an unfortunate race as I had a lot of issues with racer contact and would continue being sent to the back, so I would finish 8th in A2.
A3 would be the round I would finally pull it together. I got out front fast and stayed there in 4wd Buggy and would take the win with a 5 second gap or so as I just tried to focus on hitting my lines and not making any mistakes. Winning 3 would secure the overall victory for the 4wd Buggy class and then I drove a clean and smart A3 for E Buggy to take 2nd for the race and 3rd for the overall class finish.
Top 3 for each class
1/10 Open 4wd Buggy
– 1st Travis Kendall
– 2nd Kason Russell
– 3rd Jeremy Potter
1/8 Expert Electric Buggy
– 1st Keith Hadley
– 2nd Mike Dana
– 3rd Travis Kendall
Equipment Used-
HB Racing D413 with Tekin RSX, Tekin Redline Gen3 6.5t, MKS 575sl servo, Pro-Line M4 Hole Shots and an SOR Graphics wrapped Pro-Line Type R body
HB Racing E817 with Tekin RX8, Tekin T8 1900kv, MKS 599 servo, Pro-Line M4 Hole Shots and an SOR Graphics Wrapped Pro-Line Type R body
Huge thank you to my sponsors for the outstanding product and support-
HB Racing
SOR Graphics
Tekin
MKS Servos USA
J&T Bearing Company
And a special thanks to Altra Running for keeping me comfortable while I corner marshall.
Next event we are back on the carpet at DieHard RC this Sunday. See you there!"