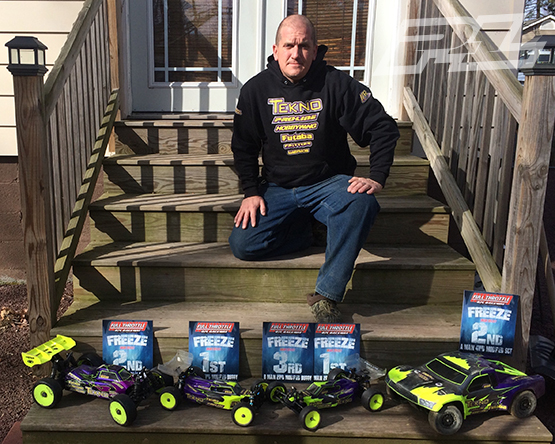 What a weekend.  Good laughs and some close racing.  Full Throttle Raceway in Green Island, NY is always a good time and draws some fierce competition every time I have been there.  Geoffrey Kothman and Rose Kothman run a very good program and maintain one of the best tracks in the Northeast.  Their personal sacrifices for the hobby never go unnoticed.
"I ran M4 Pro-Line Primes on everything…"
I had some really rough qualifying trying to keep clean consistent runs.  Tried a totally different setup on my B6 with the shocks on the front and didn't like it at all and went back to the rear and my trusty setup for the mains.  I started first in the C-Main and would win that from tone to tone by a lap. Starting 9th in the B-Main I knew I had to push in the first few laps.  I found myself working through the field pretty fast and with the top 2.  I had switched back and forth with those two for a while but too many mistakes kept me a few seconds away from the bump to the A.  So third in the B is where I ended up.  11th out of 44 2WD Mod Buggies.
4wd Mod Buggy was on point as always but I had to work my way up from starting 6th in the B-Main.  The tone went off and I started to check out with the top two.  With a minute left I was chasing down McAndrew Piper my Hobbywing teammate and with a marshal mishap for him I was able to takeover the lead and Win the B-Main.  Starting 9th in the A with a stacked field I put my head down and made clean laps and held tight lines.  Battling with third for a while halfway through the race I had some bad crashes and could only work my way back up to finish 5th.  So again 5th out of 32 wheelers is pretty good.
Been working a lot on my Tekno 410.3 and think I have a comfortable indoor setup for it finally.  Quals didn't go so well  again starting 5th on the grid.  The tone went off and the mayhem started.  I was able to put in clean laps and push up to second and missed catching 1st by two seconds.  I had the pace it just not enough time.  2nd out of 28 4WD SCT was pretty good to finally throw into the mix with all these Losi SCTE.
Prolite is a rare class to run indoor but I was glad to get some wheel time in to prepare for Motorama with my EB48.2. I started 4th on the grid and drove my way up to second and just missed catching first by 5-seconds. 2nd out of 9
 I ran M4 Pro-Line Primes on everything and used a new prototype Sticky Kicks compound in the works and it was amazing and will be great when it's released.  Hobby Wing V3.1V3 in my Buggies and SCT pro in SCT and E-Buggy.
Tekno RC
Futaba
Hobbywing
Pro-Line
Crispy Critters Hobbyshop
Race Ready Products
Boom RC
Sticky Kicks
Werks Racing
– Andrew Rizzo