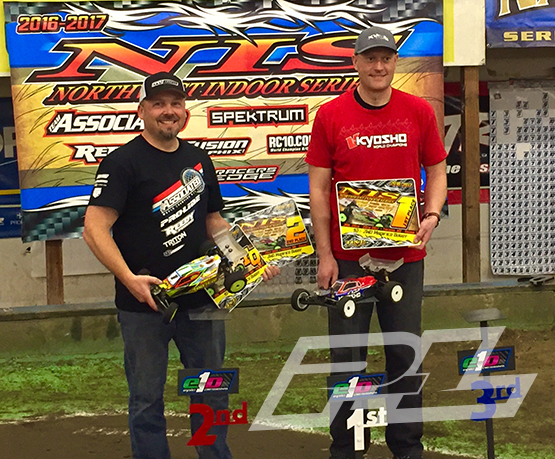 Jan 29th, 2017 was the 3rd Round of the Northwest Indoor Series held on the high grip clay at Scott Brown's Tacoma RC Raceway.  The mid-way point of the five round series, 120+ entries were battling for not only race day wins but establishing leads in series points as well.
In 2WD I ran Pro-Line Electron Fronts and Positron Rears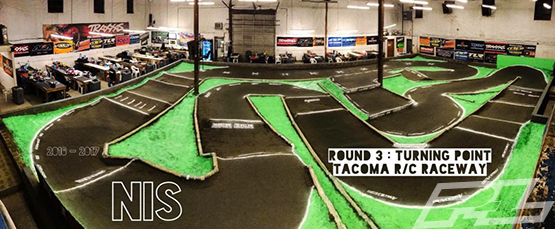 As it seems I'm always trying new setup stuff on my Team Associated B6D, the beginning of this event was no different.  Running both 2w Mod and 40+ 2w gave me lots of track time.  Playing with chassis settings to get the optimum out of my Pro-Line Electron 2wd front and Positron rear MC compound tires would happen all throughout practice and three rounds of qualifying.  By the time qualifying was over, I had secured my spot in the ultra-competitive 2w Mod A-Main starting 8th and earned TQ in the 40+ class.  While I found some interesting settings along the way, I had to lock down on the experimentation for the mains and go back to my more typical setup.
In 2WD I suffered from a couple mistakes and traffic in A1 & A3 with A2 being my only clean run.  A tenth place finish is pretty rough, especially starting from 8th and being capable of a top 5-6.
In 40+ I would score a win in A2 after finishing second to Kyosho's Roger Seim in A1 and take the battle for the overall win into A3.  All was going well as Roger and I were staying within 2-3 car lengths of each other through the halfway point of the race.  If we stayed clean, it was going to come down to the last lap – it was going to be GREAT!  But, I misjudged a tricky angled step-up, clipped a pipe and got stuck against a pole as Roger motored off into the distance and a well-deserved victory.  While victory was at hand, I have to be ok with second and move on to Round 4 tied in series points with Roger holding the tie-breaker with two wins to my one on the season.
Next up, (going international!!!) is the Conquer the Carpet Indoor Off-Road Challenge hosted by Outlaw RC in Vancouver, British Columbia, Canada February 4-5th, 2017.