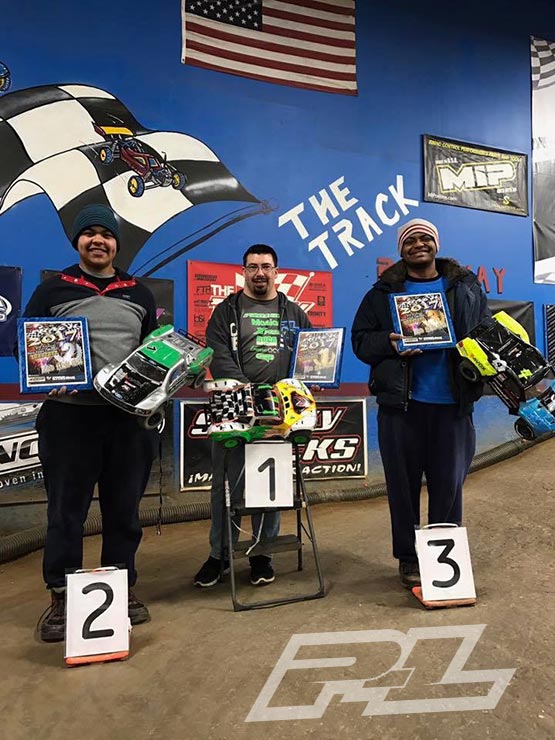 Last weekend would be a double header for me after taking 4 weeks off of racing.
First up would be the New Years Off-road shootout at The Track in Gaithersburg, MD. Last year this race drew 200 entries with some great competition so I was really looking forward to getting back to this. Unfortunately there was a major snow storm just south which made it impossible for many drivers to attend. I believe the final entry count was around 88 but there was no lack of talent.
I decided to show up running Pro-Line Primes in M4 compound which were hooked up. I bagged the tires in StickyKicks Yellow which gave them ridiculous amounts of traction from the get-go. No break in needed. I would continue to use StickyKicks yellow all day and not once had any issues getting traction with the Primes.
I entered in 2WD Mod Short Course Truck, 2WD Mod Stadium Truck, and 2WD Mod Buggy. All 3 vehicles were equipped with Maclan MMAX speed controls, Maclan MRR motors, and Xpert servos. The new Maclan MMAX speed control has been phenomenal. Super smooth power through the entire throttle curve. The Maclan MRR motors have tons of power and stayed cool throughout the whole weekend. In my SC5m I debuted the new Team Edition 17.5t motor which was terrific! Xpert servos were smooth and powerful as always to help me steer around the competition.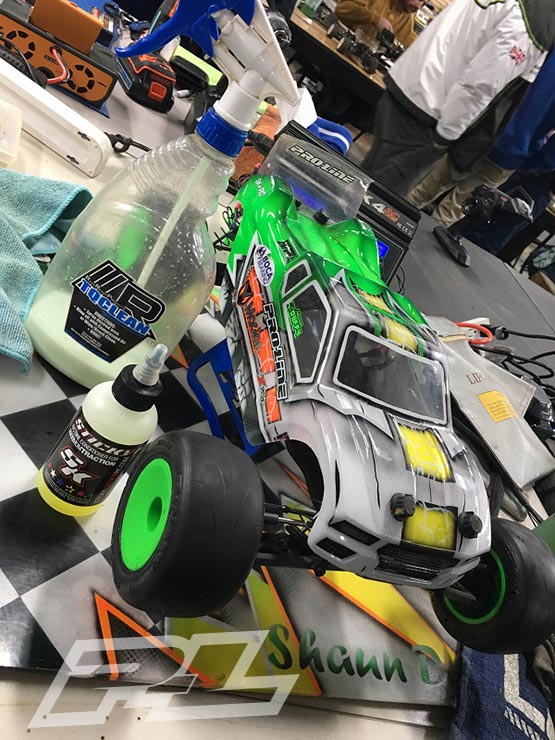 Qualifiers went fairly well and the staff at The Track kept the program moving at a good pace.
I would find myself TQ in 2wd mod short course truck A-main, 3rd in 2wd mod stadium truck A-main, and starting pole in the 2wd mod buggy C-main.
In the 2wd mod short course track A-main I would lead the race from tone-to-tone breaking the track record. The 17.5t Team Edition motor kept pace with the mod trucks on this track and was able to clear the long triple consistently. I feel I could've still geared up another tooth since the motor came off at 98F after the main.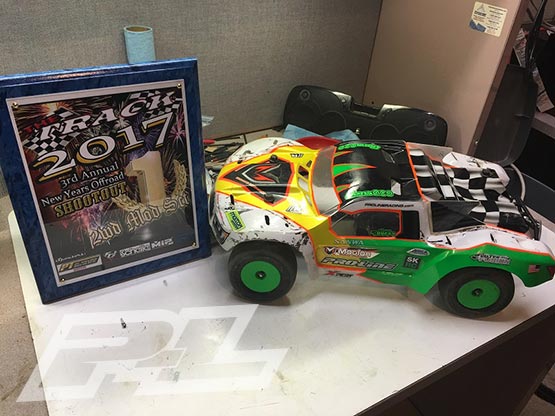 In the 2wd mod stadium truck A-Main I would get taken out in the first turn and would find myself battling back from the back of the pack. I would end up missing the podium and finishing a disappointing 4th.
In the 2wd mod buggy A-main I would take off and start to build a nice lead only to catch a pipe and sit for a while. Once again I would find myself battling back from the rear of the pack. I ended up finishing 3rd and missing the bump up to the B-main.
I'm looking forward to making my way back down to The Track for the Roar Region 2 Indoor Championships on Feb 4th.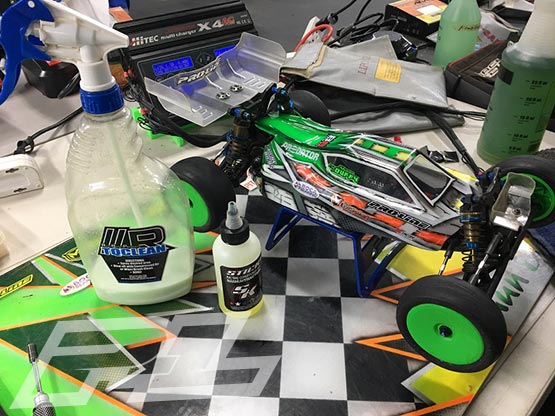 The next morning I would swap my slicks for my Pro-line Electrons and Positrons in MC compound to do battle at Bumps & Jumps in Etters, Pa for Points Race #5. I entered in 2wd stock short course truck, 2wd mod stadium truck, and 2wd mod buggy. There was 110 entries and some very stiff competition.
It was a crazy day for me with lots of parts breaking so I would find myself doing more wrenching than usual. In the end I would end up TQ in 2wd stock short course truck A-main, 8th in 2wd mod stadium truck A-main, and 8th in the 2wd mod buggy B-main. The Electrons and Positrons had great traction all day.
In the 2wd stock short course A-main I would jump out to a sizeable lead and hold it from tone-to-tone again. The new Team Edition motor is no joke.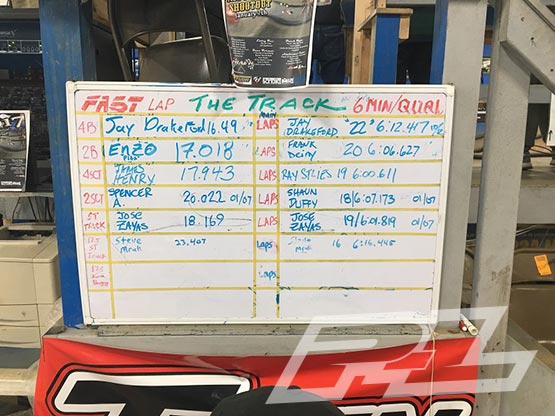 In the 2wd mod stadium truck I would start from the back of the pack and have a few rough laps in the beginning. I would then find my stride and put together some decent laps to work my way back up into 5th in a field stacked with talent. A special thanks goes out to Fred Perkins and Kevin Mummah for helping me out with some parts that weren't in stock so that I can keep racing.
In the 2wd mod buggy B-Main I was able to wheel around a few pile ups and wound up in the lead by the 2nd lap. Matt Hougentogler charged up on my fast and I knew I wouldn't be able to hold him off for another 4-minutes so I gave up the lead in the hopes of holding onto the bump up spot. I would hold onto 2nd until the 3rd place driver would send me into a pipe around a turn and kept on running. I would finish a very disappointing 5th place.
Once again I would like to thank my sponsors for your continued support. Pro-line racing, Maclan Racing, Xpert RC, Boca Bearing, Gens Ace, Sticky Kicks, Race Ready Products, and of course Pit Stop Hobbies.
My next races will be:
Jan 20th – Richfield Raceway (Richfield, Pa) – Carpet Off-road
Jan 22nd – Bumps & Jumps (Etters, Pa) – Points Race #6
Feb 4th – The Track (Gaithersburg, Md) – Roar Region 2 Championships