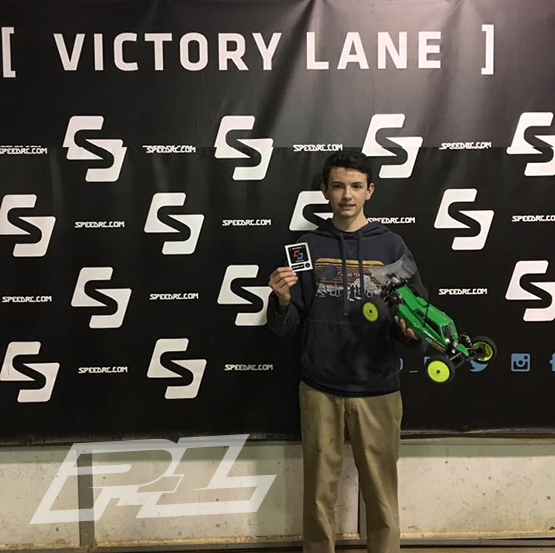 On a Wednesday Night points race at Speed RC, Brett Suggs prepared his brand new TLR 22 3.0 Spec Racer. After passing tech, Suggs was a podium contender since the tone of the first qualifier. Running the first heat of three for Stock Buggy, Brett took a blistering TQ ahead of the field in his heat, however after that, it was all about waiting for the final words whether or not Suggs was quick enough to be overall TQ. Once the last car in heat #3 took the checkered flag, Brett had TQ'ed his first ever time running Stock Buggy against a stacked field of fierce competitors.
Running slicked out Pro-Line Clay Microns, those tires best fit Brett's needs on the slightly damp and hard-packed clay indoor track. After round two of qualifying, Brett improved his previous TQ, but came up a bit short after Jamie McMurry ran a stunning qual to set a new TQ.
The 8-minute A-Main was set to be a tight competition where consistency would be the key. Within the first minute of the tone, Brett maintained second spot right on the leaders tail. Everyone in that race drove super clean which led to some great racing. After a few more laps, Brett finally made his move on Jamie and never looked back. He ended with over an eight second lead over Scott Speed (name listed as TJ Bell; both are owners of Speed RC).