The 2017 R/C Excitement "Snowball" is in the books.   This race is a two day event with stock running day one, and modified classes running on day two.   This years course was very challenging and technical, and required patience.  We ran modified 2wd and 4wd this year we were able to get 3 rounds of qualifying in.
Both of our Xray's ran on Pro-Line Electrons in M4 compound as the race hall was about 40F.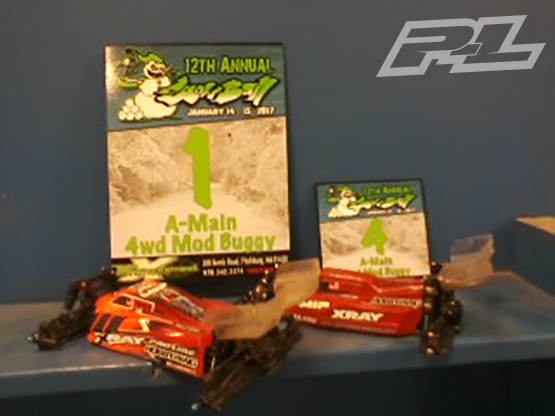 Our XB4 was equipped with a Hobbywing V 3.1 ESC with 20 deg of timing running from a Team Scream 5800 saddle packs and powering a 6.5 T Team Scream motor.  Our XB2 was equipped with a Hobbywing XR10 Pro with 10 degrees of timing running from a Team Scream 4800 Shorty pack, and powering a 8.5T Team Scream motor.
The XB2 17' CE was brand new at 7 am that morning, so we were fairly convinced that this race was going to be a learning event, The first couple of rounds were pretty rough…seemed we got tangled with everything out there…2rd round we were front of the B, and William had a hunch, and took the buggy around during the resort.   The new set up responded much better to being driven far more aggressively than he was.  So 3rd round he changed his style a bit and managed to get a good run in which put us 8th place for the A-Main.    The 2wd mod main started rough with a fairly large pile up near the cross over, which William managed to drive through unscathed.   He then put the hammer down and drove it clean and held on for 4th place.   The Ty Tessmann set up worked very well, though I think we'll move the rear shocks in 1 hole on the tower for the  next race as this track as the surface is a bit rough.   This set up likes aggressive driving.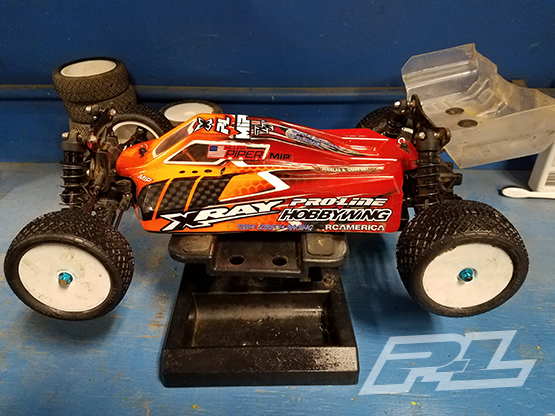 The XB4  15' is our old friend.   The first 2 rounds were rough….amazingly, first round William tubed it when he got on throttle and it unexpectedly wheelied!…   Second and third rounds went better, and we certainly had the speed, but getting tangled with traffic a couple times left us placed 2nd for the main.    The 4wd mod main started fine, but again a large wreck at the crossover put William dead last with 1st nearly a full lap up.   William got to work and drove it hard for the next 6 minutes and was able to get within striking distance when a bobble by first place let William get by with a minute to go and William took the win.
We would like to thank all our sponsors, Xray, RC America, Pro-Line, Hobbywing NA, MIP, Team Scream and Douglas and Co.    We couldn't do it without you!    William and I would also like to than R/C Excitement and the Andersons for such a great facility that we call home.
– William Piper