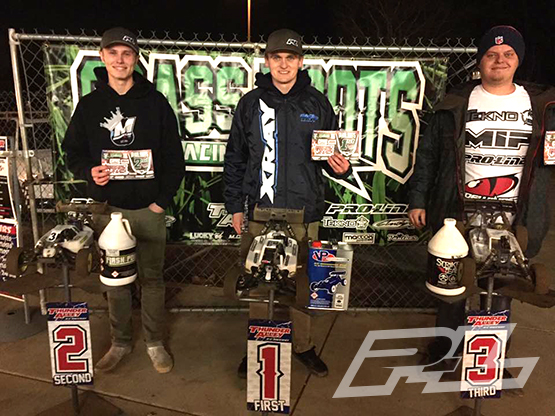 This past Saturday I attended the 1st race of the Grass Roots Series at Thunder Alley RC Raceway in Beaumont, CA.  There were 148 entries for this 1 day race, this was the first time in awhile that the Californian's could get on a track to race due to the rain they have had.  The track was a lot of fun, lots of big jumps and a technical layout.  The track started out with some muddy spots and remained wet throughout the day, due to the moisture in the track it developed a lot of ruts and bumps so at times it was difficult to navigate.
Qualifying went well for me, I managed to TQ both rounds over Drew Moller who qualified 2nd and Cody King who qualified 3rd.  The mid day temperatures reached 18 degrees celcius but when the Mains came the temperature dropped to 7 degrees so we adjusted our shock and diff oils to accommodate the low temperature.
In the main Drew Moller starting from the 2nd position would challenge me throughout the race, at one point I would make a mistake allowing him to get by and then he would make a mistake giving me back the lead.  The first fuel stop we both came in together, on the 2nd fuel stop I was approaching lapped traffic so my Dad called me in a bit earlier giving Drew the lead for a lap but on the next lap he pitted and I regained the lead and was able to create a gap, and went on to take the win.
All my equipment performed flawlessly, a huge thank you to all my sponsors for their support and amazing products