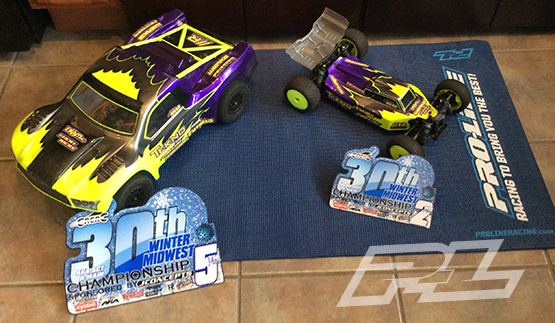 What a long drive home!  Hit my pillow at 2:30am last night.  1242 miles round trip to the CRCRC Mid West Champs at Ohio RC Factory.  Curt Schlichter had the facility and track on point for the weekend. Rodney Black ran a great program. Tim Melaragno had some of the best announcing I have heard next to Scotty Ernst. A total of 336 entries for the weekend with drivers from all over the US.
All my cars ran on Pro-Line MC compounds; Electrons on SCT's and Electrons with Transistors up front on 4WD Buggy.
I got there on Wednesday at 2:00 to start my practice.  Ran laps and made some changes with some help from Joe Bornhorst, Kyle Rhodes and Tom Epting as I was struggling a bit.  Got everything feeling pretty good and got ready for Thursday night seeding round.  Well…seeding didn't go pretty well other than 2wd mod SCT and 4wd SCT.  The difference this year in it was a virgin track because they didn't have a warm up race the week before. The track grooved up and changed throughout each day.
I put in some really good qualifiers and was able to lock myself into the B-main in 2wd mod SCT, just missed the C in 4wd do buggy by one point to Paul Ciccarello and A-main in 4wd SCT.
Mains day came around on Sunday.  I was feeling confident after making a couple setups changes to my 2wd SCT and 4wd SCT.  My 4wd buggy felt great all weekend.
I started on the pole in the D-main of 4wd buggy and took off from the start and opened a big gap on the field until Aaron Kothman came charging hard and I made a mistake at the loop letting him by and I ended up finishing 10 seconds behind him.  I was happy with that finish as I was consistent and there was a packed field above me.
2wd mod SCT I started 9th on the grid and knew I had some work to do.  I was able to push my way up to 5th and just couldn't catch the front of the pack.
With triple A-Mains for 4wd SCT and pretty much being one of the only Teknos in the line up I knew I had to push hard.  I started 5th on the grid.  I had a 5th, 4th and a 2nd in all three makings three way tie for qual points and I ended up 5th with overall times for a tie breaker.
My Tekno 410.3 felt good all weekend I just made too many mistakes.  All my cars ran on Pro-Line MC compounds; Electrons on SCT's and Electrons with Transistors up front on 4wd buggy.  Hobbywing V3.1 V3 and SCT pro ran cool all weekend.
Thanks to the Geoffrey Kothman, Rose Kothman for being a great support group for the weekend and the good laughs.
Tekno RC
Pro-Line
Futaba
Hobbywing
Crispy Critters Hobbyshop
Werks Racing
BoomRC
Race Ready Products
Sticky Kicks
Ogio
– Andrew Rizzo