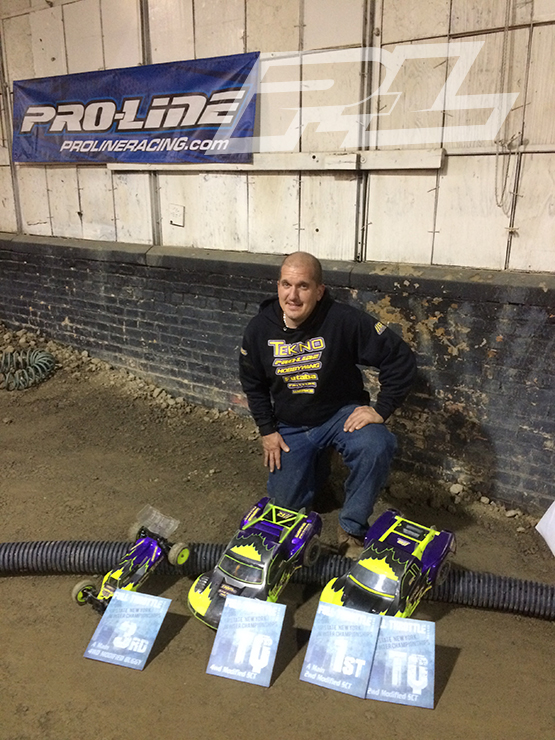 Well the weather didn't scare me to head out to Full Throttle Raceway this weekend for the Upstate NY Winter Champs.  400 miles later I am home and lucky that my wife let me go race on her birthday.  This was kinda a test and tube race to get ready for the CRCRC Midwest Champs coming up.  This is my last race for the season prob and now time to relax and have some family time till I leave on Jan. 4th to Ohio for a week.
Andrew Ran Pro-Line M4 Primes to victory
The Kothman family continues to always run a great program and keep the track in great shape with HIGH traction. Kate's deli for keeping us fed and a great group of racers.  Glad I was able to help out a few guys with there 410.3.
I decided to run four classes again even though the turnout was not that big due to the snow.
2WD Mod SCT is dialed in even better now for high bite.  TQed both rounds and ran away with the main winning by a lap over the field.
4WD SCT with my Tekno 410.3 is still a learning curve for high bite with some more setup needed and a adjustment in driving style.  I was able to TQ by a lap over the field but threw it away in the main making way too many mistakes but finished 4th.
4WD Mod Buggy I didn't have the best quals and started 4th on the grid.  Again made a lot of careless mistakes in the main but ended up in 3rd.
2WD Mod Buggy I was able to lock myself right in the triple A-mains in the first qual.  The first main was pretty much a demolition derby and the last thing I would have happened in an A sort.  With less people running the second and third main I was able to finish 5th in both and get and over all 6th.
 Pro-line M4 Primes, Hobbywing XR10pro, XR8sct pro, Sticky Kicks Bananas, Futaba 4PX #TeknoRC #ProLine #Futaba #Hobbywing #CrispyCrittersHobbyshop #StickyKicks #RaceReadyProducts #WerksRacing
– Andrew Rizzo