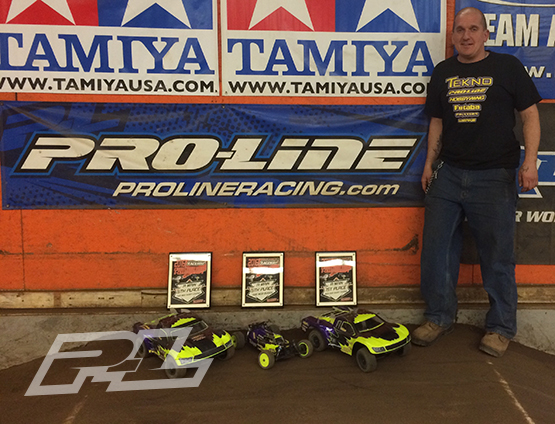 Friday I got up to Wolcott Hobby and Raceway for some early practice.  Got my laps in and decided to not club race and help out around the shop.  After putting together 75 plaques I went and got some dinner and was pretty wiped.  Lester Bastenbeck was kind enough to let me crash at his house for the night for some laughs and entertainment.
Saturday morning was the start of the CT State Champs with 118 entries the pits were packed. My first two rounds I pretty much left right on the track as I just was not in the game.  I made some changes and for the third round and was able to have some pretty decent A-main grid positions locked up.
  Pro-Line M4 Primes have been the best tire on the eastern tracks.
2WD Mod SCT was first up.  I had missed TQ by a second and a half but was very confident starting in second.  The tone went off and it was a freight train around the track with Peter Battinelli and me.  Constantly swapping spots back and forth with some of the tightest racing I have had in a while which was nice.  In the end I was able to come through and win by just a mere three seconds.
4WD Mod Buggy I started 5th on the grid and made just way too many mistakes to pull up to the front and ended up finishing 5th.
4WD SCT my third qual I was able to put myself 3rd on the grid but with only having a small class of the trucks it was very mixed with even and Axial Yeti in the main with us.  After being able to climb to the top and keep getting knocked around I wasn't able to climb back up to get where I wanted to.  Ended up having to settle for fifth.  At least I was able to figure out some good set up changes for my Tekno 410.3  and adapt to a different driving style to make this reduce come alive for the next event.
Overall happy with the day and fun with friends.  Kyle Rhodes for busting his but always to keep things going and Lesters mom for the great food!
Pro-Line M4 primes have been the best tire on the eastern tracks.
Hobbywing V3.1V3, SCT Pro ESC, V10 series motors and the monster 4800kv SCT motor.
Futaba 4px and 304sb RX.
Sticky Kicks bananas continues to be the sauce to go with.
#Tekno
#Pro-Line
#Futaba
#Hobbywing
#CripspyCrittersHobbyshop
#BoomRC
#StickyKicks
#RaceReadyProducts
#WerksRacing