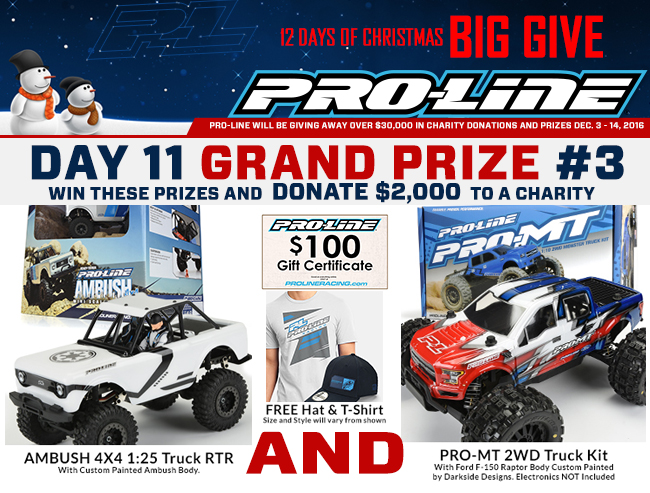 PRO-LINE'S 12 DAYS OF CHRISTMAS BIG GIVE
OVER $30,000 IN DONATIONS AND PRIZES!
During the holidays we are always reminded of how much fun it is to give gifts; gifts of time, gifts of products, gifts of service and gifts of donation. This year Pro-Line would like to give 12 lucky winners an awesome gift with the 12 Days of Christmas BIG GIVE of 2016.
Starting Saturday, December 3, 2016 and ending Wednesday, December 14, 2016 Pro-Line will be giving away a Pro-Line Kit prize pack each day for 12 days!
CHARITY DONATION LIST:
Casa Hogar Belen
Casa Hogar Belen is located in the Otay Mesa area of Tijuana, Mexico, and is home to 60+ orphaned children in need.
Wounded Warrior Project
The Mission of the Wounded Warrior Project is to honor and empower Wounded Warriors. The WWP programs are ever-evolving and they are here to help support wounded warriors as they define their new normal. With a culture of teamwork the WWP staff work to foster the most successful, well-adjusted generation of wounded service members in our nation's history.
The Sheepfold
A 6 month program that helps homeless and abused women with children to find shelter, a safe refuge and a new beginning in life. At The Sheepfold women learn to recognize their value and self-worth, get help finding employment and improved living situations.
Both Hands
Both Hands mission is "to serve widows, orphans, and adoptive families." Our purpose is to help people raise funds for orphans while serving widows through home improvement projects.
Teen Challenge
Teen Challenge is a non-profit organization that relies entirely on the generous donations, funding and volunteer efforts of both individuals and organizations.It is the mission of Teen Challenge to provide youth, adults and children an effective and comprehensive faith-based solution to drug and alcohol addiction as well as other life-controlling problems.
ENTER HERE for Your Chance to Win!