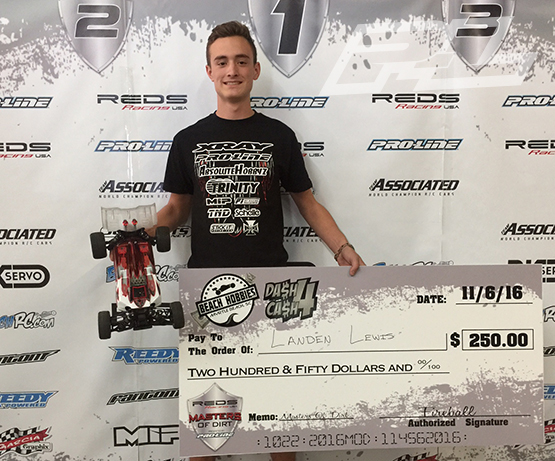 Heading home today from South Carolina where I attended the Masters of Dirt Race.  It had a little over 250 entries with all Mod classes except on Stock Buggy class.  The new Positron Tires were a huge hit and every team driver loved them.  Those that were not on the team can't wait to get them now seeing what they could do on the track.
Also used Pro-Line Electron Tires for 1:10 Buggy and for 1:10 Truck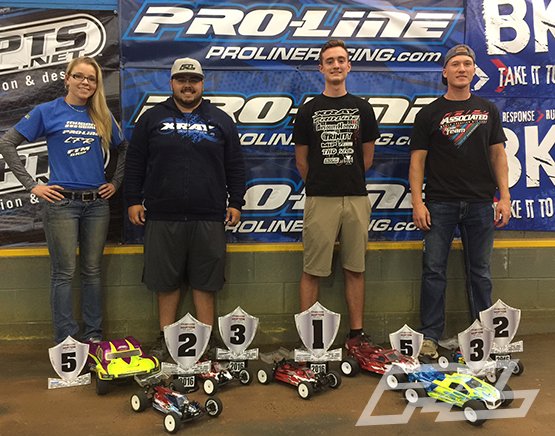 As far as the racing goes, the main battle of the weekend was between Griffin Hanna, Landen Lewis, Braydon Obereski and a new up and coming driver, Christian PaHud.  Landen seemed to qualify 2nd in almost every round behind Griffin.  This was Giffin's and Braydon's home track.
In the Mod 2WD Truck Class, Landen and Griffin was 1-2 and had a huge lead over 3rd until Landen popped a Ball cup.  Landen would get it popped back on but unfortunately fell to 5th overall.  Pro-Line's new driver Braydon Obereski came in 3rd.
In Mod Pro 2WD Buggy, again Landen and Griffin was 1-2 in the 10-minute A-Main.  Late in the race, Landen had trouble getting around lap traffic being wrecked twice allowing teammate, Braydon to make the pass on last lap to take 2nd and Landen finish 3rd.
In Mod 4WD Buggy, Landen, Griffin and Christian Pahud had the race of the night with many lead changes.  At the end of the 10-minutes, Landen would bring home the win.
Earlier in the day, being that the 4WD Buggy class was the largest class on the event, the top 8 competed in the Dash for Cash.  Landen would take the lead on lap #2 and bring it home to win the $250.
For Mod Open 2WD Buggy, Pro-Line driver Daniel Chavez would come home in 2nd place.  The had 2 classes for Mod 2wd.  Pro and Open.
In Mod 2WD SCT, Pro-Line driver Caty Carmendy would take 5th place overall.
We had about 12 Team drivers on hand for the event.
The event is called Masters of Dirt because they take your final position in all 3 Pro Mod Classes (Truck, 2WD Buggy and 4WD Buggy) and the lowest number wins.  For the 2nd year in a row, Landen finished 2nd overall.  Last year to Stephen Hartson and this year to Griffin Hanna.  Braydon finished 3rd overall.
– Brian Lewis