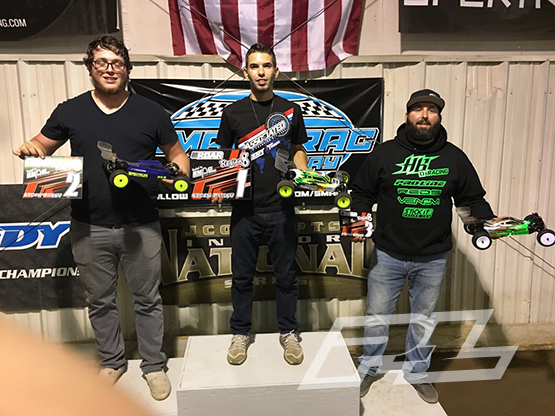 This years event was held at Smac Trac in St. Charles, MO.
I practiced all day Friday and got to get both cars ready for qualifying. They run Super Soft Compound Tires at the track and I'm used to clay so that took a bit to get used to
My D413 was really good. My Reds motor and ESC was smooth and fast with Pro-Line rubber connecting it to the track. 
I was able to TQ and win A1 and A2 to take the overall win! My D216 was a little tougher to get dialed in I made small changes after every qualifier but, by Main day I had it pretty solid. I qualified 4th overall with that. In A1 the leader cased a jump on the first lap and collected 2nd and 3rd and I drove around the mess and lead the rest of the race for the win.  In A2 lap traffic got me and I finished where I started in 4th.  A3 the track wasn't quite ready after watering so it was really slick so I couldn't push the car the way I wanted so again I think I finished in 4th again for a 3rd place overall.  So it was a good weekend me and I had a lot of fun.   Thanks again for this amazing opportunity to be a part of this race team!
I will continue to represent Pro-Line the absolute best I can. I used M4 Electrons om my 2WD and M4 Ions on my 4wd.  I can't express how Important this is to me and how lucky I am to have Pro-Line in my corner!
Sincerely,
James Nelson