Toyota Tundra TRD Pro True Scale Clear Body
for PRO-2 SC, Slash®, Slash® 4X4, SC10 (Requires Pro-Line Extended Body mount kit sold separately)
#3476-00
This is a Pro-Line Toyota Tundra TRD Pro True Scale Body for SC Trucks. Toyota Tundra fans can rejoice now that Pro-Line has the Tundra TRD Pro True Scale body for your SC truck! The Tundra TRD Pro True Scale body accurately replicates the real truck and completely transforms the look of your Short Course Truck. This scale truck body is perfect for making your friends jealous and giving your Truck a completely different look! Don't show up to the local bash spot or track with the same body as everyone else… Get your True Scale Toyota Tundra TRD Pro body from Pro-Line today!
*Note: This body requires extended body mount kit for proper body fit*
---
Ultra Reservoir Shocks (105mm)
For Rock Racers & Crawlers Front or Rear
#6288-00
This is a pair of Pro-Line Ultra Reservoir Shocks. Pro-Line is proud to announce the next generation of RC Shock Technology with our all-new Ultra Reservoir Shocks! The new Ultra Reservoir Shocks feature a fully functioning Reservoir with a realistic divider piston and set screw for adjusting the shock rebound. The Aluminum Shock Cap, Shock Body, Reservoir, Bottom Caps, Spring Perch, Shock End and Steel Shock Shaft have all been CNC machined to exacting tolerances to achieve the highest quality shock imaginable and have been designed with Scale Realism in mind. X-Ring seals are used for both the main shaft seal and the divider piston for the smoothest and lowest friction seal possible for these 9mm Bore Shocks. From the top mounting hole to the bottom mounting hole the Ultra Reservoir Shocks measure out to be 105mm at full extended length and collapse down to 75mm for a full 30mm of shock travel! The extended length of the shock can be lengthened by unscrewing the rod end by a few turns or it can be reduced by adding limiters inside the shock underneath the piston. Just like Pro-Line's extremely popular PowerStroke Shocks, the Ultra Reservoir Shocks feature Dual Rate Springs but these shocks come with an extra collar so you can adjust exactly where the dual rate springs transitions to single rate, similar to full scale shocks! Smaller hole pistonsare also included for added tuning options. The top and bottom shock eyelets are pressed into plastic inserts for smooth and free pivot action. The Ultra Reservoir Shocks come mostly pre-built and do require oil to be installed by the user.
---
Positron 2.2″ Off-Road Buggy Rear Tires
for 2.2″ 1:10 Rear Buggy Wheels, Includes Closed Cell Foam
#8256-03 M4 (Super Soft)
#8256-17 MC (Clay)
This is a pair of Positron 2.2" Buggy Rear Tires. The future of 1:10 Buggy Tire Performance is here with Pro-Line's all-new 2.2" Positron Tire! Designed from the ground up with an all-new carcass shape and futuristic directional tread design, the Positron delivers true next generation performance with improved grip and corner speed on indoor clay tracks. The tread design pays homage to the Electron and Ion tire before it with the 2 center pins boxed in by connected bars for a familiar Pro-Line signature look. From there the connected bars shoot off at angles that have been specifically designed to provide maximum Forward Bite combined with unmatched corner speed all while lasting longer than the competition. The Positron is directional, which adds another tuning option for the racers always looking for that extra edge since it will perform differently depending on which direction it is run. Indoor season is upon us; get the newest and best race tire for your buggy – the Pro-Line Positron!
---
Pre-Cut Trifecta Lite 1:8 Lexan Clear Wing
for 1:8 Buggy & 1:8 Truck
#6291-17
This is a Pre-Cut Trifecta Lite 1:8 Lexan Wing. Pro-Line started the Lexan 1:8 Wing craze with the introduction of the Original Trifecta Lexan Wing with the help of Team Driver Ty Tessmann and is proud to now introduce the 2nd Generation Wing that is better in every way: the Trifecta Lite! Both Lighter and Stronger best describes the Trifecta Lite with an innovative bent wicker that eliminates the need for heavy add on pieces and hardware. The 3 cut lines on the back of the wing are actually Bend lines that have been designed to allow for easy bending of the Lexan to create a Solid 1-piece Wicker in the position of your choosing. This makes the back of the wing super strong while still allowing for wing flex in the event of a crash, which prevents the Lexan from shattering. Just like the original Trifecta wing, the Lite features 3 dimples that hang down on each side of the wing creating the "golf ball aerodynamic effect" that reduces drag at high speeds without affecting down force. The wing also includes the Center Fin that adds more side stability to your car and increases the strength of the wing around the mounting holes. The Trifecta Lite comes Pre-Cut, so you just have to set your wicker height, bend the wicker over and mount it to your car.
Check out this video by Ty Tessmann setting up his Trifecta Lite!
---
ElectroShot Off-Road 1:8 Buggy Tires
for 1:8 Buggy Front or Rear
#9059-002 X2 (Medium)
#9059-003 X3 (Soft)
#9059-02 M3 (Soft)
#9059-03 M4 (Super Soft)
This is a pair of ElectroShot 1:8 Buggy Tires. The ElectroShot comes from the mind of Ty Tessmann and is designed to perform just like aHole Shot 2.0 while lasting significantly longer. As the name suggests, the ElectroShot is combination of Pro-Line's Electron and HoleShot tread designs with connected bars in the center where the heaviest tire wear occurs and Holeshot pins everywhere else for maximum traction. Connected bar-type tires like Pro-Line's new Positron have become the new standard for 1:10 buggy race tires but pins are still the king of the 1:8 Off-Road. The ElectroShot begins to bridge that gap and test the waters with a hybrid Bar and Pin tire. Racers who have tried the ElectroShot say that it feels similar to a HoleShot but has even better forward grip! Be the first to try out the future of 1:8 Race TireDesign with Pro-Line's new ElectroShot!
---
Scale Tire Decals
for Pro-Line BFGoodrich and Interco Tires
#1197-33 Interco TSL SX Super Swamper Scale Decals
#10122-33 BFGoodrich All-Terrain KO2 Scale Decals
#10119-33 BFGoodrich Baja T/A KR2 Scale Decals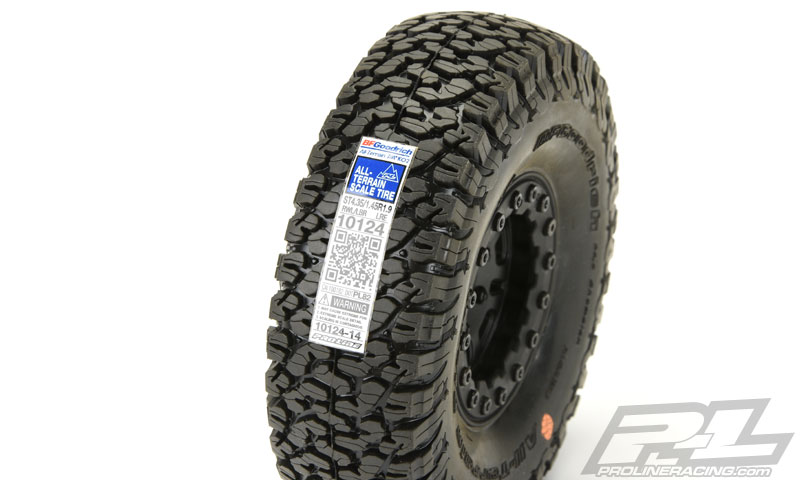 These are Scale Licensed Decal Sheets. Pro-Line has your licensed tires covered with scale tire decals that are just like the real thing! These decals go along perfectly with the 1163, 1197, 10107, 10118, 10119, 10122, and 10124-14 tires and also feature logo decals that you can add to your truck!
Get your own licensed decals now!
---
PL Ambush Mini Crawler Replacement Parts
for Ambush Mini Crawler
#4004-01 PL Ambush Mini Crawler Li-ion Battery Replacement
#4004-02 PL Ambush Mini Crawler USB Charger Replacement
#4004-03 PL Ambush Mini Crawler Transmitter and Receiver/ESC Replacement
#4004-04 PL Ambush Mini Crawler Frame Set Replacement
#4004-05 PL Ambush Mini Crawler Micro Torque Motor Replacement
#4004-06 PL Ambush Mini Crawler G9000 Servo Replacement
#4004-07 PL Ambush Mini Crawler Transmission Replacement
#4004-08 PL Ambush Mini Crawler Shocks and Driveshaft Replacements
#4004-09 PL Ambush Mini Crawler Leaf Spring Replacement Set
#4004-10 PL Ambush Mini Crawler Axle Replacement Set
#4004-11 PL Ambush Mini Crawler Flat Iron Tire and Denali Wheel Set
#4004-12 PL Ambush Mini Crawler Pre-Painted Body Replacement Kit
These are direct replacements for the Pro-Line Ambush 4×4 1:25 Electric Mini Scale Crawler RTR