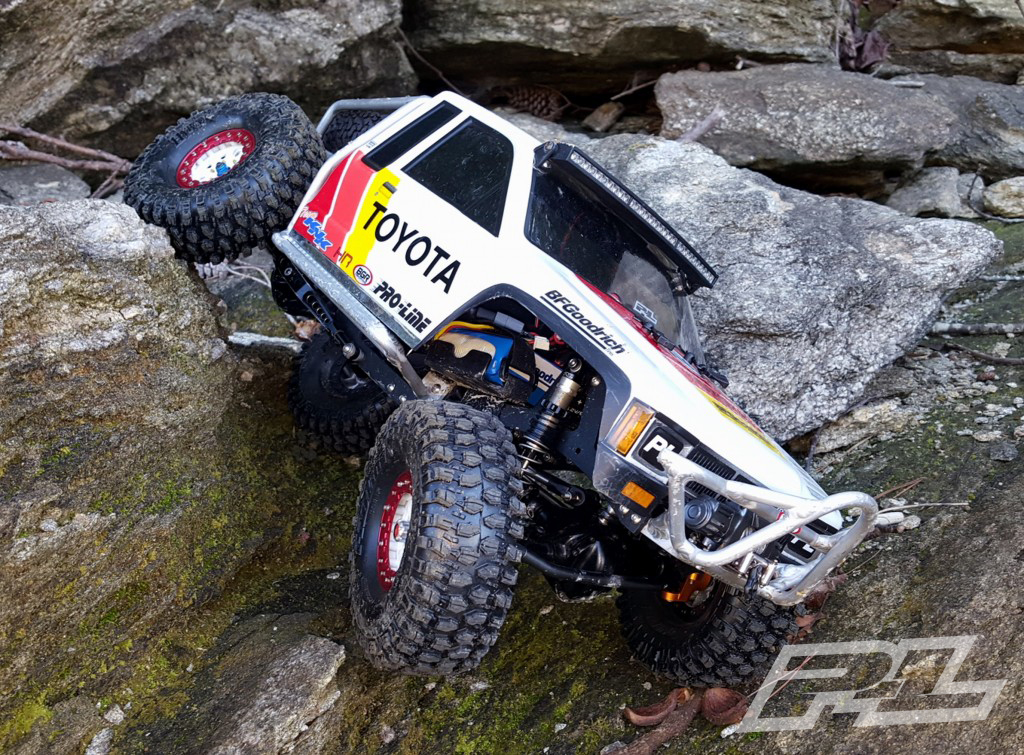 Since its inception, Axial's SCX10 has grown to become one of the most widely popular platforms among the Scale / Tiny truck community. From Pro-Line Racing and the the long list of other companies, the amount of aftermarket parts available for this rig can be mind blowing. So lets take a look at one way to build one of the more popular versions of a Truggy style Rock Crawler Truck.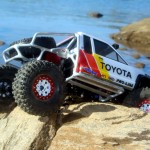 In this build, I decided on a truggy type rock truck which offers scale realism while providing a agile rig that can conquer the most severe terrain. While this truck is SCX10 base, little remains of what would be classified as actual stock SCX10 parts. Lets take a look at the build and possibly give you some ideas to make a version of your very own!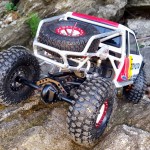 Chassis Construction
The build started out with a set of GSpeed-LcG Chassis Steel Frame Rails and LCG delin skid plate. Next Master Welder / Fabricator Bill Roncallo of BGR Fabrications & Welding was contacted to fabricate the custom Truggy rear cage, Rock Sliders combo and a Stinger style front Winch bumper. The back portion of the GSpeed Frame Rails were clipped to allow for installation of the BGR rear cage / rock slider bumper assembly. A Team KNK SCX10 Stainless Hardware Kit holds all of these chassis components together.
Transmission / Steering
A modified / locked version of Hot Racings SXC10 transmission was installed along with a 32P slipper clutch assembly from a Wraith Spawn. A Jevne Racing CMS Brick Plate SCX10 Battery Plate was added up front and a Holmes Hobbies BLS SHV500 Servo keeps the truck moving in the right direction.
Axles / Suspension
RC4WD D44 Z-A 0114 Front / Z-A0112 Rear Axles were chosen for the build. These are very detailed scale axles that come in the SCX10 width so they fit nicely under the truck. Even though these axles are pre assembled from the factor, I strongly recommend that you disassemble and apply thread locker on all critical threaded hardware of these axles. especially parts like the trusses and suspension arm mounts.
The D44 Axles were then connected to the frame by a set of Vanquish Products VPS06975 Titanium link set. A Set of Hot Racing VTH55L01 Twin Hammers Aluminum Lower Suspension Links were used to create a longer trailing arm lower link. MIP 10145 SCX10 Drive shafts complete the connection from the D44 axles to the Hot Racing SCX10SCP38ST05 Complete Steel Gear Transmission. A Set of Pro-Line Racing 6060-00 Scaler shocks provides the dampening between the axles and the chassis.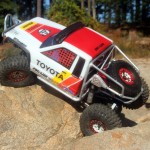 Source of Power
Holmes Hobbies provides the power with a 3300KV Puller Pro Stubby Motor and a Trailmaster BLE PRO Speed Controller regulates the power to it. You will want to invest in a Castle Link to add more drag drake and reduce the percentage of power in the forward and reverse settings. I'm currently running 70% forward, 40% reverse with about 70% Drag brake. This makes the truck more drivable in hang up situations and creates a more predictable power band.
Putting Power to the Ground
The truck was originally concept and ran wit ha t set of Pro-Line 10124-14 1.9 BF Goodrich All-Terrain KO2 tires mounted to #2747-15 Denali 1.9" 8 spoke bead lock wheels. The wheel centers were painted white and the rings color keyed in Red to match accents on the body's paint.
Since the initial run, the truck has been updated with the new 10128-14 Hyrax 1.9 G8 Crawler Tires. These have a more aggressive tread design than the KO2's allowing for greater climbing up steeper slopes and powering over obstacles. These tires are also mounted to custom painted #2747-15 Denali 1.9 Bead Lock wheels. I keep both sets of tires handy depending o n the type of terrain I'm running.
Pro-Lines New 6174-00 1.9" Dual stage Closed Cell Inner / Soft Outer Rock Crawling Foams were added inside the Hyrax tires to accent the already incredible grip with maximum side hilling performance.
Finishing up the Wiring
To keep things Dry, a AX80081 Radio case from Axial's Ridgecrest was added to house the electronics. A Locked Up RC Commando RTR Winch was mounted the BGR front stinger bumper and a RC4WD Z-S1092 Warn Wireless Remote / Receiver Winch Controller was added to control it. Z-S0038 Synthetic Winch Rope and a Z-S1551 Warn 1/10 Premium Winch Hook were added to finish off the scale realism of the winch.
Exterior & Body
Pro-Line Racing's #3466-01 1985 Toyota HiLux SR5 Cab was selected and received a custom paint job to reflect a famous Off Road Racer from the 80's and 90's. The cab was topped of with Pro-Lines 6276-02 6" Curved Super-Bright LED Light Bar. A window net from the 6254-01 PRO-2 Buggy Hardware bag was added to give the truck more realistic off Road feel.
Adding Some Realistic Sound
For a more realistic Scale Crawler Truck , a SENSE Innovations ESS-ONE+ Sound module was added to the truck. The sound profile was adjusted to simulate that of a real sounding Rock Crawler Truck / buggy of this class.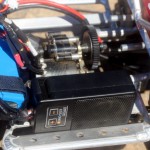 That's a wrap for now. Hope you enjoyed the article and maybe inspired you to build one of your own. Please feel free to email us with any questions or comments you have on the build. Also check out our vendor corner below with a listing of parts that went into the build
VENDORS CORNER
Axial Racing
AX30860 Machined Motor Plate
AX80081 Radio Case – Ridgecrest
BGR Fabrications & Welding
Custom Truggy Rear Clip with Built In Rock Sliders
Front Stinger Style bumper with Winch Mount.
Holmes Hobbies
BLE The Trailmaster BLE Pro Speed Controller
PPS Puller Pro BL540 Stubby 3300KV
SHV500 Brushless 12Volt Servo
Castle Link USB Programming Kit – USB Programmer for ESC's
HOT Racing
SCP38ST05 Complete Steel Gear Transmission
VTH55L01 Twin Hammers Aluminum Lower Suspension Links
Jevne Racing
CMS Brick Plate SCX10 Battery Plate
Locked Up RC
Commando RTR High Power Winch System
MIP Racing
10145 Spline Set CVD Kit for SCX10
Pro-Line Racing
2747-15 1.9" Denaili Bead-Loc 8 spoke wheels
3466-01 85 Toyota Hilux SR5 Cab Only Body
5840 Double Sided Clear Mounting Tape
6060-00 Scale Crawler Shocks
6092-16 Heavy Duty Motor Washers and Screws
6100-00 4mm Serrated Wheel Lock Nuts
6174-00 1.9" Dual stage Crawler Foam
6254-01 PRO2 SB Plastics Set (For Window Nets)
6276-02 6″ Super -Bright LED Light Bar Kit
10124-14 1.9" BFGoodrich All-Terrain KO2 Tires
10128-14 1.9" Hyrax G8 Rock Terrain Tires
RC4WD
Z-A0114 D44 Narrow Front Axle – SCX10 Width
Z-A 0112 D44 Narrow Rear Axle – SCX10 Width
Z-S0038 Synthetic Winch Rope
Z-S1072 D44 Link Set for SCX10
Z-S1092 Warn 1/10 Wireless Remote / Receiver Winch Controller Set
Z-S1551 Warn 1/10 Premium Winch Hook
SENSE Innovations
ESS-ONE+ Sound System
SSD
SSD 00008 Scale Locking Hub Installation Tool
SSD00011 Scale Locking Hubs – Red
Team GSPEED
Steel Chassis Frame Rail Set
GSpeed-Flush Skid Plate
Team KNK Hardware
SCX10 Stainless Hardware Kit.
Vanquish Products
VPS06975 Titanium 8pcs link kit for Axial SCX G6 with 12.0 Wheel Base