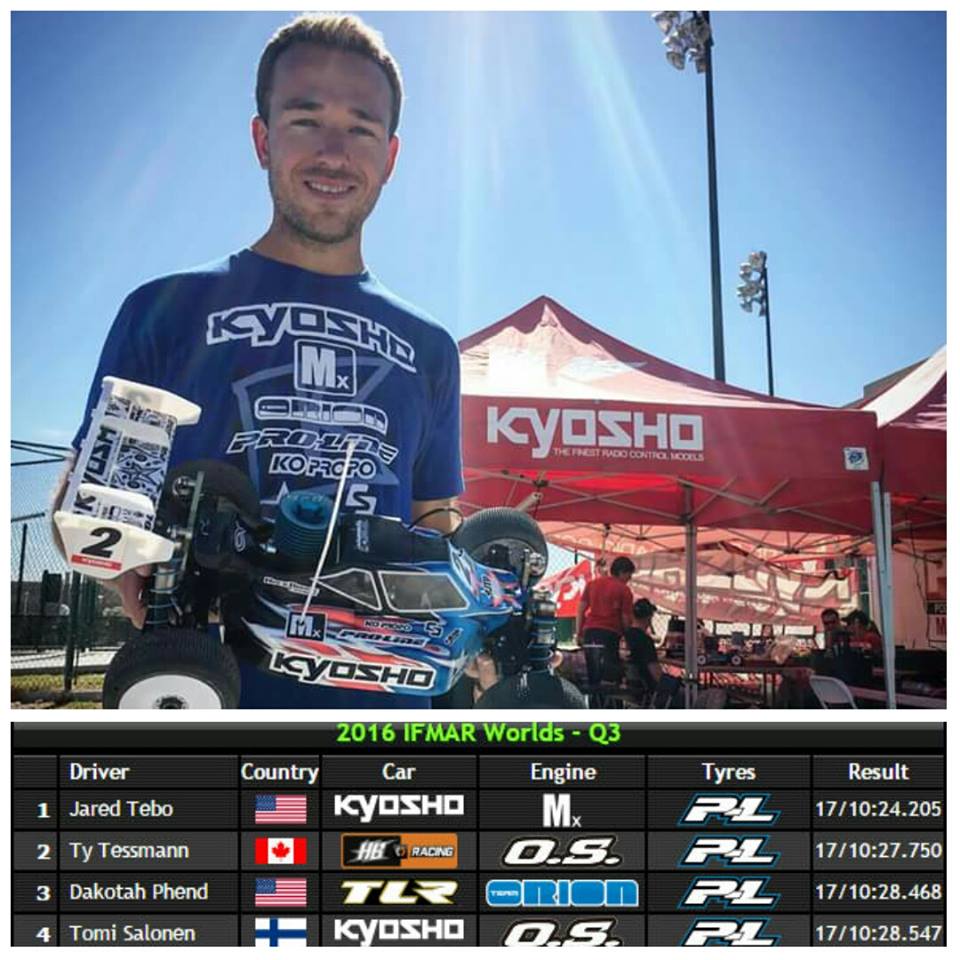 Wednesday was another great day of Qualifying for the Pro-Line team.  After Elliott dominated both Q1 and Q2, it was Jared's turn going to the top of the charts in Q3! Not only that, Pro-Line drivers finished 1-2-3-4 with Ty Tessmann in 2nd, Dakotah Phend in 3rd and Tomi Solonen in 4th.  That is total Pro-Line domination! Since Q3 was held in the middle of the day, most guys opted for M3 compound in Hole Shot or Electro Shot tread.
Q4 was held right as the sun went down, which actually gave a slight track advantage to the Heat 1 guys as the track got slower for Heats 2 & 3 as the temperature dropped.  Our guys didn't end up with the TQ for the Round but we did finish 2nd, 3rd, 4th, 5th and 6th with Jared, Dakotah, Ty, Elliott and King!  Pro-Line drivers also made up 10 out of the top 16 for the Round, which is great for points to get a lot of guys up into the Semi-Finals.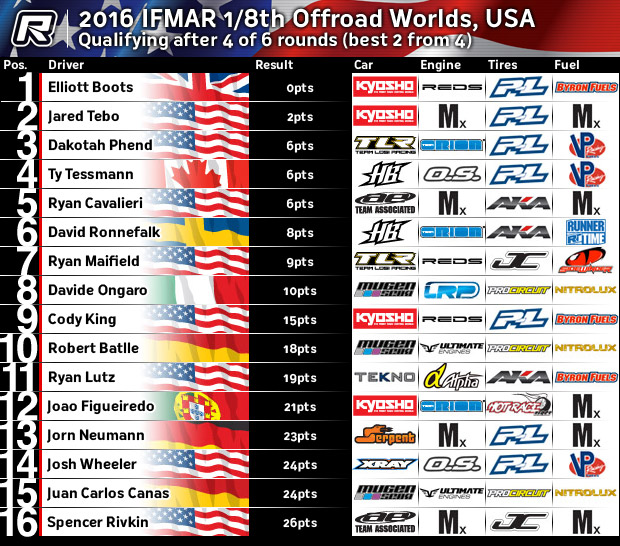 Overall after 4 rounds it is Pro-Line driver's Elliott Boots, Jared Tebo, Dakotah Phend and Ty Tessmann taking up the top 4 positions!  It really doesn't get any better than that at World Championship event with this level of competition.  But there are 2 more rounds of qualifying to go and the order can be shaken up quite a bit.  There are actually several more Pro-Line guys looking to have better runs and make it up into the top 16.
The track is finally turning into the rough monster that everyone expected it to be, which is starting to separate the drivers even more.  A few of our drivers in the lower heats tried some of our test compounds for the dry conditions expected in the longer runs with somewhat inconclusive results.  They certainly weren't bad, they just weren't sure if they were better than M-compounds at the moment.  The Qualifiers are only 10 minutes, so it really doesn't get completely dry over the run even during the middle of the day.  We might see a couple of the top drivers test the new stuff in Q5 and Q6 in preparation for the Semi Finals.  Compound and tread choice for the final is going to be the key to whoever wins this Championship and it's going to be extra tricky since the Final will likely be run at night.  Saturday is supposed to be about 10 degrees hotter than Qualifying has been but I'm not sure that will matter much for the night time Final.  Stay tuned for more updates!!