SuperCup Series – Round 2
Beachline Raceway – Cocoa, FL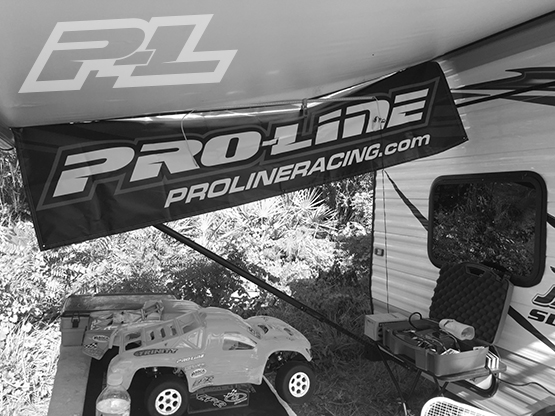 We arrived around 6:00 Friday night to get in a couple hours of practice. It's a good thing we did because we ended up having to fix all our cars. I was taking some laps with my 13.5 Buggy when all of a sudden it just stopped. My speed control died. Thank you, #Brett Hold for giving me one so I could race the next day. David was next to head back to the pits with his broken 13.5 Buggy. It was a mad house on the drivers stand with 18 to 19 drivers at a time on a small sized track. When he got done he walked off with his front diff housing cracked in two. While David worked on our buggies I tried out my 2WD SCT.
Ran Pro-Line Primes in Buggy and Electrons in SC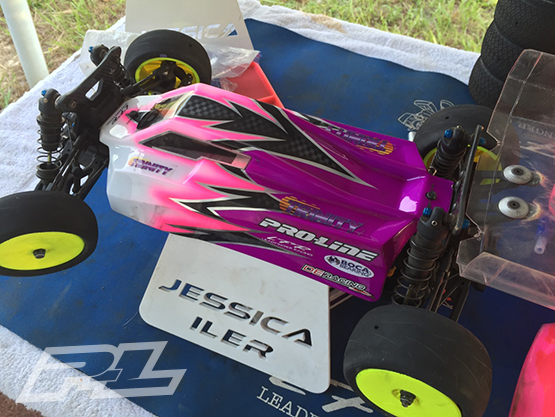 I think I may have made it around 3 times before I knew something was not right and I had just barely made it off the front straight before it wouldn't go any further.  When I got back to the pit I showed David my car and told him I thought it was bad. He looked at it and said I stripped one of my transmission gears, but said not to worry that he had the part to fix it. I have the best husband as my pitman who is always there to take care of me. At the end of the night we thought to ourselves that this is not a good start.
2wd stock short course was going to be tough. This class was stacked with some super-fast drivers like #Robert Molina, #Kevin Abbott and #Austin Craig just to name a few. I placed 5th in my heat for Q1 and 4th in Q2. I ended up qualifying 1st in the B-main. I was disappointed with my results in 13.5 and knew I could have done better.  With 13 laps at 5:11.228 this would be placing me 1st in the C-Main. Not where I wanted to be.
David on the other hand was able to place himself in both A-mains. He would be
starting 7th in 4wd short course qualifying with 13 laps at 5:14999.  13.5 David ran 14 laps at 5:21.072 and would be starting 8th.
My 13.5 C-main was up first. I started in the number 1 position and was able to hang onto it the entire race until the very last lap. I had lap traffic in front of me and when I took a jump I made a mistake and ended up in the tube. The marshal got to me, but when I hit the throttle to go I had stuff on my tires and spun around again into the tube. When I did that the marshal didn't see me as he was helping someone else. I lost about 9 seconds for that one mistake and as I was sitting there the 2nd and 3rd place driver passed me. At that moment I had thought I had lost it. As I was coming around to finish the 2nd place driver made a mistake and I passed him right at the finish line to take 2nd and get the bump to the B-main.
2wd stock short course B-main was next. I ended up getting passed on the second lap. I told myself just to stay with him and be smart as the top two would move onto the A-main. It was around lap 7 where I had my chance and I moved back into 1st and held onto it until the end. I was really excited to be going to the A-main. This would make two bumps in one day…..SWEET!
Heading into the 13.5 B-main I had the worst run of the day and just couldn't get in clean laps, due to the chaos on the track.  It was a nightmare and I was glad when it was over. I would finish 8th in the B.
The last race for me for the day was with my 2wd short course. I have a love/hate relationship with my short course. I have been trying hard to keep with it, but some days I feel like giving up. Today I can honestly say I was so happy and surprised with my results. I started off in the 9th position and was able to work my way up to finish 6th overall in the A-main. I had a huge smile on my face walking down the drivers stand. When I saw my husband I looked at him and said "I can't believe I just finished 6th. My car was awesome and it was fast." I ran my #Trinity 17.5 certified D4 motor along with my #Trinity white carbon battery. We also used the #Trinity Royal Oil on my transmission. This was a very proud moment for me as I was racing with some very fast drivers.
David was starting 7th with his 4wd short course. He was running a white carbon #Trinity battery.  He had made some adjustments to his truck before the main, but still couldn't push it as much as he wanted too. In the end he was able to finish 4th overall with 13 laps at 5:24.001.
The 13.5 buggy A-main was stacked also. Some of the top dogs were #Tilar Pollack, #Kenny Morris Jr, #Lee Setser and #Kayla Espinel. On a small fast track like Beachline Raceway any tiny little mistake can set you back a half lap if not more. David qualified 8th and was able to pick up a few more positions to finish 6th. To be able to make both A-mains at a JConcepts race you know you had a good day.
David Iler Race Results
4wd Buggy 13.5
Qualified: 8th
Finished: 6th
Tires: Pr0-Line Clay Primes
4wd Short Course Modified
Qualified: 7th
Finished: 4th
Tires: Pro-Line Clay Electrons
Jessica Iler Race Results
4wd Buggy 13.5
Qualified: 1st (C-main)
Finished: 8th (B-main)
Tires: Pro-Line Clay Primes
2wd Short Course Stock
Qualified: 9th (B-main)
Finished: 6th (A-main)
Tires: Pro-Line Clay Electrons