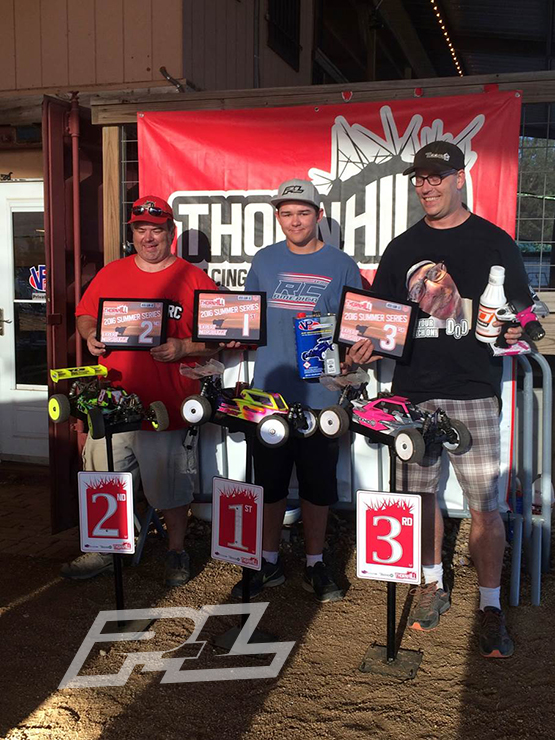 During the past 3 months I have attended the Thornhill Summer Series's on both 1:8 and 1:10 tracks.
In the 1:10 series I would race expert 2WD Stock Buggy as there wasn't a mod class.
This series was best 4 out of 5. I would end up missing the first round of the series and that would take my one drop away. In the second round my first race I would have a good runs in qualifying putting me second overall for the Main. In the Main I would have a great battle with first going back and forth but at the end I made one to many mistakes and ended up second.
Ethan Ran Pro-Line 1:10 Electrons and 1:8 Electrons!
The next two rounds would go pretty much the same way as I would qualify and finish second.
In the last round I take TQ till the 3rd round of qualifying were my run would get beat by 2-seconds. So again I would start second and with a very rough Main I ended up 4th but that was good enough to finish 1st overall in the series!!! Throughout the hole series I ran Pro-Line MC Electrons and Microns to give me the overall win!!

In the 1:8 series I would race Expert Nitro Buggy! In the first round I would be able to take TQ and Win with my X2 Hole Shots and Lexan Trifecta Wing! In the second round I would start prepping for the upcoming Pro-Line shootout as it was a spec tire race. So I wanted to get a head start with the spec tire. In qualifying my car would change quite a bit in order to get traction with the M3 Blockades. At the end of qualifying my car was way better and I was able to just TQ over my Pro-Line teammate Tyler Hooks. In the main we would have a great battle till I would run into trouble during a fuel stop with 6 minuets left. Would end up second. With the Pro-Line Shootout getting closer my plan was to keep running the M3 Blockades so I knew what they did. In this 3rd round I was able to TQ over Pro-Line teammate Jake Dellinger. In the main we would have a great battle up to my last pit stop when I didn't keep the engine running and it flamed out. Again I would end up second. Going into the forth round I knew with another good finish I could wrap up the series. In qualifying I ran M3 Holeshots as the track was damp. After 3 Great rounds of qualifying and the only one able to do 10laps I was Tq going into the main!!  In the main I was able to to out to a good lead and cruise to the finish and win the main and overall series in the first 4 rounds!!! In the 5th round I set up a challenge with Pro-Line Teammate Edwin Hartman and Thornhill owner Chris Allison that I would only run Electrons all day. So I did. In qualifying I ran M3 Electrons and was able to take TQ as I was to only one to do 10laps. In the main I switched to X3 Electrons because it was starting to dry out a little bit. During the Main I was able to get a great start and by the 5-minute mark I had a 17-second lead over second. At around the 13-minute mark the rear drive shaft broke and that would end my race but my Pro-Line teammate Edwin Hartman would take the win and 3rd overall in the series!!
Overall I had a great time running in both summer series's finishing first in both classes I ran!
Huge thanks to all my sponsors for all the help!!
RcAmerica
Xray
Hudy
Pro-Line
Avid
Vp Powermaster
Dutch Oven Designs
StickyKicks
Thornhill Racing Circuit
My Dad, Family and Friends