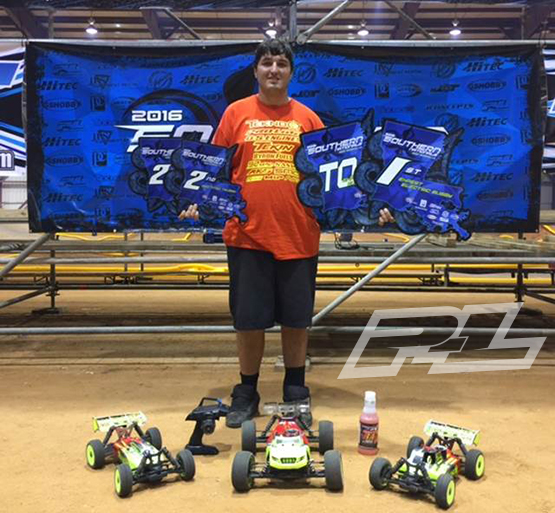 In this late summer weekend, drivers from coast to coast travelled to West Monroe Louisiana to compete at the Southern Indoor Nationals. With 411 entries, there was stiff completion all across the board. Many drivers from the Pro-Line Racing Team contended, and at the end of the weekend, we truly came out on top.
Top Pro Joe Bornhorst, reigning world champion Ty Tessmann, as well as a handful of regional hot shots came out to represent. Nitro Buggy and Truggy, as well as Electric Buggy were the classes of choice. This track included many unique features. With large jumps, and a bumpy dustier surface, the driving experience was trickier than the common race. Most of the team drivers chose the M4 Hole Shot as their go-to tire. With the super soft rubber, and smaller pin, it allowed them to have lots of grip and turn the fast laps they needed to qualify in the top spots.
After three rounds of qualifying, Ty Tessman came out with the TQ in both Nitro Truggy and Buggy, with Joe Bornhorst leading the Ebuggy class. Followed closely behind were many Pro-Line teammates including Noah Dickerson, Jake Dellinger, Josh Glancy, Victor Guerrero, Hunter La Flower, Tyler Hooks, Kyle Johnson, Jared Wiggens, Landen Lewis, and Wade Moore. A total of 29 of the 38 Pro A-Main spots were claimed by Pro-Line drivers!
The main events held great success for Pro-Line. Ty Tessman took home the win in Nitro Buggy and Nitro Truggy, followed by Joe Bornhorst in the second spot for both. Joe also claimed the victory for Electrc Buggy. Tire choice was a large factor for the mains. Most drivers ran the M3 compound, but a variety of tread patterns were ran. Blockades were a common choice as they had a consistent feel throughout the long mains, as the Fugitive Lights were a choice some drivers preferred because of the smaller pin size and overall speed. Other drivers chose the Lockdown due to a smaller side pin, giving them the ability to run faster in rutted out sections.
Kevin McCoy had a fantastic run in the Electric Truggy class, by dominating all Qualifying day and winning the first two of the three mains. Mark Marrow had himself a great fun by finishing the long 40+ Nitro Buggy Main in the second position. Congratulations Guys!
The Southern Indoor Nationals is a true success story for Pro-Line. Lots of fun was had and great memories were made. We'll see you at the next one.
– Brian Lewis