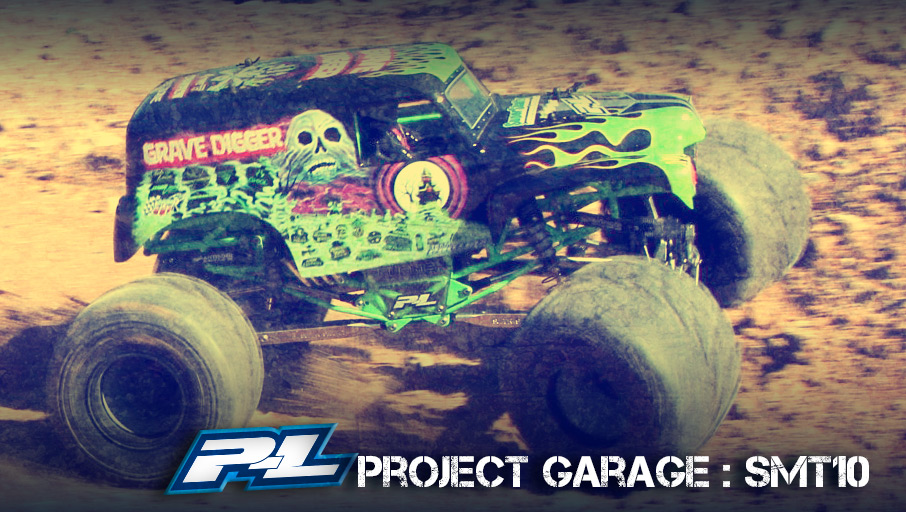 The popularity of Monster Truck Racing and other related events have captured imaginations of about every age for over 40 years. Grave Digger being one of the most popular trucks in this history has now been brought to life with scale realism like no other. Enter Axial Racings new SMT10 Monster Truck chassis with the first release being the AX90055 Grave Digger Monster Jam edition truck! This new release beings scale realism to RC monster trucks like never before. Of course like anything RC, It could always use a little upgrading! Let's take a look at this new release and see what sort of fun we can have with it!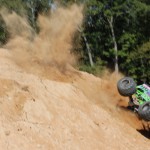 Wheels and Tires:
Like most vehicles, Wheels and Tires are usually the first place to start when looking for more speed. More traction always equates to more speed! To start things off, a set of Pro- Line 10114-02 Destroyer Tires were mounted to a set of Pro-Line 2760-03 Brawler Clod Buster 2.6" Wheels and secured with Pro-Lines 6100-00 4mm Serrated Wheel Lock nuts. These baby's bite and you will rarely if ever have to worry about a loose wheel again .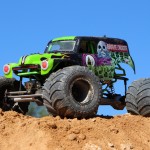 Suspension
Pro-Line 6275-00 Powerstroke XT 5" performance shocks were added to all 4 corners. The shocks were reduced to 4 1/2" OAL by adding 1/2" internal Limiting spacers. The lower silver springs were replaced with Pro-Spec lowers from the 6308-22 Pro-Spec Rear Spring Assortment. The fronts received 25 wt oil and the rears were filled with 30 wt oil. The upper suspension links were replaced with Incision IRC00051 Yeti ¼ Stainless Steel Upper Links on both front and rear. A Set of SuperShafty JEC1001 Bombproof trailing arms connects the lower end of the Prowerstroke shocks to the axles and chassis.
AXLES
I'm going to be Jumping the truck allot so the stock plastic AR60 axle housings were replaced with a pair of much stronger Vanquish VPS07601 Clear Anodized Aluminum Housing's. This will eliminate any possible axle snapping on landings and they look way cool! A VPS06509 Stage One Black anodized Kit, VPS03240 Axial Wraith VPS04311 HD Trusses and VPS03240 Differential Black anodized covers was also added to complete the exterior assemblies.
The stock gears were upgraded to AX30395 38T/13T HD Bevel Gear Set's. Incision IRC00001 Spool / Lockers were added to the front and rear housings and a set of Incision IRC00020 Wraith VDI's were added to the front axles.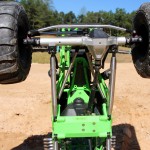 CHASSIS
A Pair of Vanquish VPS07690 Currie AntiRock Yeti Sway bars was added on both the front and rear chassis and linked directly to the front / rear axles. This provides much needed stability of the truck over all while performing both freestyle and jumping. ALl stock Hardware was swapped out for Stainless Hardware from Team KNK Racing with their SMT10 Stainless Hardware Kit. The green molded tube chassis was weathered / shadowed in flat black to bring out more of the molded details.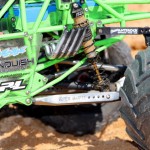 TRANSMISSION
A Super Shafty SS1010C Bomb Proof SCX10 transmission was added for durability over the stock plastic Unit. The transmission was equipped with a Holmes Hobbies Trailmaster BLE PRO Speed Controller and a 3300KV Puller Pro BL Stubby Brushless motor. A pair of SSD SSD00077 Scale Steel Driveshaft's connects the Transmission to the axles.
Let Your Monster Truck Be Heard!
For a more realistic Scale monster Truck, as SENSE Innovations ESS-ONE + Sound module was added to the truck. The sound profile was adjusted to simulate that of a real sounding Monster Truck. Taking it one step further, a Solarbotics 50223 PicoSwitch Radio Controlled Relay was added as a interrupter to the speed controller signal wire. Installing the Picoswitch to the third channel of the radio, allows for free revving of the Sound box with the flip of the third channel switch. A Special thanks to my buddy Willy over at Custom RC Models for supplying the wiring Diagram for the Picoswitch modifications.
CONCLUSION
You can start out basic by adding wheels  and tires and work your way up or go full bore like I did. No matter what your budget, The Axial SMT10 Grave Digger Monster Jam Truck is a great Monster Truck chassis that lends itself to multiple modifications of Monster Tuck Proportions. At the very bottom of this article is a list of parts that were used to build this truck. You can use see what we used to build this awesome trick and use it as a starting point towards your own Epic Monster Truck build!
Thanks for reading and hope you enjoyed the article!
Parts List
Airtronics
90216 MX-V 2.4GHz Digital 3 Channel Pistol Radio
Axial Racing
AX30395 38T/13T Heavy Duty Bevel Gear Set (2x Req,)
HITEC
HS-7955TG Digital Metal Servo
Holmes Hobbies
TAILMASTER BLE PRO Speed Controller
PULLER PRO BL540 Stubby 3300KV
INCISION By Vanquish
IRC00001 OCP Spool / Locker
IRC00020 Wraith VDI Front Axle Shafts
IRC00041 ¼" Stainless Steel Drag Link / Tie Rod Kit
IRC00051 ¼" Stainless Steel Upper Suspension Links (2x Req.)
PRO-LINE RACING
2760-03 Brawler 2.6" Gray Wheels +17.5mm Offset
6100-00 4mm Serrated Wheel Lock Nuts
6275-00 POWERSTROKE XT Shocks (2x Req,)
6276-01 4" Superbright LED Light Bar Kit
6308-22 Pro-Spec Short Course Rear Springs Assortment (2x Req,)
10114-02 Destroyer 2.6' Monster Truck tires
SENSE Innovations
ESS-ONE + Sound module
SOLARBOTICS
50223 PicoSwitch Radio Controlled Relay
SSD
SSD00077 Scale Steel Driveshaft
SuperShafty
JEC1001 JEC Bombproof Trailing Arms
SS1010C Bomb Proof AX10 Transmission with 5mm Outputs
Team KNK Hardware
Vanquish
VPS03240 Axial Wraith Differential Cover – Black (2x Req.)
VPS04311 Wraith HD Truss Set – Black
VPS06509 Wraith Stage One Kit – Black
VPS07601 Wraith OCP Clear Anodized V2 Axle Housing (2x Req.)
VPS07690 Currie Antirock Sway Bar Kit – Black (2x Req.)