This past weekend was the final round of the Battle in the Desert point series at Hobbytown SRS. I was able to take the overall in both 2wd Mod Buggy and 4wd Mod Buggy. It was a 6 round point series. I had a combined total of 8TQ's and 9 wins.
Both of my TLR cars were great thanks the Pro-Line racing Primes in the Clay compound.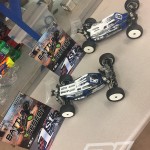 Thanks Pro-Line for all the help.