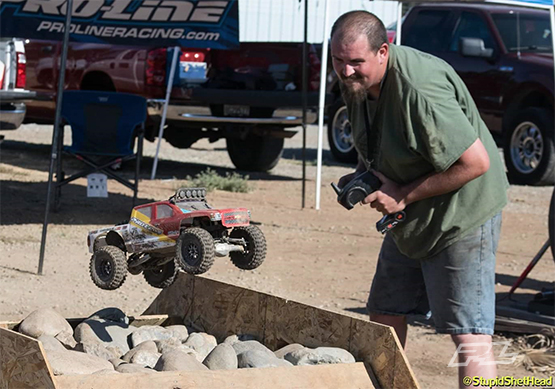 Got out to the Nor-Cal crawlers top truck challenge in Redding last weekend. Had a great time doing other things than racing with my trucks. First up for me was the sled pull which is always fun.
My 2.2″ TSL SX XL's had traction for days. The asphalt and was making my Yeti click and pop and make all kinds of horrible noises until it finally grabbed the chain and flipped over LOL.
As for the 1.9″, the little truck was just too light and only managed to get out halfway but gave my Flat Iron XLs a great beating on the asphalt we'll just say they're broken in now.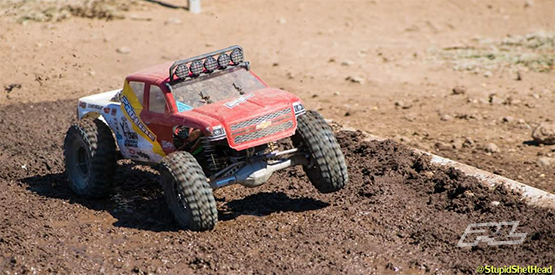 Next thing I tried was the vert wall. This was a wall that you had to start at the bottom and see how far you get up it vertical both trucks laid down the Pro-Line traction and went right to the top for the max score. And last was the obstacle course it had a small mud section to start then over some plywood jumps with rocks at the top around into a tunnel which was hard to see through you had to kneel down in order to do so you had two of those to go through then out into a concrete asphalt rock section on too a log pile then up a pile of gravel around the cone and back through it backwards for the end. Both trucks did what they should and laid down some pretty good times. My yeti was a little bit of a challenge to get through the tunnels but other than that handled great. My 1.9″ on the other hand decided to break a sway bar in the second round and was a real challenge to drive after that it was doing a weird three wheel wheelie thing up the ramps.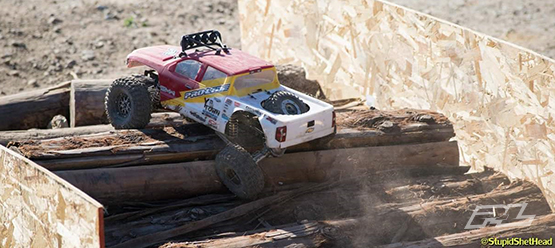 My Pro-Line Flat Iron Tires and PowerStroke Shocks kept it hooked up and I was still able to finish the day with a second place overall and 1.9″ brushless.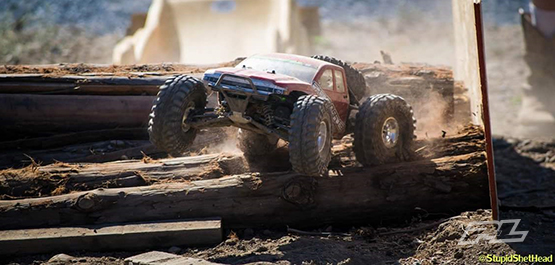 Thanks again to Nor-Cal Crawlers for doing this and to James Tabar for taking the pics, and lastly thanks again Pro-Line Racing for keeping my truck looking great and hooked up in any condition!!