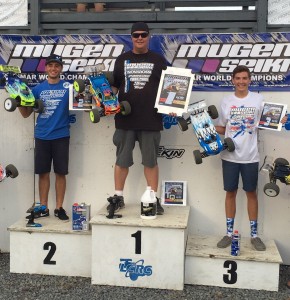 Results:
Pro Buggy: 2nd Place
Pro Truck: 2nd Place
This past weekend LCRC Raceway hosted the annual Mugen Challenge that held almost 300 entries and some of the fastest drivers across the region including Adam Drake, John McGinty, Jamie Grayek, Alex Miller, Mark Sousa, Jason Schreffler, Anthony Mazzara, Noah Dickerson, Gunnar Rieck, Paul Ciccarello and more.
I was equipped with Pro-Line M3 Hole Shots 2.0

Pro Nitro Buggy
In Buggy.  I was equipped with Pro-Line M3 Hole Shots 2.0 through Qualifying and the main, due to the fact that in practice when I ran them my car felt very easy to drive and has a smaller side wall so the car wouldn't want to roll as much through the rougher parts of the track.  In qualifying I went in Q1-2nd, Q2-4th and Q3-5th.  I would end up 2nd overall in qual points with teammate Adam Drake taking the TQ.  In the main I got off to a terrific start and kept Adam in toe for as long as I could before pit-stops became a big factor as he was doing 10 minutes and I was 7:30 minutes.  He was able to edge away a bit so I found myself in a heated battle with Kyosho driver Jamie Grayek for 2nd.  After a while I was able to get away a bit from him after he would make a mistake.  With a minute to go John McGinty was also coming closer due to a late race charge he made.  Although through smooth and consistent laps I was able to take 2nd, 16 second behind Adam who took the win.  Mugen driver John McGinty took 3rd.  I was incredibly happy with my tire choice all weekend and helped propel me to a positive finish in the end.
Pro Nitro Truck
In Truck.  I was also using Pro-Line M3 Hole Shots through qualifying and the main.  They provided my car with amazing traction coming out of the corner, plenty of forward bite and tons of initial steering to help me roll through my turns consistently lap after lap.  In qualifying I went in Q1-2nd, Q2-7th and Q3-4th.  I would end up 3rd overall behind P-L teammate Noah Dickerson and Adam Drake who would take the overall TQ.  In the main I got off to a quick start and was running a strong pace behind Adam.  Due to a early mistake though I dropped down to 8th.  After climbing my way back through the pack, I got myself into a great battle with Noah Dickerson.  After I was finally able to get by him I was able to build a gap after he made a couple of mistakes.  In the end I held on for 2nd with Adam Drake taking the win and Noah in 3rd.  My tire choice was dialed in all weekend and made my car very easy to drive in the process.Thank you to everyone at Pro-Line for everything that they do for me!