The Wicked Weekend
Chicopee Woods Agricultural Center – Gainesville, GA
August 19 – 21, 2016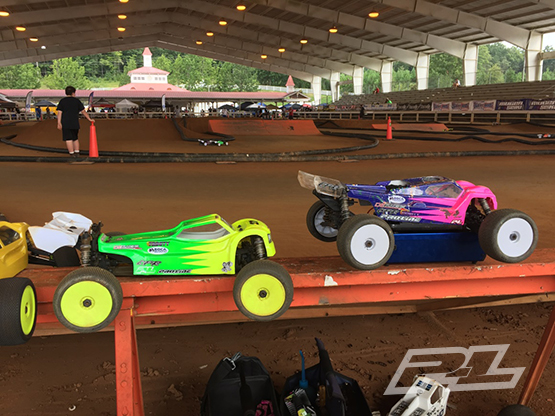 Wicked Weekend has been our favorite race by far and after attending this year it still is. There were 640+ entries this year making it the largest attendance for this race ever. #Dave Leikam, #Jennifer Tyndall Smith, #Bobby Moore and the whole track crew put together an outstanding event with a super fun track layout. Race announcer #Lance MacDonald along with some help by #Patrick Rossiter kept the program running smoothly and made it exciting. We want to give a huge shout out to #JJ Sports Photos for taking the time to capture some awesome shots throughout the whole weekend.
Pro-Line Hole Shots in both Truggy and Buggy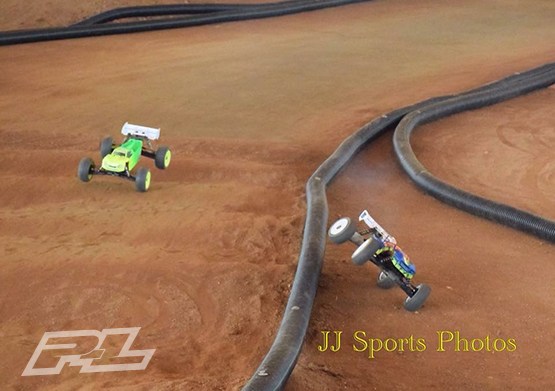 We arrived at 11:30PM Wednesday night so we were able to set up camp and relax Thursday before the long days to come. Thursday night we were able to pick up our cool Reds Racing VIP drivers stand passes, which meant we would not have to wait in line Friday morning to register before we could practice. We were up early Friday morning prepping our cars to be the first people on the drivers stand. We ran battery after battery all day long just to get used to the track layout. We had a blast watching #Ryan Lutz and #Joe Bornhorst laughing and having fun while practicing. They had put on an awesome show for us. Ryan and Joe represent this sport the way it should be by having fun and helping others out when they can. It really was refreshing to witness the great sportsmanship they showed as there is so much drama lately in RC racing.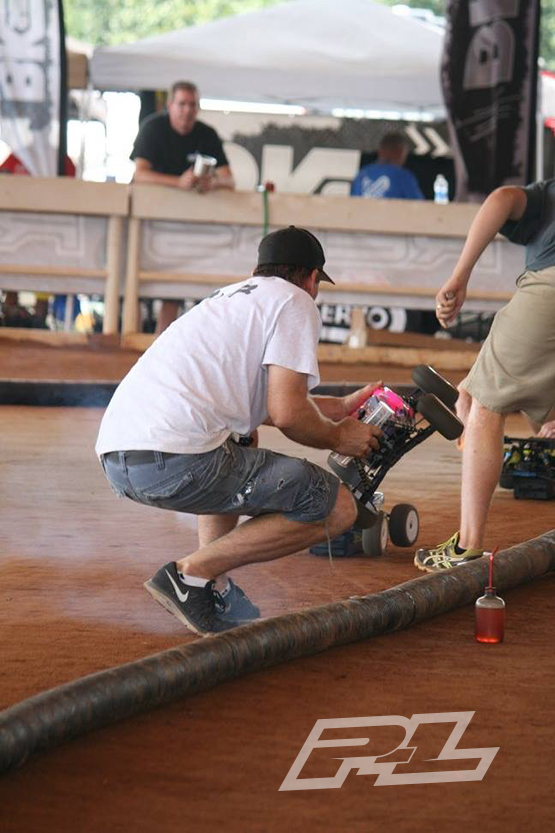 A drivers meeting was held at 6:30AM Saturday morning followed by two rounds of qualifiers. My E-Buggy was looking good with my #LFR #Assassin body and had amazing power with my new #Killer Bee #Trinity battery. I was also running the green sealed bearings from #BocaBearings. My first qualifier I took 3rd in my heat of 16 with 12 laps 7:33.174 and a fast lap of 35.973. After the first round they did a resort. I was happy as I got a little bit faster in my second qualifier with 12 laps 7:17144 and a fast lap of 33.590. I had switched my #Proline Tires from #LockDowns to #Fugitive Lites in the second qualifier to get more steering. I ended up qualifying 48th out of 122 using qualifying points. This would put me starting 9th in the D Main. I was really excited since the mains went all the way up to I.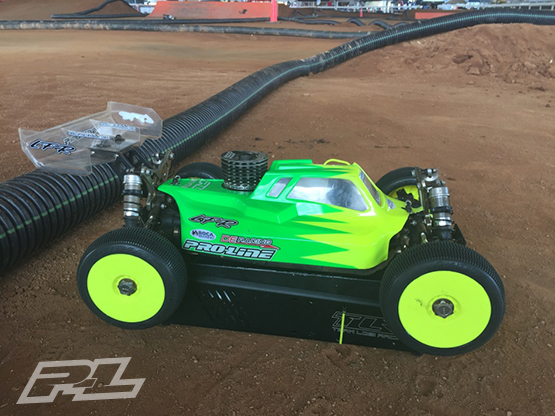 This would be my second time racing Nitro. I didn't do as well as I would have liked. My truggy just didn't seem right. It felt like there was a delay when I got on the gas. Twice during my second qualifier I flamed after landing a jump, but my awesome pitman #David aka hubby, got me going again. I would be starting 4th in the C Main.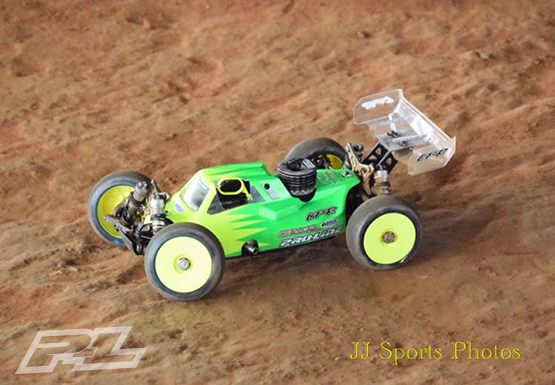 David ran his #LFR #Assassin body on this E-Truggy and was flying around the track with his #Killer Bee #Trinity battery. His first qualifier he came in 4th out of 14 in his heat with 13 laps 7:26.626 and a fast lap of 33.378. His second qualifier was faster also with 13 laps 7:10.836 and a fast lap of 31.877. David just missed making the A Main as he qualified 15th and would be starting 2nd in the B. He was running #Hole Shot tires from #Proline.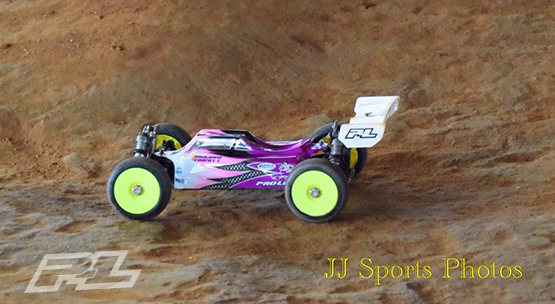 I would be pitting for David as he was also running 40+ Nitro Buggy. I think I was more nervous than he was. His first qualifier he had 12 laps, but got faster in round 2 with 13 laps 7:24517 on his #Proline #Fugitive Lites. He was also running the green sealed bearings by #BocaBearings. David would end the day starting 3rd in the B-Main.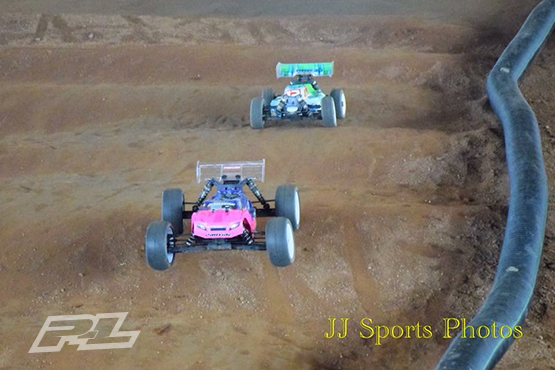 Getting very little sleep we were up super early Sunday morning for the mains.  My first race would be sportsman E-Buggy (D Main) race 11. I was pumped up and couldn't wait. As I was taking my last practice lap I went to take a corner and my steering locked up. I yelled to David to have him take a quick look to see if something had gotten caught. I was so disappointed when he told me my servo saver broke and I would not be able to race in my Main. That was the longest walk off of the drivers stand ever. I was so upset, but knew I needed to shake it off and focus on my next race, which was Nitro Truggy.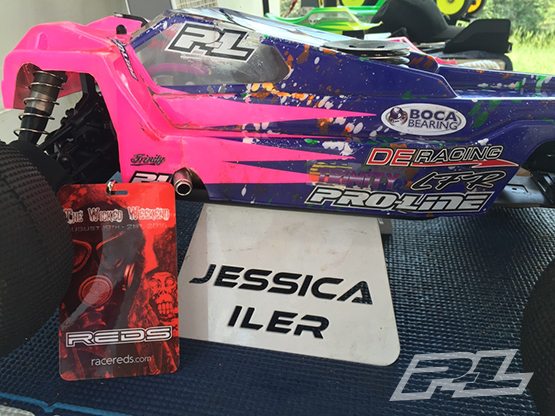 Before my Nitro Truggy Main David tested it in the parking lot to see if he could figure out why I said if felt like there was a delay when I got on the gas. He made a quick adjustment to my settings on my controller and it did the trick. The C-main would be a 10 minute race. I had to make the decision on whether or not to come in for fuel during the main. At the start of the main I got tangled up in traffic and dropped back to 8th. My Truggy was running awesome after David made the adjustment for me and I was able to work my way back up to 5th. At that time I knew my only chance to get the bump to the B-main was not to pit and pray that I would not run out of gas. On lap 14 I was able to move into 4th and I was only one position away from making it to the next round. On lap 16 I was going around to take my last lap of the main and at that time I passed the 3rd place Truggy who flamed out. When David told me I was lucky to finish that I only had 3 drops of fuel left I didn't believe him. I took a look and my tank was bone dry. I finished 3rd with 17 laps 10:32.323 on #Proline #Hole Shot tires and using the #LFR #Hammer wing.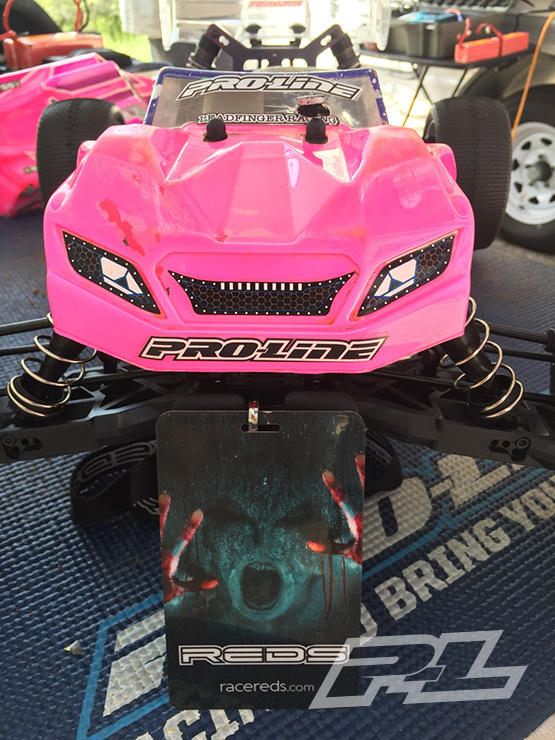 I was so excited to make it to the B main. I would be starting 16th in the B-main. At one time I had made it all the way up to 5th place. I felt like I was on fire and that I had a good chance of making the A-Main. I had even lapped drivers. Unfortunately, on lap 13 I landed a jump short and was hit from behind and broke my rear diff housing. My chances of making the A main were gone. Thank you to #Lazi (Janos Lazi Lazar) and #Matt Kirkpatrick for marshalling so that David could get my Truggy warmed up for my race.
David's first race was race 29 with his E-Truggy. He was starting 2nd in the B main. He was able to take over 1st place on the first lap and hung onto it the entire Main. Taking 1st with 13 laps 7:03.231 and a fast lap of 31.955 he made it to the triple A mains. I was so proud of him. His nitro buggy B-Main did not go as well though. He started 3rd and had a good chance to get the bump to the A, but his front dogbone came out and when someone tried to pop it back in he broke the axle so David was not able to finish the race.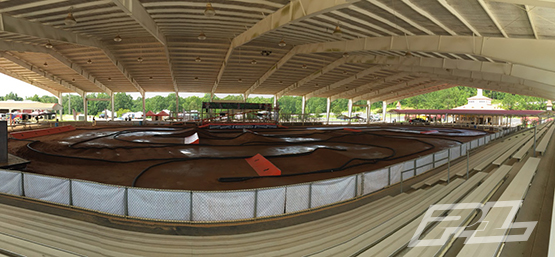 David had some great runs with his E-Truggy in A1 and A2. In A3 David and another driver took a jump at the same time and David ended up getting the worse of it. He ended up bending both front shock shafts. One shaft was completely stuck so he was running on 3 wheels. I don't know how he did it, but he kept going. Then all of a sudden the front of his body came off his Truggy and he was going down the front straight looking like an alligator. He put on a great show and actually finished the race. David's triple A-Main results were…..A1 – 10th place 12/7:02.755, A2 – 7th place 13/7:05.640 and A3 – 11th place 12/7:08.385. Final overall result was 11th place. David was running on #Proline #Hole Shot Tires and was using the #Killer Bee #Trinity battery. What a great way to end the weekend.
Recap of the weekend……there were ups and downs, a lot of broken parts, both of us getting bumped up to the next rounds, David making the A main in E-Truggy, #Ann Hold and #Christina White keeping us well fed, we won the Tekno E-buggy and we got to spend time with our very close friends. We had a blast and exceeded most of our goals that we had set for ourselves. We couldn't have asked for any more.
Lastly, we would like to thank all our sponsors for their ongoing help and support. We would not be where we are today without you. #Trinity, #Proline, #LFR2016, #BocaBearings and #DERacing.
#IlerRacing
David Iler 27
Jessica Iler 19