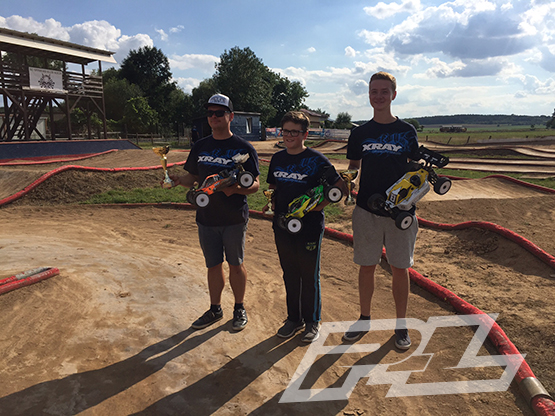 The 7th round of Czech Open series took place last weekend on beautiful track in Kolin. Home club did perfect job and prepared whole area perfectly for which I owe them my thanks!
On Friday we had free practice, my FX powered XB8'16 was working good since the first lap and we only made few small changes on the setup to get more steering on this quite technical track.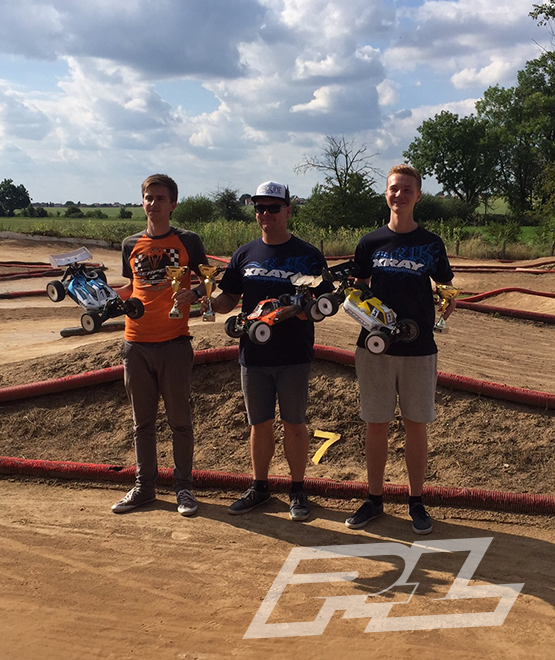 In Saturday morning the track was a bit wet and grip got much higher compared to the previous day. Therefore everyone knew first qualification would be the deciding one as only one best run was counted. Overall TQ went to Martin Bayer who posted fastest runs in all three rounds, Jiri Mara finished 2nd, I was sitting 3rd and Xray young guns – Milan Mudra and Max Gotzl were 4th&5th!
In semi-B Milan Mudra had to retire and Jiri Mara almost didn 't make to the main final. In semi-A Martin & I had a good fight for about 5-minutes until my front left tire ripped off and we had to change it – still made it to the final, starting 2nd behind Martin.
In the Main final I had a tough start and had to work my way back to the top. Martin & his XB8'16 got quickly away from the rest of the field and took the win with almost a lap in front of 2nd driver, congratulations! I had a good fight with Jiri Mara for the 2nd place, but few small mistakes in the end resulted into the 3rd place overall! Max Gotzl finished 4th and won the Junior class, congrats!
TOP 12:
Martin Bayer (TQ) – Xray
Jiri Mara – Serpent
Kaja Novotny – Xray
Max Gotzl – Xray /1st junior/
Martin Zicha – Mugen Seiki
Tomas Kapicka – Kyosho
Frantisek Kalenda – Xray
Jan Hujer – Kyosho /1st senior/
Michael Horak – Xray
Michal Sindelar – HB
Petr Klatovsky – Sworkz
Vaclav Broz – Sworkz
In the end I want to say big thanks to my parents and my sponsors for their support!
Xray, Pro-Line, MKS, FX, Maxima, Team Orion, Hudy, Hiro Seiko, HOECO, H-Speed, WTF, Dubidesign, DFcreative, Ruddog and Kaja RC racing