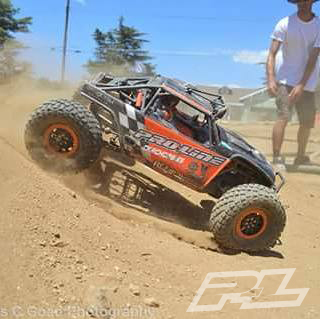 What a great day of racing at the 2016 U4RC Summer Nationals at Cherry Valley RC Raceway! The sun was out and the best in the country were all there.
The Pro-Line Yeti Jeep Wrangler fitted with Pro-Line Racing BF Goodrich KR2 was off the hook!
The racing was fast, rough and exciting. Cherry Valley defenatly put these tires though the test! The 1.9″ and 2.2″ Trophy RC Fabworks chassis both had the Pro-Line Racing Flat Irons and they were sticking all day! They really did there job! The 1.9 Trophy was Back and forth in the Mains. Eventually landing on the podium in the third spot. With the sun down the 2.2″ Flat Irons on the Beast did an awesome job holding me down. Unfortunately they could help my vision! LOL… I eventually finished in the middle of the pack. At the end day,
I was able to race against the best there is in U4RC and Pro-Line Racing Bodies, Shocks and Tires kept me in the game!!