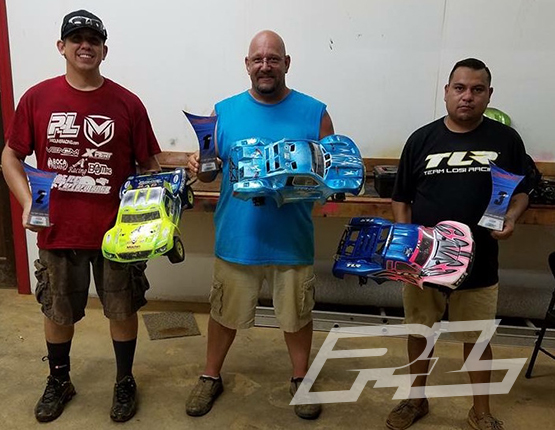 The month of July was busy with RC races every weekend. In total, I logged over 1200 miles traveling to races in North Carolina and Georgia this month.
I used these Pro-Line Products in July:
Pro-Line PRO-2 Short Course Truck
Pro-Line Tires – Calibers, Lockdowns, Blockades, Stunners and Tazers
Pro-Line Bodies – EVO and Flo-Tek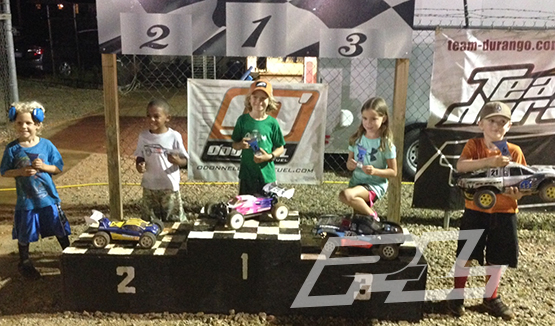 Thunder Alley
Due to an earlier rain out, the final two weekends of July were spent at Thunder Alley Raceway.  I attended round four of the Super 7 Series and the WorldofRCparts.Com trophy race the following weekend.
I continue to post solid results in the Super 7 Series as I raced to a second place finish on Pro-Line Calibers in 4WD SCT division and followed that up with a 5th place finish in E-Buggy. The results kept me in the hunt for a podium finish for the series. There will be a lot riding on the final two point series races in September and October, as I will be missing the August race since I will be in Georgia attending Wicked Weekend.
I enjoyed getting to hit the same track on back-to-back weekends as Thunder Alley hosted their WorldofRCparts.Com trophy race the following Saturday.
In 4WD SCT, I felt comfortable with my Maclan MR4 powered truck and my tire selection, M3 Pro-Line Calibers. I got off to a strong start TQ'ing round one, in round two I put down good run but was edged out by another racer for the top spot. In the final round of qualifying, I bounced back and raced to the top spot again.
Unfortunately Mother Nature halted the race after qualifiers as a severe summer storm hit the track causing the mains to be canceled. It was rocket round qualifying and while I was the most consistent 4WD SCT racer that day, the fastest qualifying time went to the racer that TQ'ed round two. As a result, I took home 2nd place, which I was happy with since there were several racers with comparable lap times that could have easily claimed a podium spot.
I made several adjustments to my E-Buggy for the trophy race including dropping a pin on my pinion gear in an effort to combat the extreme North Carolina heat. I made an error with the shock oils, which made my suspension a little too soft. I still had fun but struggled a little more than usual with my buggy. I ended up just off the podium in the rain shorten event with a 4th place finish.
My son raced in the novice division, which always keeps me busy, as his truck is usually good for a couple repairs in between heats. My son was still very slow but he had a fun day at the track and turned some laps, which is the main goal. He ended up 4th overall out of five and took home a trophy that made his day.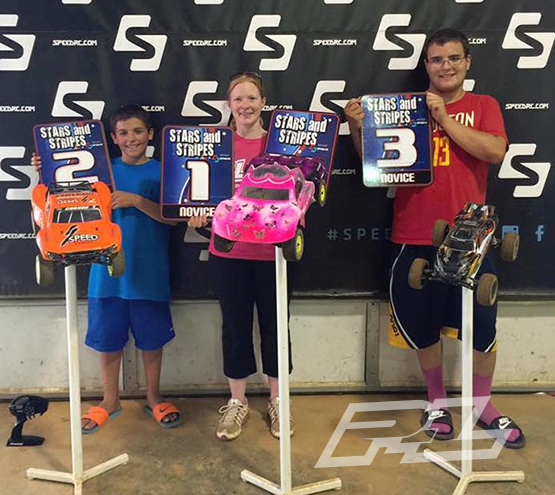 Summer Scorcher
The third weekend of July, we traveled to Savannah, Georgia for the 2016 Summer Scorcher. We had heard a lot of great things about Phil Hurd Raceway so we figured this would be a great opportunity to check it out. The event drew 190 race entries so the competition was really stiff. The layout was enjoyable with a high-bite surface that provided plenty of traction.
I am still learning about tire compounds and this turned out to be a great experience. The temperatures were in the upper 90s and with the abrasive track; I quickly began burning through tires. Again it was a good learning experience since I was ill prepared to handle that type of surface combined with the high temperatures. I have already ordered several Pro-Line Tires in X2 and X3 compounds which should help me avoid similar situations.
I started off strong in sportsman E-Buggy and sat seventh out of 48 racers after round 1 but I slipped out of the A-Main after the field kept getting faster and faster. The qualifying races wrapped up early Saturday evening and I found myself outside the automatic qualifiers sitting in 14th. I spent the remainder of the evening practicing and felt confident, as I was able to string together my fast lap times of the day and was hoping it would allow me to put together a strong run Sunday in the B-Main to earn the bump.
The start of the B-Main was probably one of the roughest starts I have experienced, as there were major pile-ups in each of the first three turns. I was unable to get away cleanly and was in an awful hole before even turning a single lap, things didn't improve over the next few laps as the racing continued to be very physical. More bad luck hit, when I finally was able to find some open track and was hoping I could start crawling my way up the leader board. As I hit the straightaway, my rear tire flew off which ultimately ended my day in the E-Buggy class.
The 4wd SCT class was significantly smaller but was loaded with chassis sponsored racers. I felt comfortable in the qualifying races as I bounced between third and fifth in each of the three races. Four-wheel short course continues to be my favorite class and I was hoping to make a charge at the podium Sunday. With only 3 races remaining including the 4wd SCT A-Main the skies opened up and flooded out the track ending the race prematurely.
I had also signed up to race my Pro-Line PRO-2 in the 2wd SCT but due to low entries in that class, I was refunded my money and ended up running just 2 classes. Overall it was a good experience, I felt I learned a lot and the competition was very strong which hopefully will help me improve as a racer. The facilities at Phil Hurd Raceway are fantastic so my wife and I will be returning to Savannah for future races.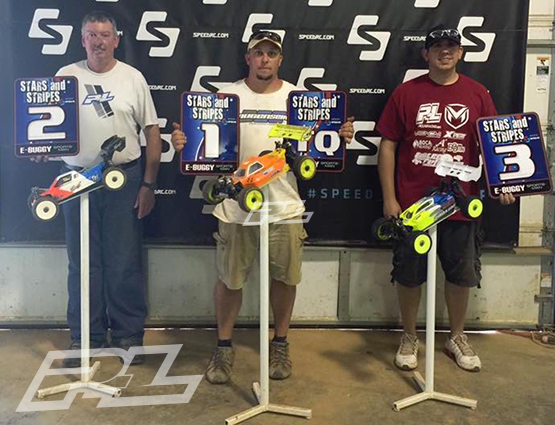 The month started off with a bang at Speed R/C's Stars and Stripes race. Speed R/C attracts some of the best racers in North Carolina so it is always fun to attend their races and see how you stack up.
The highlight of the race was my wife's TQ and 1st place finish in the Novice division. She debuted her new truck and custom pink and butterfly themed Pro-Line EVO body in style. I tried to follow her lead though I only managed to eke out a third place finish and slide onto the podium in a large sportsman E-buggy division.  She definitely earned the bragging rights until our next race.
I also ran my 4wd SCT where I raced to a top 5 finish coming in 5th.
I would like to thank Maclan, Pro-Line, Venom, Xpert, BoomRC, Boca Bearings and Bullit RC hobby shop for allowing me the opportunity to represent their companies. I would also like to than HB Racing for bringing me onboard this month.
Sponsored Products used in July
Maclan – MR4 4150kv and MR8 1950kv motors
Pro-Line Tires – Calibers, Lockdowns, Blockades, Stunners and Tazers
Pro-Line Bodies – EVO and Flo-Tek
Venom Batteries – 7200 mAh 100c 2s and 6500 mAh 70c 4s
Xpert Servos – SI-4431 and SI-4531
Boca Bearings – Green seals
BoomRC Graphics and Designs – Decals, Chassis Protectors