July 2, 2016 Beachline Raceway – Cocoa, FL – Club Race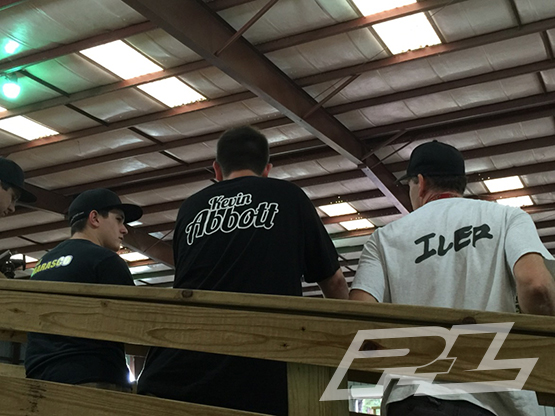 It's the weekend before the 2016 ROAR Region 4 Off Road Championship race. The crew at Beachline Raceway along with many other locals worked long hard hours the past week to give us an awesome track to race on for Regionals. David and I both appreciate everything and really enjoy racing there.
Ran Pro-Line Electrons and Primes all Month Long!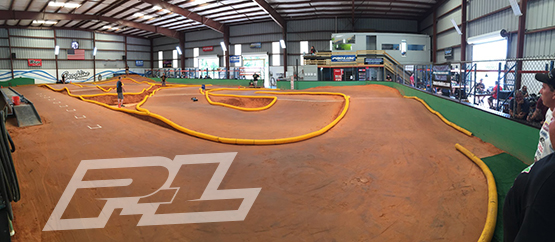 It was a nice relaxing weekend as we got in some practice on the new track Friday afternoon. Making a few adjustments to our cars we were ready to do some club racing the next day.
Thanks to #Ann Hold we started off Saturday morning with a yummy breakfast of eggs, potatoes, sausage and pancakes.
David ran his 13.5 buggy today. Overall, he did pretty well during qualifiers only making a few tiny mistakes. He qualified 5th with a 13/5:06.099.  David had some bad luck and was taken out on the first lap of the Main. This cost him 11 seconds, which turns out to be a half of a lap for this track size dropping him to last. David's buggy was powered by #Trinity with a certified D4 motor and a white carbon battery. He was able to push his buggy hard and made it back up to finish 5th.
I raced my stocked 2wd SCT with a #Trinity 17.5 motor and a white carbon battery. It has been months since I have driven it. I was trying so hard for a 12 lap pace during qualifiers, but just missed it with an 11/5:01.454 to qualify 3rd. There was a huge thunderstorm before the Main. I could tell the track conditions had changed and I struggled a little, but was still able to hang on and finish 3rd.
David Iler Race Results
13.5 4wd Buggy
Qualified: 5th
Finished:  5th
Tires: Pro-Line Clay Electrons
Jessica Iler Race Results
Stock 2wd SCT
Qualified: 3rd
Finished: 3rd
Tires: Pro-Line Clay Electrons
July 8 – 10, 2016 ROAR Region 4 10th Scale Off Road Championships
Beachline Raceway – Cocoa, FL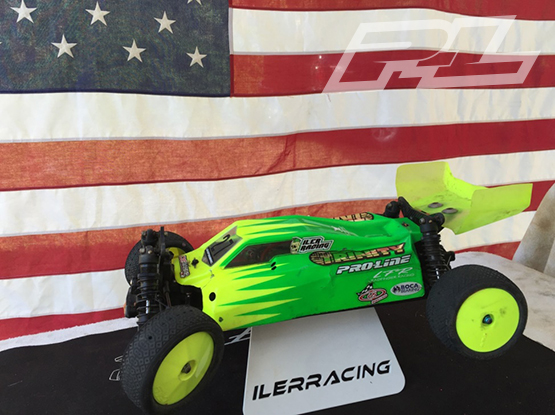 We arrived Friday night around 5:30PM and the first thing we did was have our motors go through tech. All three of our #Trinity motors passed inspection without any issues. David headed back to our pit and was able to solder them back into our cars quickly so we could get in a little bit of practice before they had shut the track down for the night.
Saturday there were 3 rounds of qualifying. It didn't go so well for me with my Stock SCT. I had no issues during practice, but was unable to finish Q1 or Q2 because my SCT stopped in the middle of each qualifier. We could not figure out what the issue was. Before my third qualifier we decided to change out the speed control and that did the trick and I was able to finish 3rd in my heat. Unfortunately, I knew I had no chance making the A main with only finishing one qualifier. I would be starting 2nd in the B. My 13.5 buggy handled really well with my ghost tread #Proline electrons. In Q2 and Q3 I was able to take 1st place in my heat of 7 drivers. It was super fun racing with #Travis White as he put the pressure on me. This put me starting 6th in the B Main. David had some bad luck during qualifying with his 13.5 buggy. As #Joey Trautman would say "I got used as a pinball" and it's hard to come back from something like that. David would be starting 3rd in the B.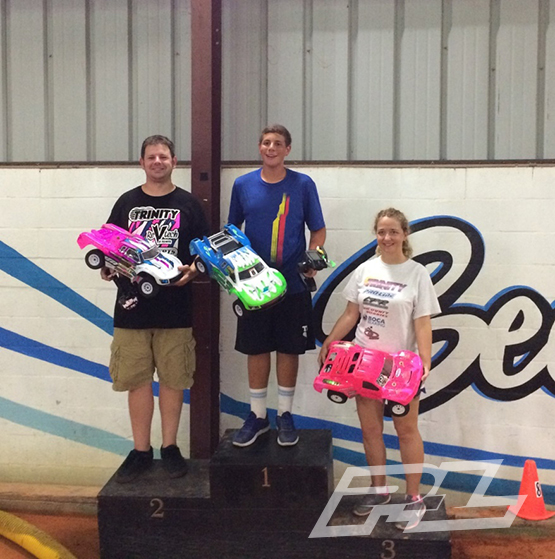 Sunday was the Mains. It was a long wait as our first Main was around 2:00PM. David and I would be in the same Main with our buggies. Once again David was knocked around and had to make his way back up through the pack. He was able to finish 3rd with 17 laps 6:18.022 and a fast lap of 22.106.  I dropped from 6th to 10th right at the beginning, but it was my own fault. I pushed hard and was able to make it back up to 7th finishing with 16 laps 6:27.944 and a 22.843 fast lap. My Stock SCT main was up next. It felt like I was super slow, but after looking at my time it was faster than my qualifier and I was able to hang onto 2nd place.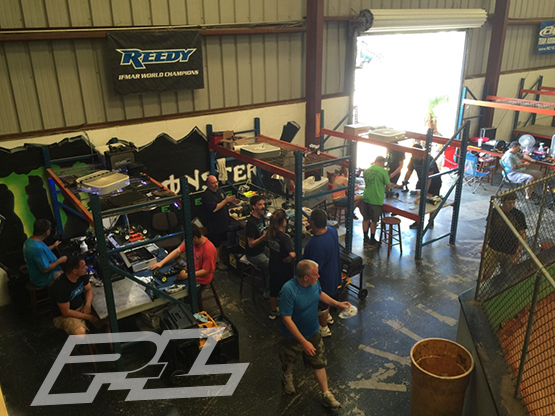 Recap of our ROAR Region weekend…….there is a lot of drama in RC racing and someone should make a TV show about it, Facebook blew up, the weather was extremely HOT again, but the best part of the weekend was when David got to do something that had nothing to do with RC and that was driving #Ann Hold's Challenger RT. At least no matter how bad racing is we know we always have good friends at the track to make it better.
David Iler Race Results
13.5 4wd Buggy
Qualified: 4th B Main
Finished:  3rd B Main
Tires: Pro-Line Clay Electrons
Jessica Iler Race Results
Stock 2wd SCT
Qualified: 2nd B Main
Finished: 2nd B Main
Tires: Pro-Line Clay Electrons
13.5 4wd Buggy
Qualified: 6th B Main
Finished:  7th B Main
Tires: Pro-Line Clay Electrons
July 30, 2016 Battle at the Beach 2 – Round 1
Beachline Raceway – Cocoa, FL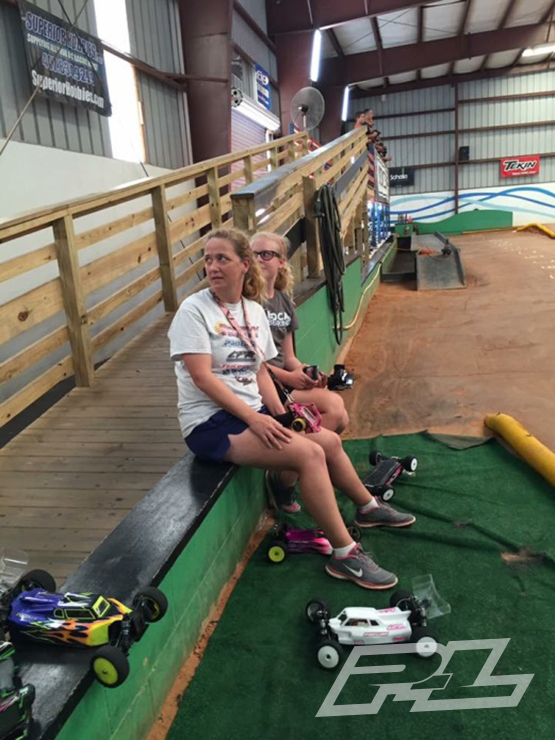 Superior Hobbies would be hosting Battle at the Beach 2, which is a four round point series held at their track Beachline Raceway in Cocoa, FL. We arrived Friday night around 7:00PM.  A big "Thank You!" to #Rob for always making us feel welcomed and keeping the track open later for us. We had a blast with #TeamWhiteLightining and #HoldRacing.
Saturday morning we got in some more practice before racing began. Q1 started off good for me as I was able to take the lead right away, but ended up cutting a corner to tight and hit the yellow tube popping a ball cup. With a 1 minute 8 second lap that cost me big time as I dropped all the way to last with no hope in catching up. Q2 I was able to come back and take 2nd in my heat to qualify 5th overall.  With 11 cars in the Main I was able to get out in 3rd right away. I was staying right behind #Jonathan Hutton in 2nd trying to put some pressure on him. It took several laps before I could get the pass. I was running a certified D4 motor with a white carbon battery from #Trinity. I ran a very consistent race to finish 2nd on the podium.
David was running his 13.5 buggy also powered by #Trinity. He took TQ in the first qualifier with a time of 13/5:02.781. He was able to better his TQ in the second qualifier with 14 laps 5:23.275. Unfortunately, he did not get the results in the main as he would have liked. At the beginning of the main he made a mistake and flipped on the first jump. When he made it back to 6th he was hit by another car taking a jump which popped his ball cup. His lap time was 1 minute 25 seconds by the time he walked off the drivers stand, fixed his car and walked back up to finish his race.  David had the fastest lap time of 21.351. I give him lots of credit for sticking it out to the very end and not giving up.
David Iler Race Results
13.5 4wd Buggy
Qualified: 1st TQ: 14/5:23.275
Finished:  9th
Tires: Pro-Line Primes
Jessica Iler Race Results
13.5 4wd Buggy
Qualified: 5th
Finished: 2nd
Tires: Pro-Line Primes
A special thank you to our sponsors #Trinity, #Proline, #LFR2016, #BocaBearing, #DERacing