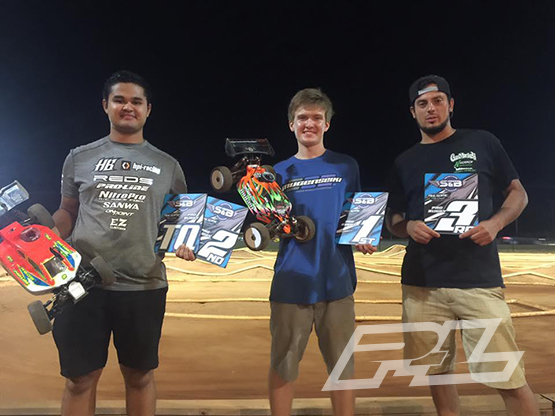 This past Saturday, I traveled to Piedmont, SC to do some night racing. I decided only to run Pro Nitro Buggy since there were only about 60 total entries and would make for a quick night. The S&B track was fast with big jumps and flowing rhythms. The event was ran with 3 rounds of qual-points style qualifying and a 30-minute A-Main. I was able to TQ the first two rounds to take overall TQ going into the A-main. Before the main, I decided to change my setup in order to gain more off-power steering in the tight 180's. I went from yellow springs in the front to blue springs. I also moved the front shocks to the inner whole on the arm.
Running Pro-Line Hole Shot Tires, Velocity Wheels and Type-R Body
In the Main, I battled with Evan Vail for the first position for the entire time. It was so close that it came down to pit stops for a slight advantage. Before my final pit stop, I got tangled up with a car exiting the pits and ended up flipping over in pit lane. I lost about 5 seconds in the pits due to this mishap. I would go to second place for the remainder of the race and was never able to catch back up to Evan. I finished the night with a 2nd in Pro Nitro Buggy. My Buggy was good but I still struggled with off power steering upon entering the tight 180 turns. I noticed that Evan's Mugen Buggy turned on a dime and was able to dive on the inside of me at times in these corners.