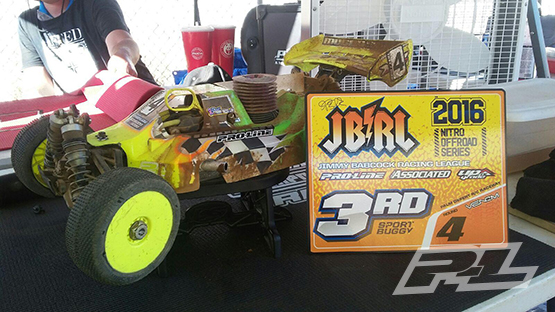 Pro-Line Products used:  SwitchBlade X3 for Qualifying & Hole Shots X3 for the Main.
Attended JBRL Series (R4), that was held at Palm Desert R/C Raceway. Man was it hot…reached 105 degrees that day! Despite the heat, everyone had a good time and came up with some clever ways to keep cool. Wasn't sure how the extreme heat would affect my car, but I soon found out.
Placed 2nd in the first heat. Second heat, not so lucky. I ran out of gas, but still ended up placing 4th. Was sitting 5th in the A-Main. It was here that I began to run into some issues with my Buggy. Flamed out a few times. But I continued to fight through it all, and pushed forward. Moved up to 4th…but still pushed forward. Never gave up. Battled down to the last seconds. Had a good battle with Craig Muegge at the end. I fought through, and too 3rd in the last 9/10 of a second. Reached the podium. Fun race, great track!