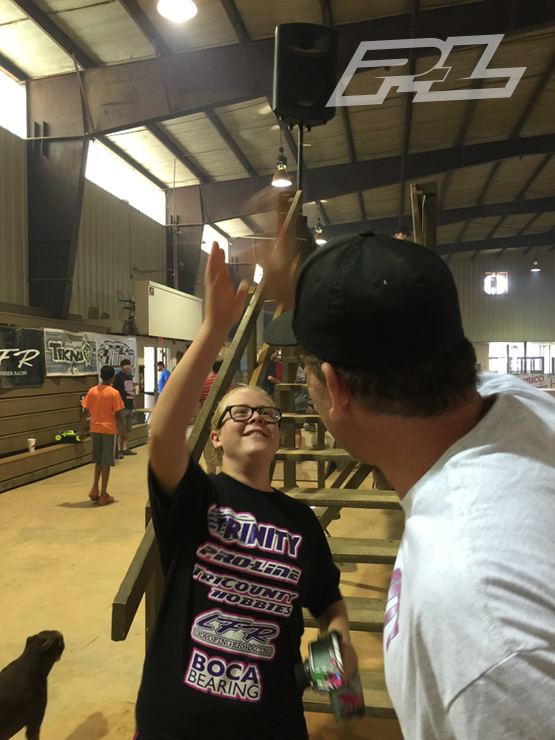 ROAD TRIP! AMS 7.0 here we come. I rushed home from work where David had the camper hooked up and ready to go and we were off. I got to sit back and take in the view as David took the first shift driving. David got us through Orlando before it was my turn to take over. This would be my second time towing the camper and it would be the longest drive ever. I was so focused on not to be sucked in by a tractor trailer truck that I missed the baby deer with white spots and the Alligator posing with his mouth opened. At least David got to see them. We ended up driving to mile marker 108 in Georgia when we decided to pull over at the rest area to get in a few hours of sleep.  Taking off thenext morning we arrived at the Agriculture Center in Cullman Alabama at 11:00 AM……830.50 miles later.
David and Jessica ran Pro-Line Hole Shot Tires on their Buggy, Truggy, and Short Course Truck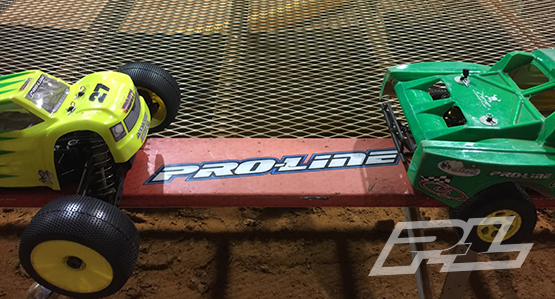 VIDEOS:
David SCT Slowmo – https://youtu.be/K9BNCX8sBGE
Jessica E-buggy Slowmo – https://youtu.be/jD-_ScTezug
Practice began at 6:30AM Thursday morning and we were in the first group on the drivers stand. We ran battery after battery with our electric cars throughout the day to learn the layout. Later that night around 8:00PM we decided to pull out our Nitro cars. It would be my first time racing Nitro and I wanted to wait until there weren't as many people around. I ran about 2-minutes when my Truggy stopped on the back straight. I yelled out to warn people on the drivers stand, but I still ended up getting hit pretty hard in the rear. Back at the pit we noticed my fuel line got sucked into the gear and was cut in half. This is what made my Truggy stop. I ended up with a bent C hinge pin block and a broken shock tower from the hit. Since I had just built the Truggy for this event I didn't have a lot of extra parts yet and needed to see if I could find someone that had them for sale. Thanks to #Lazi for helping me find the parts I needed and to my awesome mechanic David for getting my Truggy back running. I was only able to get in two 5-minute runs with it that night. David was going to run Nitro Buggy, but a couple weeks before he lent his bump box to someone and never checked it before the event. When he went to start his Buggy it wouldn't even touch the flywheel and turn the motor over and he was unable to find one for sale. We ended up having to drop him out of this class. Instead he would have to run his SCT. At this time practice was almost over and he was only able to get in a couple minutes with it on the track.
A drivers meeting was held at 6:30AM Friday morning. There were a total of 622 entries making this the biggest AMS race ever.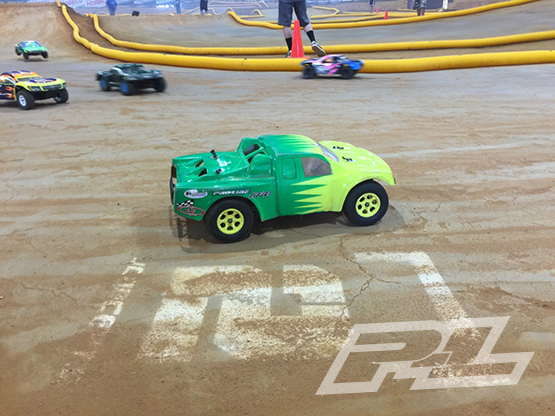 Qualifying went pretty well for the both us. We were both running on #Proline Hole Shots. They seemed to be perfect for the track conditions and they handled really well with minimal tire wear.  The only big issue David had during qualifying was in Q3 when his SCT stopped and he could not finish. It ended up being his on/off switch. He ended up qualifying 2nd in the B Main in SCT and 15th in the A Main with his E-Truggy.
I was really happy and did better than I thought I would with my Nitro Truggy and ended up qualifying 6th in the C Main. I was also going to be starting 15th in the Sportsman E-buggy B Main. This was a very large class of 79 entries.
My Nitro Truggy C-Main was up first on Saturday. This would be my first time racing in a Main and having to pit. I had a pretty good run making only a couple mistakes. My first time pitting didn't go as well as I liked it to as I accidentally bumped into a car and felt really bad about it. I ended up finishing 9th overall.  I probably should have taken a gamble and not had pitted during the 10-minute Main to try and gain a few more positions. E-Buggy was up next. I was starting in the 15th position of the B-Main. Even though I was hit a few times I was still able to work my way through the pack up to the 7th position. I ended up 22nd overall out of 79 racers.
David's SCT B-Main was next.  He was starting in 2nd. By lap 7 he was in 1st place and had a huge lead on everyone else. He was able to take the win and bump to the double A-Mains. During David's practice lap in A-1 his SCT lost power and came to a stop. I ran out to get it and when I took the cover off his wires were unsoldered and he was unable to race.  When David got the time to take the motor apart he realized the rotor came apart inside the motor. Unfortunately, with not having a lot of time before David's next race he was unable to get his SCT running again and could not race A-2 and would take 18th overall.
A-1 of E-Truggy David would be starting 15th. There were some well-known top drivers in the A-Main including #Patrick Rossiter and #James Calhoun. David was able to pick up a few positions finishing 12th in A-1. A-2 he was having an awesome run, but 4-minutes in he lost a cell in his battery and was not able to finish and took 14th overall.
To wrap up the weekend we had long extremely HOT days, but the race announcers did a great job keeping the program running smooth and got us out of there early. The track crew did an outstanding job and gave us a fun and challenging track. We found out after watching several races there are some dirty drivers who need to learn that this is supposed to be for fun and more than likely they are not going to be paid for doing it. We have made some great friends who will help each other out no matter what. And the best part of the weekend was watching 10 year old #Kiarra Hold taking 2nd place in her Sportsman Nitro Buggy D-Main to get the bump to the C-Main and young #Joshua Alfaro taking 3rd in the A-Main in Sportsman E-Buggy. Seeing those kids with huge smiles on their faces is what this is supposed to be about……having FUN.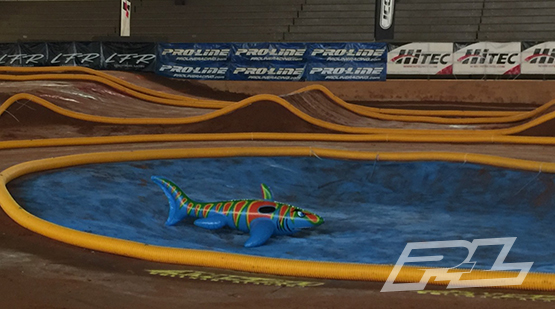 Thank you to our sponsors for making this all possible.
#Trinity
#Proline
#LFR
#BocaBearing
#DERacing