First of all, a HUGE thank you for the continued support from Pro-Line, and their amazing products!!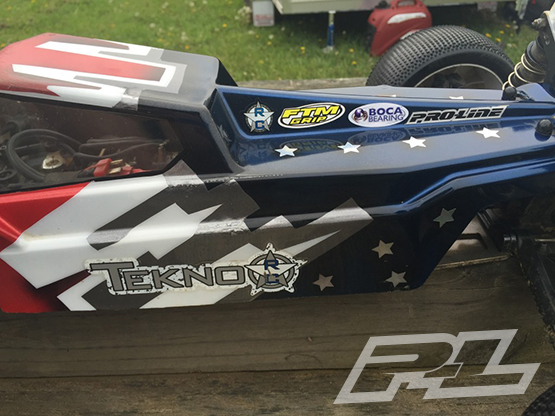 This passed Memorial Day weekend 28-29 May, 2016 was a great weekend! This was the 2nd Annual 2016 FTM championships Held at G's R/C Raceway. I managed to run three classes and for whatever reason this was a very interesting yet awesome weekend.
"I started off the day running M3 Stunners, and as the day progressed I changed to M3 Blockades. I couldn't be more planted."
Day one:
We started off Saturday with three qualifiers and for E-Truggy I was doing very well.  Was able to secure the top qualifier position all three qualifiers. The truck was handling incredibly well and it was very easy to clear all the huge jumps the track had offer. I personally think that the truck has a mind of its own. This thing just devours fast laps!
4WD SCT was an absolute treat. I managed to finish three qualifiers of five in the first position securing the TQ, and with a couple very subtle changes I was able to make the truck even easier to drive, and very consistent. I started off the day running M3 Stunners, and as the day progressed I changed to M3 Blockades. I couldn't be more planted.
Day two:
We finished off the last day of racing with an additional two qualifiers, and the mains. I was sitting on the pole for both Truggy and Short course, and was looking straight ahead at solidifying the win. However, second qualifier for the day would be what really tested every ounce of patients and our ability to concentrate under high stress levels. I managed to burn up my truck motor and also had a completely dead speed controller in the Buggy. Luckily I had a great friends who had a spare motor and ESC and was able to install both of those right before the mains. Of course, I couldn't leave out the short course truck from all the excitement. So my beautifully painted bodies have definitely seen their prime come and go and I was yet again forced to be on a frantic search for a Short Course Body I could run. Luckily the very generous track owner Garland Smith had a Pro-Line Blockbuster Body, which is a body specifically designed to mount a go pro camera on top of the truck. So, hopefully we can see some on board racing in the near future.
The E-Truggy Main was up next, and I would be starting in the second position. The race started off great as far as how truck mains sometimes start.  I would have an absolutely amazing run. The leader would have a great first couple laps, then had a bad tumble and probably a little bit longer than desired marshal service. That would leave me to a perfectly clear track ahead and I would secure this race with a very solid lead over the rest of the field.
X3 Blockades would have me driving on Velcro. I love these tires!
4WD SCT would be my last Main, and starting on the pole with this class was nice since I had nothing but clear track. About halfway through the Main I had a very talented JD Blair and Kyle Loy in hot pursuit. A couple of ill timed cartwheels would put the top three drivers tossing the lead back-and-forth with very clean passing! I would finish last on the podium.
E-Buggy, I would struggle with all weekend. I couldn't seem to find the electrical gnome that playing with every single emotion that I have. So, with 20 minutes before the mains began, I was lucky enough to have great friends that would let me borrow their spare ESC and motor! Thanks Jim!! With that, I was able to walk away with a 3rd place finish. And, of course running my X3 SwitchBades.