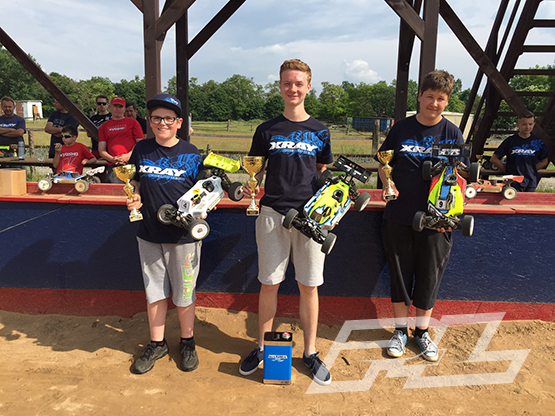 The fourth round of Czech 1:8 IC Buggy series took place last weekend on beautiful track in Kolin. Despite weather forecast wasn't looking good, home club prepared everything great and it was a nice event.
We arrived on Track in Friday afternoon for free practice. I started with my setup from last weekend, but as the track was pretty wet and had a lot of grip, we did a couple of changes on my XB8'16. At the end of the day my car was fantastic.
In Saturday morning the track was even more wet than the day before but when the sun came out, it got dry very quickly. In the first qualification my XB8'16 was dialed and took TQ ahead of Xray junior trio – Max Gotzl, Frantisek Kalenda and Milan Mudra! For Q2&Q3 we did some changes on the car as track grip was getting lower and lower rapidly.
In both rounds my XB8'16 on Pro-Line Blockade X3 took TQs and so took overall TQ!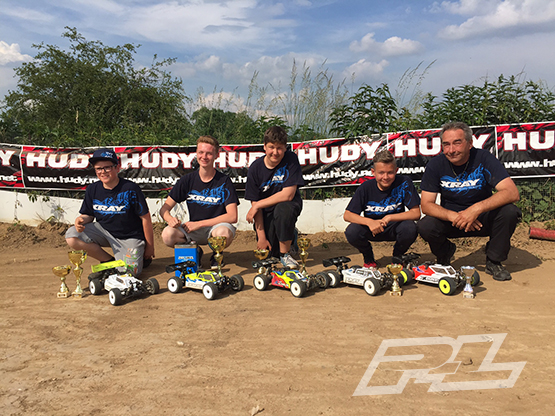 In the semifinal my FX powered XB8'16 was awesome and got quickly away from the field but with 10 minutes to go my left front tyre came off. Still I crossed the timing loop on first place and took pole position for the main final!
In the final I had a good fight with Jiri Mara, who took the lead for about 8-minutes, but than he had some tech problems which left my FX powered XB8'16 on Pro-Line LockDown X3 in the lead and I took the win!
Big congratulations to the young Xray trio – Max Gotzl drove his XB8'16 to 2nd place, Frantisek Kalenda finished 3rd and Milan Mudra 4th!
TOP 12:
Kaja Novotny (TQ) – Xray
Max Gotzl – Xray
Frantisek Kalenda – Xray
Milan Mudra – Xray
Tomas Kapicka – Kyosho
Jiri Mara – Serpent
Stepan Silhavy – Xray
Lukas Zeman – Xray
Adam Babka – Xray
Petr Javorovsky – Mugen Seiki
Martin Zicha – Mugen Seiki
Tomas Fic – Kyosho
In the end I want to congratulate local club for doing amazing job and preparing really nice track and whole area, thank you! Big thanks to my parents and all my sponsors for their support!
Xray, Pro-Line, FX, Maxima, MKS, Team Orion, Hudy, Hiro Seiko, HOECO, H-Speed, WTF, Dubidesign, DFcreative, Ruddog and Kaja RC racing
-Kaja Novotny