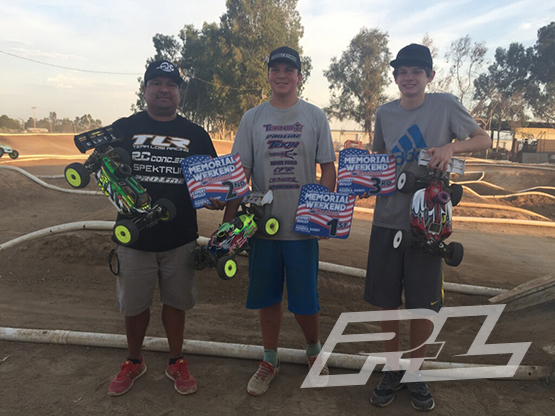 Had a great time at the Memorial Day Shootout at CVR Raceway!
I decided to run my Tekno NB48.3 Nitro Buggy and EB48.3 Electric Buggy.  I would arrive at the track Friday afternoon for some practice, with how similar the track conditions were to my home track, I ended up not having to change a single thing for the setups.  I would have some good luck in qualifying taking the TQ in E-Buggy and starting 2nd in the Pro Nitro Buggy Main. I would finish 2nd right behind Phillip Atondo.
I made a good decision on Tires and would have a good start and almost had a flawless race, I would take the win.
Mason used Pro-Line SwitchBlade Tires and Trifecta Wing.
Overall it was  great day of racing!  Not to mention I'm pretty happy with my results, it's good knowing that my hard work is paying off.  Once again a huge thanks to my sponsors, Tekno RC, Pro-Line, Tekin, Triton, Byrons Fuels, Schelle, Amain, Protek, 92zero Designs, LFR, RAD RC Painting, Hooked, and All Around RC.