Another eventful day racing out at Auburn Performance Raceway at The Hammer in the Foothills race #5. Got to the track early for some practice, I would be racing my Pro-Line Racing Yeti, 1.9 RC Fabworks Mini Beast and my 2.2 RC Fabworks beast.
From the previous days rain the track was super wet and I had to test out the Pro-Line Baja T/A KR2's on the Yeti. These things were off the hook sticky! At one point it felt like I was driving it on a road course, these Tires on a wet track were killer!!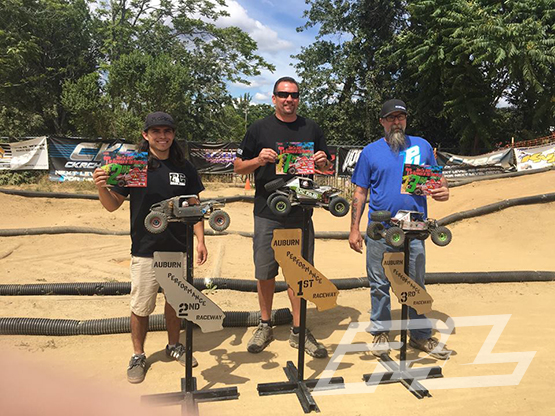 First round came and went without anything fancy. My 1.9 RC Fabworks mini beast with the Pro Line Flat Irons did as expected, started off slow, but they got me back into second place where I finished. My Yeti did not fare as well in the first round, after a few laps I broke something in my steering and was out.
My 2.2 Beast was off like a rocket and the Pro-Line Flat Irons hooked up and I was gone! I led from start to finish in the first heat to take 1st place. I had to race into the A-Mains for the Yeti. Got my Yeti ready and the Pro-Line KR2's were on point! The track had just been water and they stuck. I was able to make the A main race by coming in 2nd in the B-Main. Going into the mains I made a few adjustments on 1.9 Mini Beast Pro-Line Pro-Spec Shocks, which would not work in my best interest. Although the truck did not handle like I would have liked, The Pro-Line Flat Irons kept me on all fours and I was still able to get on the podium with a 3rd place finish.
Yeti Pro class Main was an all-out battle! Half way thought the race I had some issues and had to pull off and fix my car. Once again the KR2's did their job! But I was able to get back on the track and finish the race only a couple laps down. Finally came the race I had been looking to for the past three weeks. I got a little confidence boost coming off of a 1st place finish in the 1st heat. I started in the top spot and the Flat Irons shot me off like a rocket on "GO"! Got in and out of the rock section first and was gone! I never looked back!!
The Pro-Line PowerStroke's kept the Beast floating over the rocks and bumps around the track. This was probably the best this Beast has driven in a long time! Just wanted to thank Pro Line Racing for all of their support now and in the future!
Thanks! Dan W.