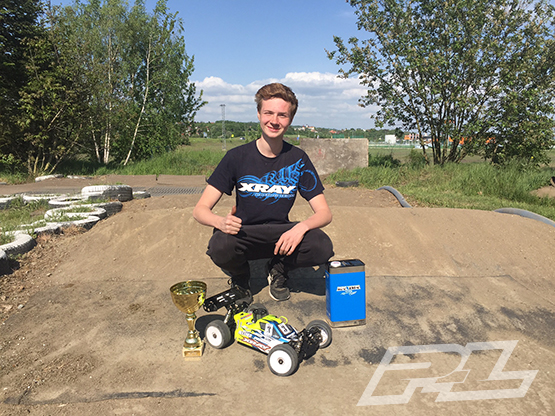 The third round of Czech Open series took place last weekend in Mlada Boleslav. Home club prepared pretty challenging – bumpy & tight track. On Friday we had, as usual, free practice where we quickly found good setup for my XB8.
In qualifications my FX powered XB8 on P-L X3 Blockade worked great and took TQ in Q1&Q2 which secured me the overall TQ. In the last qualification I came super unlucky with traffic and also did few mistakes on my own.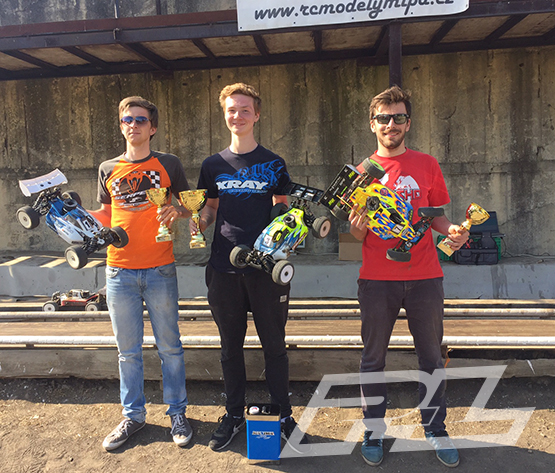 Semifinals were super tough as the track got very bumpy and it was very hard to drive without mistakes. Even in these conditions my XB8 handled good and won A-semi and gained pole position to the main final. Young Milan Mudra was looking very fast in B-semi, but flame out before the counting loop meant that he didn't make it to the final.
After semifinal we made a few more changes on my XB8 and decided to run on P-L X3 Hole Shot 2.0. From the start my XB8 was the fastest car on the track and I made quickly quite a big gap to the rest of the field. However problems during the 2nd and 3rd refueling made the race thrilling to the end as I managed to pass Jiri Mara on the last lap and took the win! Congratulations to young Frantisek Kalenda for making it to the Main final and winning Junior class with his XB8'15!
TOP 12:
Kaja Novotny (TQ) – Xray/Pro-Line
Jiri Mara – Serpent
Tomas Kapicka – Kyosho
Lukas Zeman – Xray
Jan Zamis – Mugen Seiki
Martin Zicha – Mugen Seiki
Jiri Dvorak – Mugen Seiki
Petr Javorovsky – Mugen Seiki
Petr Javorovsky (sen) – Mugen Seiki /winner of 40+ class/
Martin Pejzl – Xray
Vladimir Pour – Xray
Frantisek Kalenda – Xray /winner of Junior class/
In the end I want to say big thanks to my parents and all my sponsors for their support!
Xray, Pro-Line, FX, MKS, Maxima, Team Orion, Hudy, Hiro Seiko, HOECO, H-Speed, WTF, Dubidesign, DFcreative, Ruddog and Kaja RC racing
– Kaja Novotny