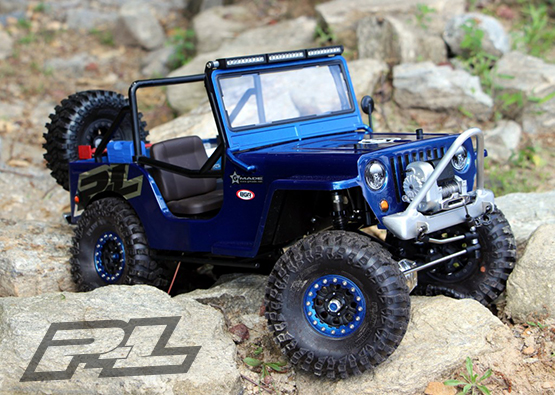 For Scale Crawler kits, GMade has made a name for themselves by first introducing the reliable Sawback Jeep based platform. They have since followed up with a KOMODO Truck version and now a 4LS version of the Sawback which is a newer 4 link suspension equipped kit. These kits offer great entry level performance as well as upgradable scale trail rig performance. Pro-Line has you covered on how to upgrade your Saw back into a certified scale crawling machine!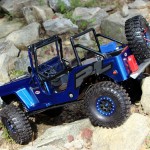 Wheels and Tires First, some Pro-Line 10112-00 1.9 Flat Iron XL Tires were selected as the tire of choice. I wanted something beefy / luggy looking and these fit the bill. The tires were mounted to a set of 2747-15 1.9 Denali Wheels and the bead lock rings were painted to match the body colors. Team KNK stainless hardware was used in securing the painted bead lock rings.
Detail Those Wheels Mounting the wheels and Tires, 6098-00 PRO-2 Clamping Hex's were used on the axles and the wheels were secured with a pair of SSD SSD00007 Scale Locking hubs in the Front (Be sure to get the SSD00008 Installation tool for the hubs). A pair of Pro-Line 6100-00 4mm Blue Serrated wheel lock nuts wee used in the rear.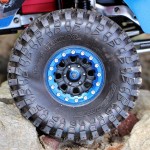 Chassis Finishing up the Chassis, A Team KNK Komodo Stainless Hardware Kit replaces the factor hardware. Pro-Line 6060-00 90mm to 95mm Scaler Shocks were used on all 4 corners and a Gmade GMA52411s Chassis Servo kit re-locates the Savox SW-0230MG waterproof servo off the axle to the frame.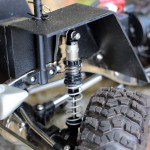 Motor / Speed Controller In putting the power to the ground, a Holmes Hobbies CrawlMaster Pro 540 Motor and waterproof TrailMaster BLE PRO Speed controller were used. This combination is a excellent choice for power and durability. It is probably one of the best motor / speed controller combinations I have tested for rigs of this type.
Electronics Finishing up the Electronics, a RC4WD Z-S1122 Billet Aluminum Fuel Cell Radio box was added to protect the electronics and the battery position moved to the Front for better weight distribution. Wiring was sealed in shrink wrap tubing to further protect it from foreign objects possibly coming from the trail and tires.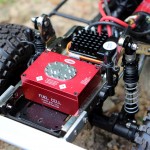 Chassis Exterior For the Exterior, BGR Fabrications and Welding crafted a G6 Stinger style front winch bumper and low angle approach rear bumper from Aluminum. These bumpers are strong and durable with great attention to detail and finish. The Sawback's 4LS's front frame rails were clipped (Shortened) to further improve the front approach angle as well. Rc4WS Z-S0075 King Kong Mini Tow Shackles were added to the front bumper for further scale detail.
Winch It Out! A SSD SSD00100 OX Winch was mounted to the Front bumper. A RC4WD Z-S1551 Warn 1/10 Premium Winch Hook and a Z-S1310 Warn 1/10 Hawse Polished Aluminum Fairlead completes the look. The Winch is fully functional beimg controlled by a RC4WD Z-S1092 Wireless Remote / receiver Winch Controller. The Winch controller runs directly off the main battery to get the most possible torque from the winch motor.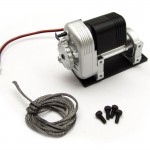 Make a Interior Fender Tray! The front fender pan tray was fabricated from Evergreen Sale Models plastic sheets and painted with Rust-Oleum Textured Paint. This provides a protector for the electronics as well as a mounting platform for the winch controller electronics.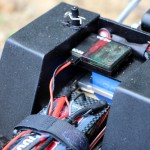 Exterior Lighting For exterior lighting, 3x 6276-00 2" Super Bright LED light bar kits were mounted together to form one long 6" straight LED bark The bars were joined together by screwing in longer M3 button head screws then cutting the heads off to make studs. From there, the light bars were screwed together and mounted to the role cage using the included hardware and Team KNK 3mm Aluminum Spacers. The wires were spliced, soldered together and re-sealed with heat shrink tubing to one master plug.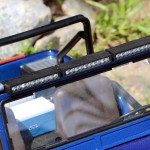 Scale Detailing – Load It Up! Finishing up the exterior, various scale accessories were used from our 6040-00, 6074-00, 6075-00, 6106-00, 6107-00, and 6073-00 Scale Accessories Performance Parts Assortments. A spare tire rack was also fabricated out of Evergreen Scale Models plastic sheeting for mounting a rear spare tire.
Conclusion This Gmade Sawback SL4 has been a fun project. It is great for the beginner or even the novice looking for a fun / dependable rig that you can upgrade into a full blown weekend trail warrior.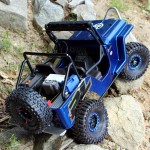 All the upgrades shown in the photos may not specifically mentioned above however, you can find a list of upgrade parts at the very bottom of this article.
We hope you use this article as a starting point to source the parts which Pro-Line Racing assist's you in building the scale rig of your dreams!
Thank you for reading and hope you enjoyed the article!
PARTS LIST BY MANUFACTURER
BGR Fabrications
GEARHEAD
GEA1180 24" Black Paracord Tow Rope with 2x laser –Cut Delrin hooks
Gmade
52411S GS1 Sawback Chassis Mounted Steering Servo Kit
Holmes Hobbies
CRAWLMASTER PRO540 (16T – 0 degree timing)
TRAILMASTER BLE PRO Waterproof
Pro-Line Racing
2747-15 Denaili 1.9 Wheels
6040-00 Scale Accessory – Assortment #1
6045-00 Scale Accessory – Assortment #2
6060-00 Powerstroke Scaler Shocks (90mm-95mm)
6073-00 Scale Accessory – Assortment #5
6075-00 Scale Accessory – Assortment #7
6098-00 PRO2 Clamping Hex – 12mm
6106-00 Scale Accessory – Assortment #9
6107-00 Scale Accessory – Assortment #10
6276-00 2" Super Bright LED light Bars
10112-00 Flat Iron XL 1.9 Tires
RC4WD
Z-S0075 King Kong Mini Tow Shackle
Z-S1092 Warn 1/10 Wireless Remote / Receiver Winch Controller Set
Z-S1122 Billet Aluminum Fuel Cell Radio Box (Red)
Z-S1310 Warn 1/10 Hawse Polished Aluminum Fairlead
Z-S1551 Warn 1/10 Premium Winch Hook
SAVOX
SW-0230MG Waterproof HV Metal Gear Digital Servo
SSD Racing
SSD00100 OX Power Winch (Free spooling)
SSD00007 Scale Locking Hubs (Blue)
SSD00008 Scale Locking Hub Installation Tool
Team KNK Hardware
2mm x 8mm Stainless Cap Head Screws (4x packs of 25)
Komodo Stainless Hardware Kit (Use for SL4 version Sawback)
3mm Aluminum Spacer Hardware Assortment Pack