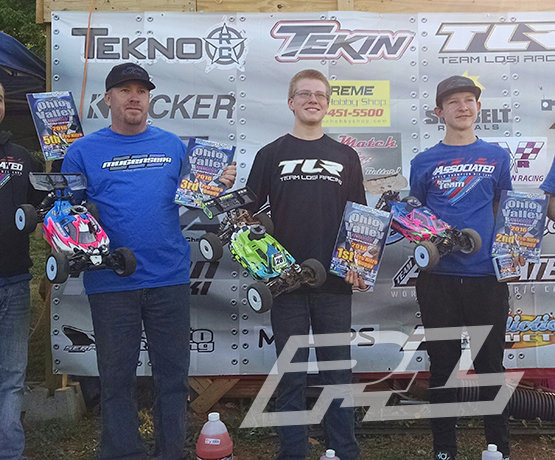 Wow, what a weekend! After deciding very last minute on Friday during the day that we would head down to Clarksville, TN for the Ohio Valley Championships at Speed-Line Raceway, my dad packed up our ungathered things on his lunch break and we headed down after work. I got about 3-4 fuel tanks of practice in on Saturday morning while it misted. I TQ'd E-Buggy but my switch unmounted during A1 whilst battling for the lead, and it ultimately shut my car off to result in a DNF. I struggled with traffic with my TLR 8ight 4.0 in all of qualifying and started 3rd on the grid behind TQ Tyler Jones and Blake Boggs. I decided to dedicate A2 of E-Buggy to a Tire test for the Nitro Main, and started from pit lane so that the cars with points in A1 could really battle it out without me being in the mix.
It proved to be a great choice as I found that Pro-Line X4 Diamond Backs were really hooked up, so I knew what I was going to run for the Nitro Buggy Main.
In the Nitro Main, I had a bit of a rough start but got to 2nd, about 8-seconds behind leader Tyler and I was able to put my head down and take the win by over 10-seconds! It was great meeting so many new people and the southern hospitality was as great as always!
Thanks so much to my sponsors for their great products and their help. Without them this race definitely wouldn't have been possible.
Team Losi Racing
Horizon Hobby
Spektrum
Pro-Line
Dynamite/Orion
Triton Engines
Bones Brew
Infamous Designs
Dutch Oven Designs
Prime Products
#consistencywinsraces