Hello Out There … =)
Dominic here… being from Las Vegas, the weather gets a bit warm here.  I recently took a trip to San Clemente, California for a little beach time.
I left Las Vegas early so I could take the trail through the hills.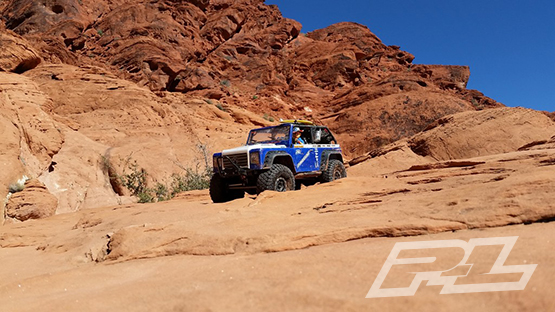 The rock is a beautiful red color (due to the high amount of iron in the rock), as you travel out of Vegas. The trail out of Vegas and on the rock can get a bit sketchy, with steep climbs and large drops, it is important to have the right wheels and tires. With my Pro-Line BFGoodrich Baja T/A KR2 1.9″ and FaultLine Bead-Loc Wheels, I had confidence the rig would be fine on the treacherous trail.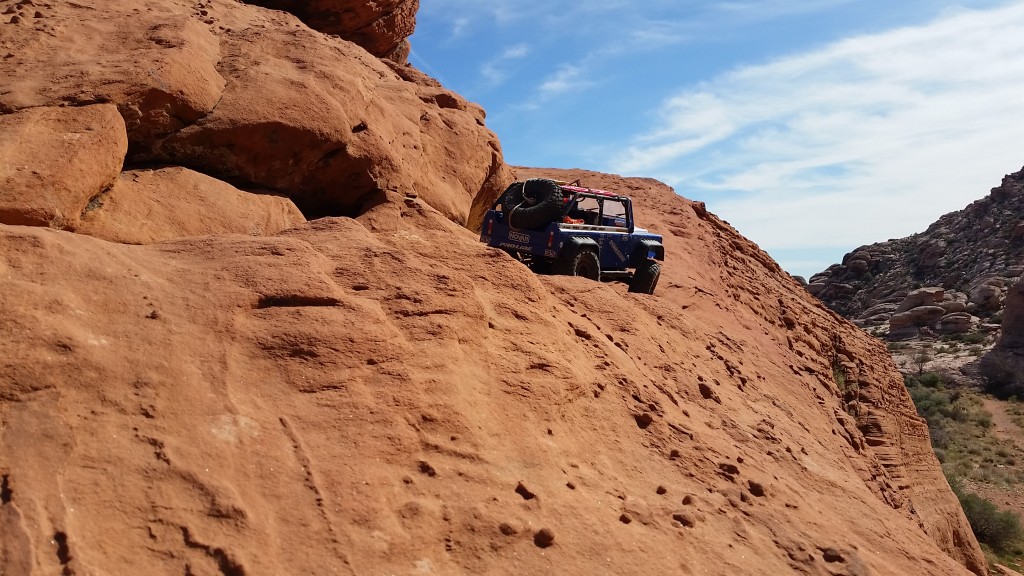 The trail drive out was nice, hit the some steep climbs and great views early on, on the trail. The rock on the trail has lots of traction, this can work both to your advantage, as well as disadvantage. It was important to keep the rig moving at a steady pace as the heat was coming up and there was still lots of trail a head.
After traveling for a couple hours, the temperature slowly decreased and the trail terrain began to change and become a bit more green. Gone was the desolate desert landscape, giving way to lush greenery, streams, and slick rock. The California border was close and with the smell of the salt water in the air, I pushed ahead hoping to make the beach before sunset.
Pushing the rig to its fullest, I made it to the beach just before sunset. San Clemente, CA is where I was headed and is where the rig and I ended up. The BFGoodrich Baja T/A KR2 1.9″ and FaultLine wheels did an amazing job getting me through the trail. No line was too much for these tires and wheels. They keep me moving at a great pace and gave me confidence while pushing down the trail.
Rolling up on the beach is a great feeling. All cares seem to go away as you watch the waves wash up on shore, taking the sand, rocks, and even your cares, back out to sea. I drove a bit on the beach just to enjoy the moment. The BFGoodrich Baja T/A KR2 1.9″ did great once again as I cruised the water line and traveled in and out of waves washing up on shore.  It was a great adventure and a memorable one, as well.
Thanks to Pro-Line for helping create trail memories to last a lifetime.