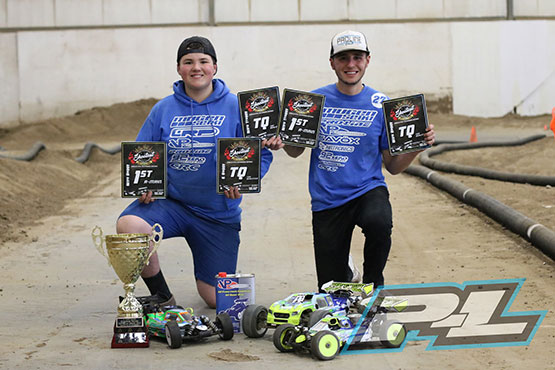 This past weekend up in Tillsonburg, Ontario, Canada hosted the 10th Annual Canadian Indoor Offroad Shootout. All of the best drivers across Canada and some quick Americans came over for a showdown inside the dome.
Pro Buggy
In the buggy class qualifying started off well with myself equipped with the Pro-Line Hole Shots M4 in Q1 and Q2 switched to X4 and found them more consistent and easier to drive on with my Mugen MBX7R vehicle. I was able to take the TQ in 2 of the 3 rounds and was starting on pole for the 45-minute Main. In the Main I got a great start but ran into some issues 3-minutes in after breaking a rear axle due to a unknown reason. Pro-Line teammate Jerome Treignier in the Mugen was fresh off his bump up and got up to 3rd before breaking as well due to a collision with another vehicle. Mark Sousa in the Mugen took the win, Serpent's Paul Ciccarello took 2nd and Abiye Birku in the Xray. Congrats to everyone in the Main.
In the main I was on M3 Hole Shots and they were working very well for the time I was out there, Mark also ran the same Tires.
Pro Truck
In Truck qualifying went great as I decided to run M3 Hole Shots from the start of the event to the end and didn't miss a beat all weekend on my Mugen MBX7TR. In Q1 I had a issue and Pro-Line teammate Eric Deschenes took the first qualifier with a exceptional run. In Q2 and Q3 I was bale to come back and grab the overall TQ and start up front for the 45 minute A-Main. In the Main I was able to get a great start and put on a clean race to take the win by 5 laps. Aaron Inwood in the TLR took 2nd and Pete Elphinstone Jr. took 3rd in the Xray. Congrats to everyone in the Main.
Thank you very much Daniel for all you do at Pro-Line Racing and thanks to the entire team for delivering quality products.
Sincerely,