Carmendy decided to venture into the 2WD Sportsman Buggy class with a brand new associated B5M. She got her Buggy built and ready just in time for the start of the Midweek Madness Series at Speed RC. The first week was a challenge to say the least considering that Carmendy had never driven a 2WD Buggy. She struggled all through qualifying and would go on to finish 8th in the B-Main and 16th overall. The series would allow one drop, and in order to get any points you must finish in the A-Main. Carmendy had her sights set on the A-Main and put in some serious practice hours at the track before the next race. Both her determination and hard work paid off because she qualified 3rd and finished 3rd in the A-main during the second round. Her confidence was high after the top 3 finish, and the third round ended up being her best yet.
Carmendy was confident with her Pro-Line Clay Electrons in the Front and Rear
and went from qualifying 3rd to a first place finish in the A-Main with an extra lap over the entire field. She said her finish was "the best yet". She not only got her first win in the series, but she also beat her husband in the same race.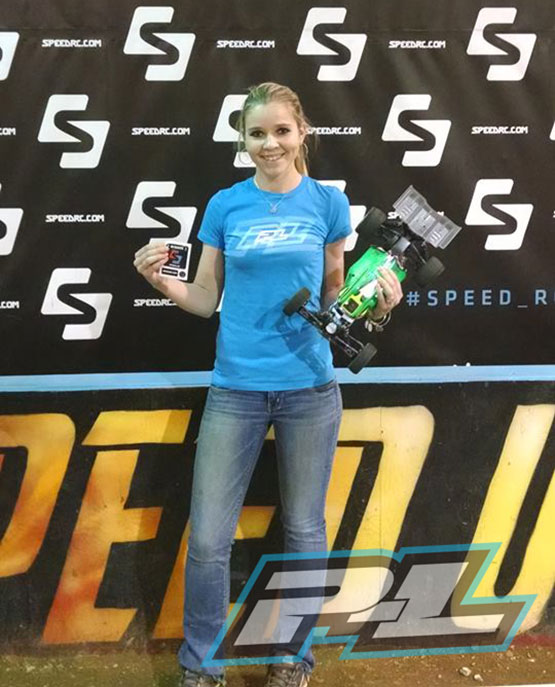 After the big win in the third round, she sat 3rd in the points standing with 2 more rounds to go. In the fourth round Carmendy pulled off another top 3 finish with her Pro-Line Clay Electrons. She started 4th in the A-Main, but would go on to finish less than a half of a second behind second place. Carmendy would now sit second in the points with one more round to go. The fifth and final round proved to be the hardest yet. The competition was as strong as ever, and Carmendy struggled to put a good run together in qualifying. She once again looked to her Pro-Line Clay Electrons for the A-Main in which she was starting 5th. This was the main that determined the champion, and she needed at least a top 5 finish to lock up the championship. Carmendy was flawless during the A-Main and stayed out of trouble with no mistakes. She went on to finish second in the race, and that was more than enough points to give her the lead that she needed to win the series. She finished with a 10 point lead over second place, and prevailed over the 28 Sportsman 2WD Buggys in the series.
Carmendy would like to thank her sponsor Pro-Line Racing and Mugen Seiki Racing as well as Speed RC for hosting the thrilling Midweek Madness Series. "The series was a lot of fun with a lot of good racing. I am so glad that I finally got my feet wet with the 2WD Buggy."